Explorers' Guild
Since 1999, the Explorers' Guild (EG) program has delivered free professional learning for Georgia's K12 educators. The program brings the expertise of the EG team, STEM experts, and educators to share knowledge and best practices. The EGs focus on equipping educators with methods and ideas to enhance student-teacher engagement with the aid of current technologies.
Topics are chosen based on feedback from prior workshop attendees, shifts in technology and policies at the state and federal level, and needs assessment gathered from instructional technology leaders.
In June, a special all-day (or multi-day) summer workshop is offered. Past workshop topics included grant writing, GALILEO, and STEM research.
Subscribe to the Explorers' Guild mailing list.
2020-2021 EG Schedule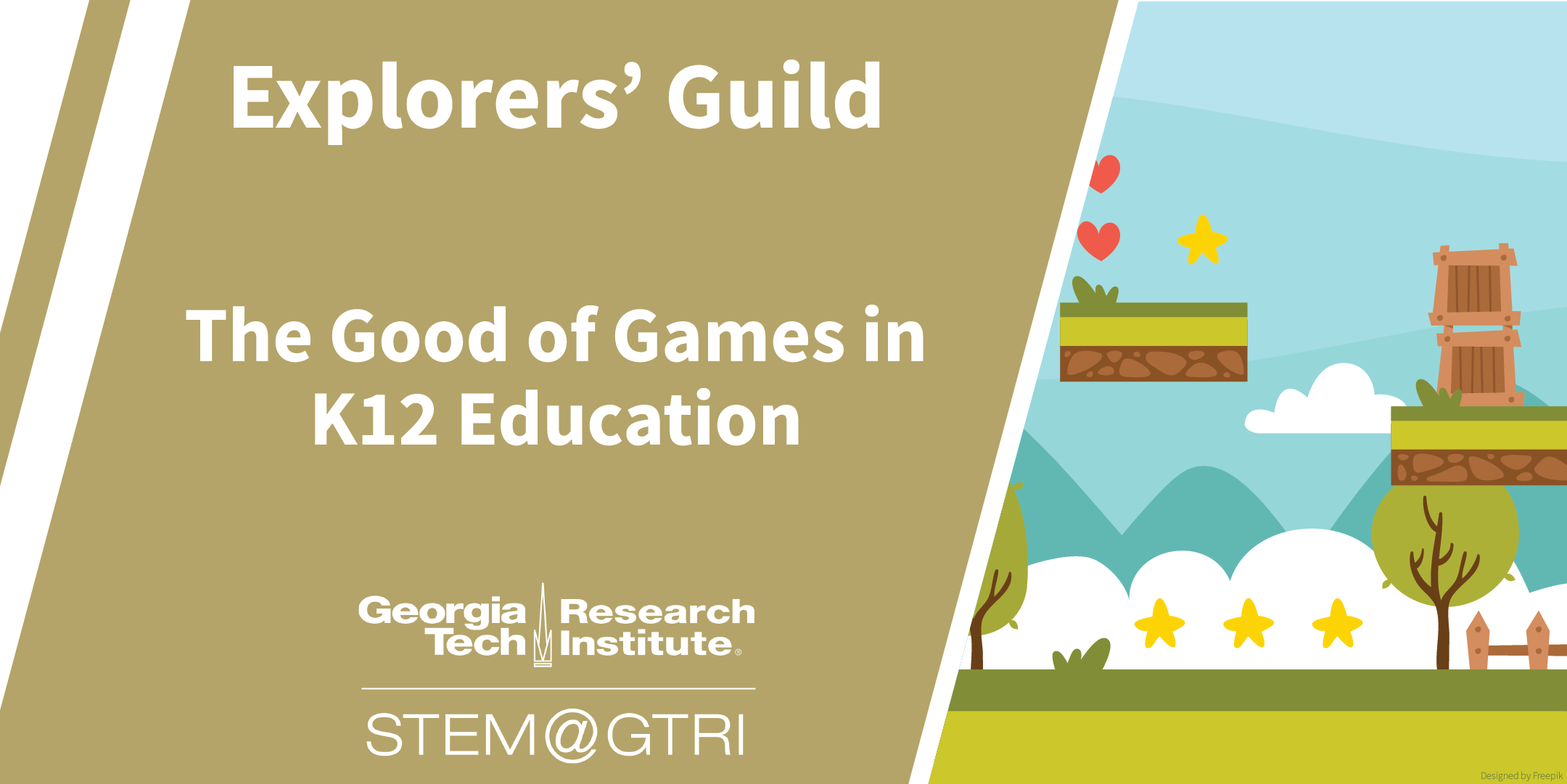 Virtual EG Series | The Good of Games in K12 Education
Series Facilitator: Laura Levy, Human Factors Psychologist at the Institute for People and Technology at Georgia Tech and Research Director of GEAR (Gaming & Esports Applied Research)
March 4, 4:30 - 5:15 p.m
Introduction - Games are good for you!
Learn about the science behind how games are good for your brain, body, and overall wellness.
March 11, 4:30 - 5:15 p.m.
Games in MY Classroom?    Register
Learn unexpected ways to teach with games.
March 18, 4:30 - 5:15 p.m.
What does it mean to work in the games industry?    Register
They aren't all programmers - learn what it means to go into the games industry and the skills required.
March 25, 4:30 - 5:15 p.m.
Esports: Why should I care?    Register
Learn about the benefits of esports in STEAM education and how to start a team.
Games are everywhere and that includes in school! In fact, there are decades' worth of scientific literature backing why playing video games are good for student social, emotional, mental, and physical wellness. However, what is still being explored is how to effectively integrate games and games concepts into the classroom. From art history to physics, video games can be used to engage and excite students about STEAM topics and motivate them to develop STEAM skills that not only would benefit them in a games industry career, but also translate to many other kinds of STEAM fields. Esports programs have also been scientifically shown to help students develop communication, compromise, and teamwork skills much in the same way traditional sports programs can.
In this Explorer's Guild series, we will explore how games can benefit student wellness and motivation for STEAM learning, how to effectively integrate games into many types of classroom topics and activities, the types of skills students can develop that connect to jobs in the gaming industry, and the benefits and how to's for starting an esports program at your school! Sign up for all 4 workshops or as many as your schedule allows.
---
Virtual EG Series | The Powerful Act of Prototyping
Series Facilitator: Dr. Clint Zeagler, Georgia Tech Institute for People and Technology (IPaT)
Jan. 21, 4:30 - 5:15 p.m.: Technical Drawing – From Ideation to Illustration
Dr. Clint Zeagler, IPaT
Jan. 28, 4:30 - 5:15 p.m.: Paper Prototyping – Time- and Cost-Effective Prototyping
Noah Posner, Georgia Tech School of Industrial Design and Dr. Clint Zeagler, IPaT
Feb. 4, 4:30 - 5:15 p.m.: Digital Prototyping – 3D Modeling and Virtual Prototyping
Tim Purdy, Georgia Tech School of Industrial Design and Dr. Clint Zeagler, IPaT
Feb. 11, 4:30 - 5:15 p.m.: Discussing Prototyping – Pulling It All Together   Register
Dr. Clint Zeagler, IPaT
Having an idea in your mind is not enough to make it a reality. Designers use different methods of prototyping to help see their ideas come to life. Drawing the design in specific ways starts to help a designer see how parts might fit together. Paper prototyping helps decide shapes and scale, while also giving the opportunity to test certain aspects of the design. Digital prototyping allows us to put our designs in virtual worlds and start to interact with interfaces. Each of these methods can be used in the face-to-face, hybrid, or virtual classroom to help students think through ideas in project-based learning curriculum. Prototyping isn't about perfection. Artistic skills might help but the outcome of prototyping while designing is most often not as important as the knowledge gained from the process of making.
In this Explorers' Guild series, we will point you to methods of prototyping and resources that are easy to understand with a low threshold for entry. Let's get making!
---
Virtual EG Series | Listen Up: Podcasts in the Classroom
October 22, 2020: Communicating Information Using Podcasts
Fred Rascoe and Charlie Bennett, GT Library
October 29, 2020: Introduction to Creating Podcasts
Fred Rascoe and Charlie Bennett, GT Library
November 5, 2020: Integrating Podcasts in Your Curriculum
Christy Todd, Fayette County Public Schools
November 12, 2020: K12 Podcast Ideas and Strategies
Tyler Kinner, GTRI and Heidi Turcotte, CEISMC
Podcasts have been growing rapidly and one of the biggest motivations for listening to podcasts is learning. Over the years, podcast use has made its way into the classroom. Educators can use podcasts to make connections across disciplines, facilitate project-based learning, and increase literacy and communications skills. Looking for alternative ways to assess your student's understanding of a topic, and involve them in a fun innovative process at the same time? Consider having your students create a podcast. Students can also create podcasts as part of a classroom activity or curriculum.