** The pre-application process for the 2024 High School Summer Internship Program will open in December 2023. If you would like to be notified by email when the pre-application goes live, please complete the contact list. **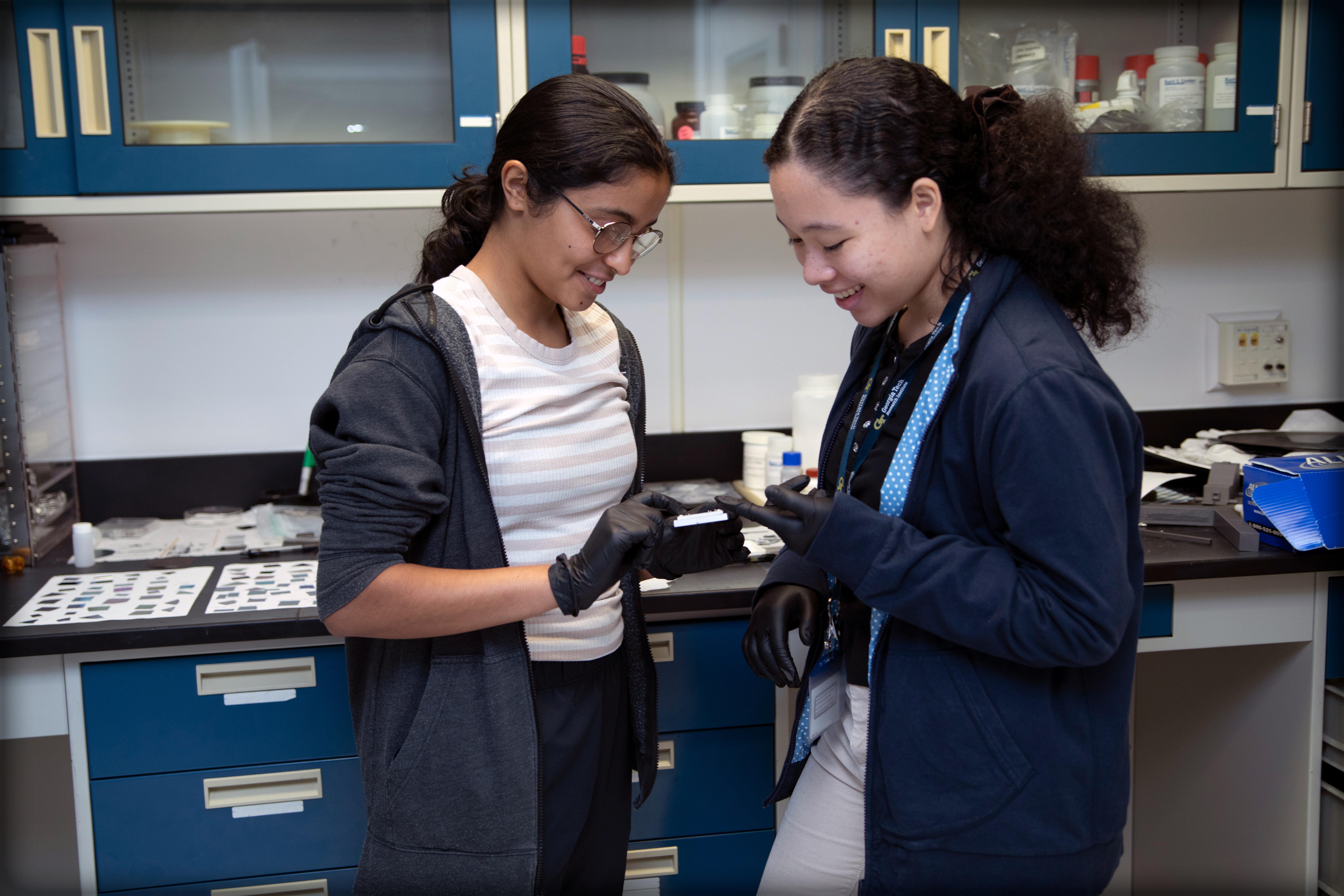 Georgia high school students who are at least 16 years old may be eligible to apply for five-week paid summer internships hosted in GTRI labs. Interns work on projects in GTRI laboratories and the GTRI Warner Robins field office with the goal of providing students with real-world experiences in science and engineering research. GTRI researchers mentor students by working with them on projects to engage them in first-hand STEM experience, with the goals of helping bridge the gap in Georgia's STEM workforce by creating awareness of STEM career opportunities.
Internship projects focus on topics ranging from piezoelectric systems to rapid prototyping, from robots and drones to the physics of radar emissions. Students may build educational kiosks that provide educational information on night vision or help build piezoelectric tiles to create energy for the NASA visitors center. 
In select cases, teachers from local school systems work alongside students and GTRI researchers to develop a finished research project, as well as a curriculum that will incorporate those learning concepts back their the classrooms.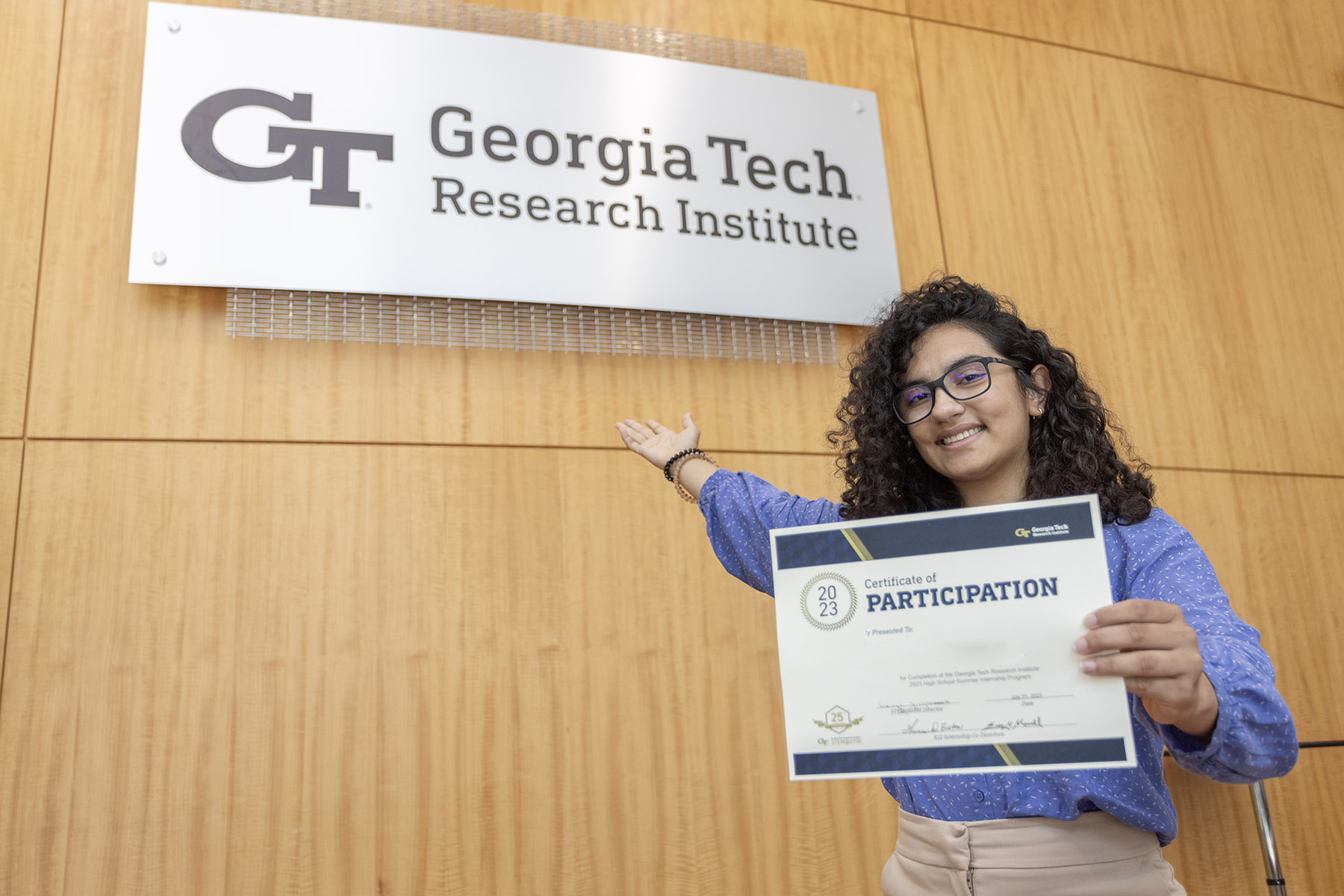 Student interns have the opportunity to learn more about working in a STEM field by attending a workplace orientation, participating in lab tours in throughout Georgia Tech, attending trainings on topics such as soldering and circuit board design, and interacting on a regular basis with GTRI researchers as well as Georgia Tech graduate or undergraduate students.
Interns and their teams present the results of their work in an end of the summer final presentation.
If you have any questions, please reach out to the STEM@GTRI team, Therese Boston and Dr. Erick Maxwell, at stem.gtri@lists.gatech.edu.
Pre-Application
The purpose of the student profile and pre-application is to match high school students with a GTRI job opportunity. Once a student completes and submits the pre-application, the information will be visible to GTRI faculty/staff who have internship opportunities. Once the GTRI faculty/staff member identifies a student as a potential intern, he/she will contact the student by email and/or phone for an interview. It is not unusual for multiple applicants to interview for a single position. As a result, interviews can take several weeks. Completion of the pre-application does not guarantee employment.
Requirements
Show proof of citizenship or US person status (EAR Part 772 and ITAR 120.15)

Note: Most, but not all, positions require US Citizenship or status as a US Person because of the nature of the project or information to which the student may have access during the internship.
Note: GTRI does not sponsor H1B visas

Be a Georgia resident attending a school in Georgia
Be at least 16 years old by April 1, 2024
Be in the high school graduating class of 2024, 2025, or 2026
Have reliable transportation to assigned work location (Housing is not provided)
Be able to work from June 10 to July 19, 2024, during regular business hours (8am-5pm)
Be available to attend an all-day STEM@GTRI orientation on June 10, 2024

Note: If you miss the orientation, your GTRI internship offer will be rescinded

Be available to attend and participate in an all-day final presentation on July 19, 2024
Be available to work 24 hours/week for five weeks (more than 24 hr/wk will not be approved)
Attend any lab-specific safety training (if it applies to their activity/location), i.e. wet-lab training
Not work on weekends or after hours (work is only permitted M-F 8am-5pm)
Work in-person only
Frequently Asked Questions
General Info
How long does the internship last? How many hours do I work per week?         
This is a five-week internship program that takes place over a 6-week period. Interns do not work the week of July 4th. Interns must be available to work up to 24 hours a week during the approved work hours of Monday-Friday, 8 a.m. – 5 p.m.
Can I work more than 24 hours a week?         
No, students are only approved to work 24 hours a week.
How many intern positions are open for the internship program?         
On average, we place 55-60 students each year.
Is this a paid internship?         
Yes, this is a paid internship program.
Is housing provided?         
STEM@GTRI does not provide housing for interns.
Eligibility
My 16th birthday occurs after the deadline specified. Should I apply?         
No. Students must turn 16 years old on or before the deadline.
I reside outside the state of Georgia. Can I apply?         
No. Georgia-based STEM@GTRI positions conduct research using funding from the State of Georgia and by contract are required to be Georgia residents who attend high school in Georgia. Therefore, all GTRI summer interns are required to be Georgia residents who attend a high school or home school in Georgia. 
I will be visiting Georgia in the summer and will live with a relative. Am I eligible to participate?         
No. Students must be a Georgia resident who attends a school in Georgia or is homeschooled in the Georgia.
Pre-application
Will I need to submit a resume?         
Yes, you will be required to upload a resume in PDF format for the pre-application.
After Applying
What is the selection process?         
The selection process is a multistep process, involving reviews of the pre-application, interviews with the GTRI mentor, and then completion of final application. If an candidate receives and accepts an informal offer, the internship program directors(s) will initiate the Georgia Tech Tech Temp Hiring process, through which a formal offer of employment will be made.
There are nine (9) different GT/GTRI departments and offices involved in the GT hiring process and most will communicate with candidates through email. It is critical that candidates are timely in their response to all e-mails received from GT/GTRI. As such, employment offers (both informal and formal) are conditional. Offers are based on candidates successfully completing all the requirements of the hiring process in a timely manner.
Other Opportunities
If I'm not selected, are there other opportunities offered by STEM@GTRI, GTRI, or Georgia Tech?         
Please visit the STEM@GTRI or CEISMC website for updates or consider applying again next year if you are eligible.
---
If you have any questions, please reach out to the STEM@GTRI team, Therese Boston and Dr. Erick Maxwell, at stem.gtri@lists.gatech.edu.