GTRI Uses Haptic Technology to Enhance VR Military Training
Not just a technology for gamers, virtual reality (VR) is transforming countless industries, including the defense sector. The Georgia Tech Research Institute (GTRI) is utilizing haptics, which draws on people's sense of touch, to make VR military training even more immersive and impactful.
VR is a simulated experience that immerses users in a virtual world through the use of pose tracking and 3D displays. The U.S. Department of Defense (DoD) has adopted VR as a way to provide real-time training for warfighters, such as flight simulations for fighter pilots and battlefield training for on-ground soldiers, as well as equipment repair and maintenance.
Alexis Noel, a GTRI senior research engineer who is leading this project, said VR is a cost- and time-effective alternative to traditional training methods. Noel, who holds a Ph.D. in biomechanics from the Georgia Institute of Technology (Georgia Tech), focuses her research on how to train the next generation of technicians, artisans, and engineers through immersive, interactive augmented reality (AR) and VR experiences.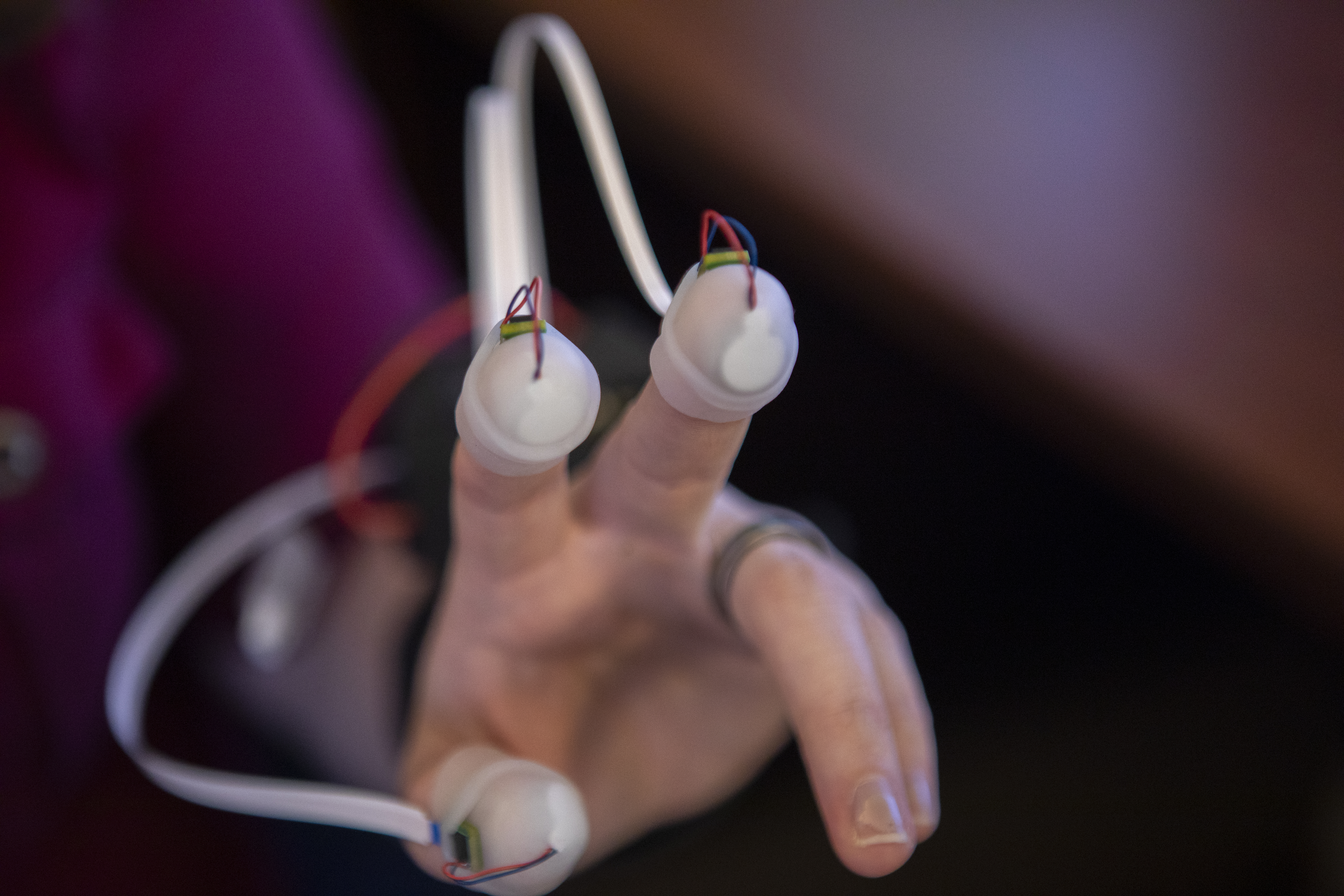 "The idea is that military personnel could put a VR headset on and walk through a whole bunch of different training scenarios without there being a need to spend the time and money required for them to be in the actual environment," Noel said.
As technology becomes increasingly more complex, subject matter experts (SMEs) are becoming increasingly sparse, she added.  
"In a traditional training environment, if you want to train someone on operating a new CNC milling machine, for example, you may have to fly a SME out from across the country, which can be expensive and time-consuming," Noel said. "If you don't have a SME, you have to rely on paper manuals, recorded videos, or virtual conferences. VR is the next step in the progression of training videos."
In addition to reducing the cost and time required to train novices on beginner tasks or standard operating procedures, VR can also replicate emergency scenarios, which can be challenging to do in a traditional training setting. VR can also enable repetition and be deployed to any location, Noel said.
VR systems come with 3D headsets that show users the virtual world and hand controllers that allow them to interact with that new environment. However, many traditional VR controllers are rigid, clunky, and don't allow people to use their fingers to grab or manipulate small objects or complete tasks that require greater levels of precision.
Noel's team is working to solve that challenge by developing a lightweight yet robust haptic device that users would wear on their fingertips. The haptic system is called LiGHT-VR, which stands for Lightweight Glove-free Haptics for Training in Virtual Reality. LiGHT-VR relies upon sensor fusion to accurately track the position of a user's fingertips and provide tactile feedback.
"This 'gloveless' glove would remove the need for rigid controllers and better allow warfighters to interact with things in the virtual world with their hands," Noel explained. "It has some feedback mechanisms in place to make it feel like they're actually touching things. Additionally, our haptic system is cable-free, lightweight, and can snugly fit any size hand for accurate finger tracking."
In addition to offering greater precision and tactile feedback, this lightweight device would have a low level of latency, or the amount of time it takes for a user's movements to be reflected in the VR environment, to optimize performance.
The haptics market has experienced rapid growth in recent years, largely due to the digital transformation spurred by Covid-19. The global haptics market is projected to reach $28.1 billion in value by 2026, a 104% increase from 2020. The tactile haptics market, meanwhile, is expected to grow 13.5% to reach $24 billion by 2026.
While there are a number of commercial off-the-shelf products available in the VR haptic glove market, these gloves are plagued by immersion-breaking issues such as unrealistic haptic feedback, poor finger tracking, and bulky, ill-fitted fabric glove bases, noted Noel.
"These devices haven't quite figured out how to map your hand into the virtual world," she said.  "That's where we come in. We want to remove the controllers by precisely tracking where a user's fingertips are and then replicate that in the virtual world."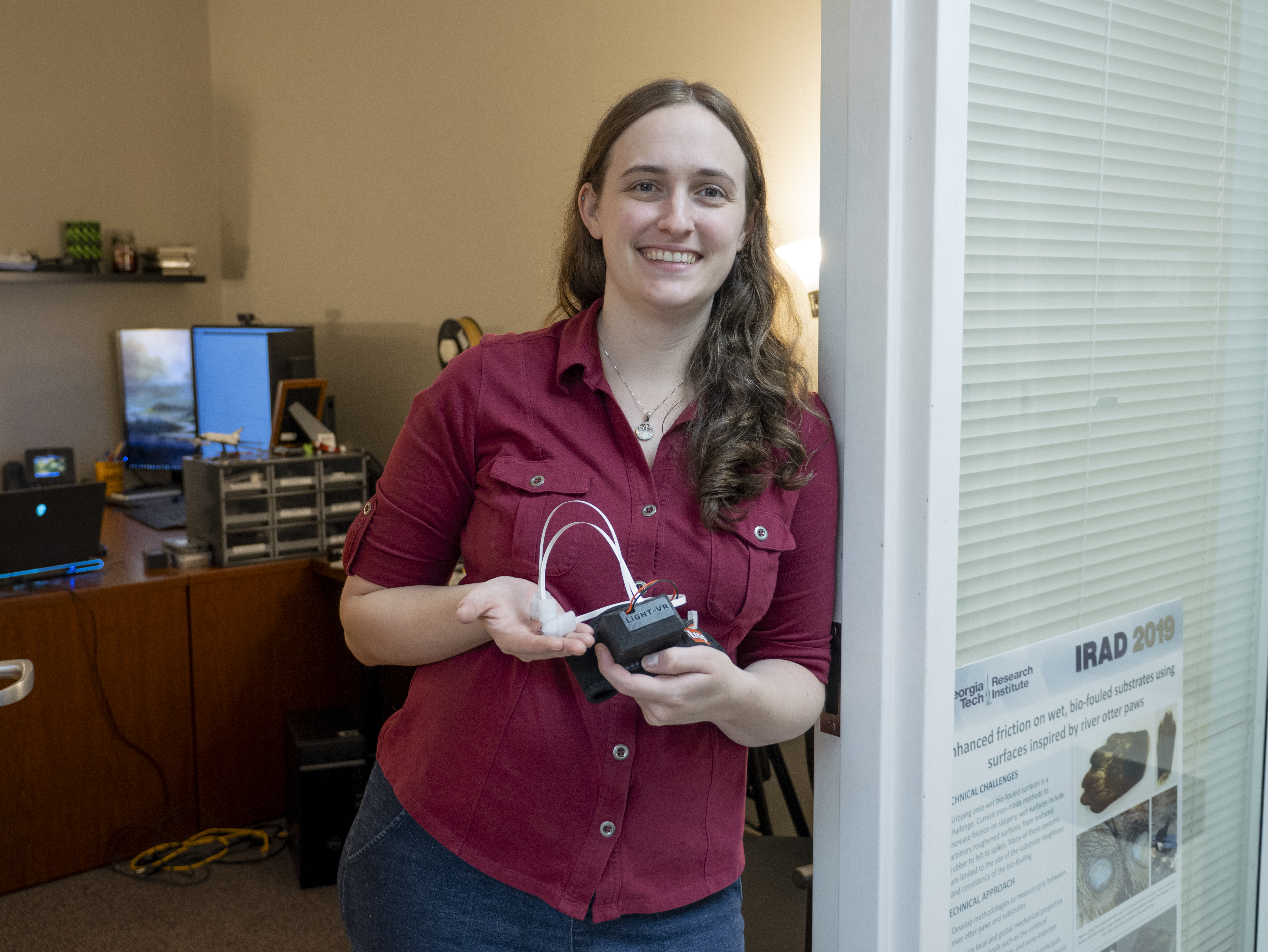 GTRI's new haptics offering would usher in a new era of virtual DoD training. Military personnel would be able to do things such as use their hands to disassemble weapons and learn how to operate the buttons and switches in a nuclear power plant.  
GTRI has developed its own haptic prototype with a combination of off-the-shelf components and GTRI-developed silicone casting that would be placed on users' finger tips to track their movements.
This project has been supported by GTRI's Independent Research and Development (IRAD) program.
Writer: Anna Akins 
Photos: Christopher Moore 
GTRI Communications
Georgia Tech Research Institute
Atlanta, Georgia

The Georgia Tech Research Institute (GTRI) is the nonprofit, applied research division of the Georgia Institute of Technology (Georgia Tech). Founded in 1934 as the Engineering Experiment Station, GTRI has grown to more than 2,900 employees, supporting eight laboratories in over 20 locations around the country and performing more than $800 million of problem-solving research annually for government and industry. GTRI's renowned researchers combine science, engineering, economics, policy, and technical expertise to solve complex problems for the U.S. federal government, state, and industry.