GTRI Partners with the National GEM Consortium to Recruit Diverse Talent
Georgia Tech Research Institute (GTRI) is pleased to announce that they are now an employer with the National GEM Consortium — a network of leading corporations, government laboratories, elite universities, and elite research institutions that empowers qualified students from underrepresented communities to pursue a graduate degree in a STEM field. GEM's mission is to garner a talent pool of African American, Hispanic American, and Native American advanced degree-seekers in STEM fields.
Every year, GEM identifies and recruits close to 2,000 students and working professionals from underrepresented groups to participate in its program, which consists of three graduate fellowship tracks: Master of Science in Engineering, Ph.D. in Science, and Ph.D. in Engineering.
GEM also provides financial support to aspiring graduate students from underrepresented groups, allowing them to pursue their dreams without worrying about money.
During the summer, GEM fellows participate in paid internships — a requirement that provides them with real-world experience and potential employment opportunities. More than half of GEM alumni report having accepted a full-time job from GEM employer sponsors after completing their advanced degree.
History of GTRI and the National GEM Consortium
GTRI has been able to previously partner with GEM several times within the last 30 years. Multiple Research Faculty at GTRI are GEM alumni, including Mike Grady, Ph.D., Adilson Cardoso, Ph.D., and Jackie Fairley, Ph.D.
Since 2018, GTRI's Diversity and Inclusion (D&I) Division has strengthened this relationship by presenting Tech Talks and recruiting diverse talent at GEM's National Annual Conference.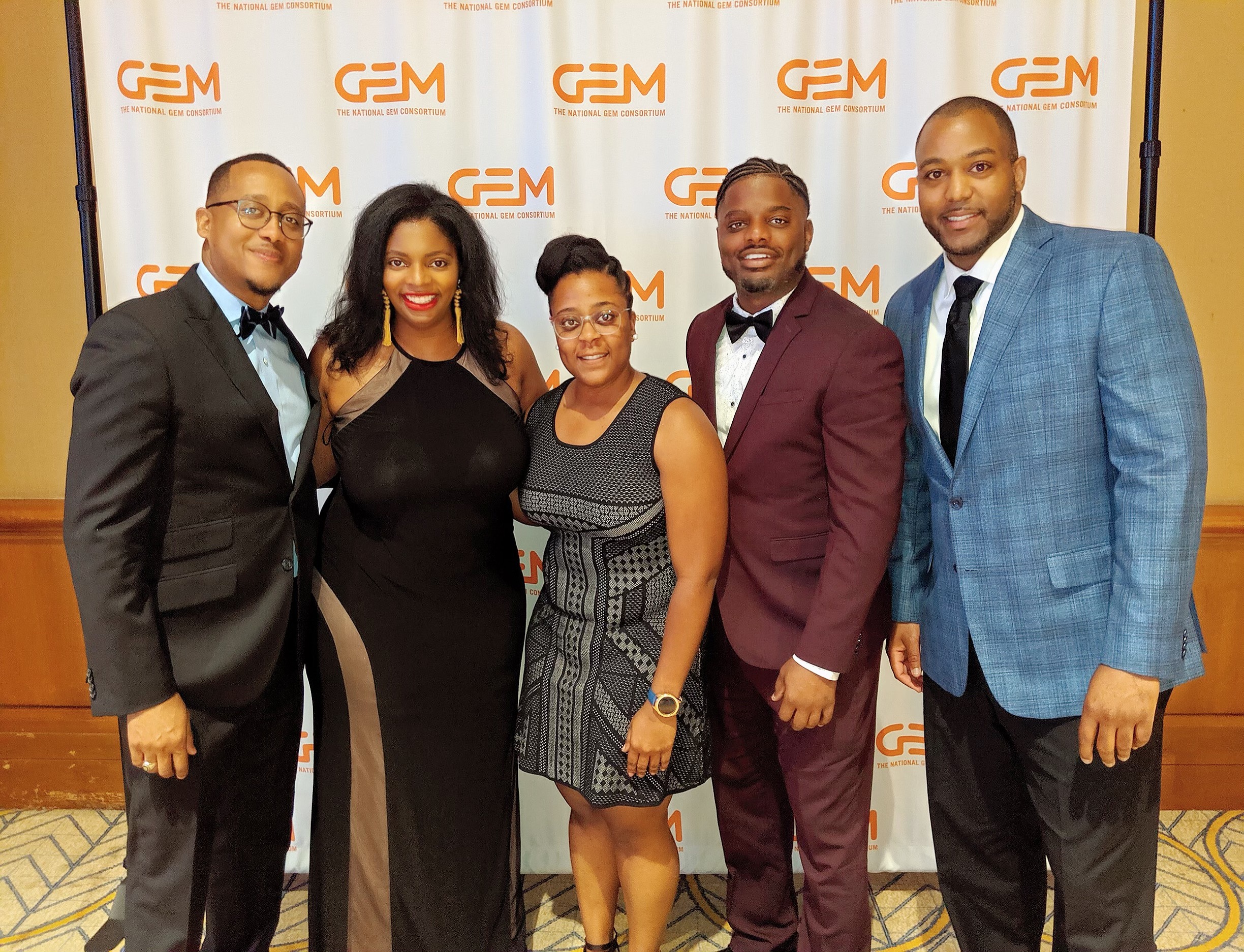 GTRI has also hosted two student interns working in the CIPHER laboratory. One was a master's degree student, hosted for two summers working in CIPHER, and the other was a Ph.D. student hosted for one summer working with CIPHER.
Following the intentional efforts of leadership to increase recruitment within underrepresented communities, GTRI is incredibly excited to renew this partnership and have opportunities to recruit diverse, talented students who are pursuing advanced degrees.
Becoming a GEM Fellow
GEM offers two master's degree fellowship programs, and one Ph.D. program. The master's program lasts two years, and the Ph.D. lasts one year. During those times, tuition and fees are covered, and students receive an annual stipend provided by the sponsoring university and employer.
Interested students can apply during their undergraduate studies. Juniors and seniors can apply to the master's fellowship. Seniors and Master of Science students can apply to the Ph.D. fellowship, though Ph.D. students can also be accepted.
Master's fellows must complete two internships, and Ph.D. fellows are required to complete one internship.
A note about the Ph.D. fellowship: The fellowship applies to any one year through the fifth year of a student's Ph.D. program. Then, fellows receive free tuition, fees, and a stipend for the rest of the program up through the fifth year.
Interested students can apply here. GEM also puts on many career-related events throughout the year for students to attend.

Information about the fellowship programs came from GEM's promotional materials.
Georgia Tech Research Institute (GTRI) is the nonprofit, applied research division of the Georgia Institute of Technology (Georgia Tech). Founded in 1934 as the Engineering Experiment Station, GTRI has grown to more than 2,700 employees supporting eight laboratories in over 20 locations around the country and performs more than $600 million of problem-solving research annually for government and industry. GTRI's renowned researchers combine science, engineering, economics, policy, and technical expertise to solve complex problems for the U.S. federal government, state, and industry. Learn more at https://www.gtri.gatech.edu/ and follow us on LinkedIn, Twitter, Facebook, and Instagram.