GTRI Makes STEM Accessible for Students in Smyrna, Ga.
On Saturday, May 7, volunteers from the Georgia Tech Research Institute (GTRI) showed the local community just how fun science, technology, engineering, and mathematics (STEM) can be.
In their daily lives, GTRI's renowned researchers combine science, engineering, economics, policy, and technical expertise to solve complex problems. Equipped with their scientific and technical knowledge, GTRI volunteers set up interactive stations in Riverview Park in Smyrna, Ga. The ten booths demonstrated various scientific principles aimed to meet the students' skill levels and build positive attitudes and confidence toward STEM.
Throughout the four-hour event, Science Revealed: A Science Day in the Park, 165 attendees explored the world of science and learned about the different career opportunities in the science industry.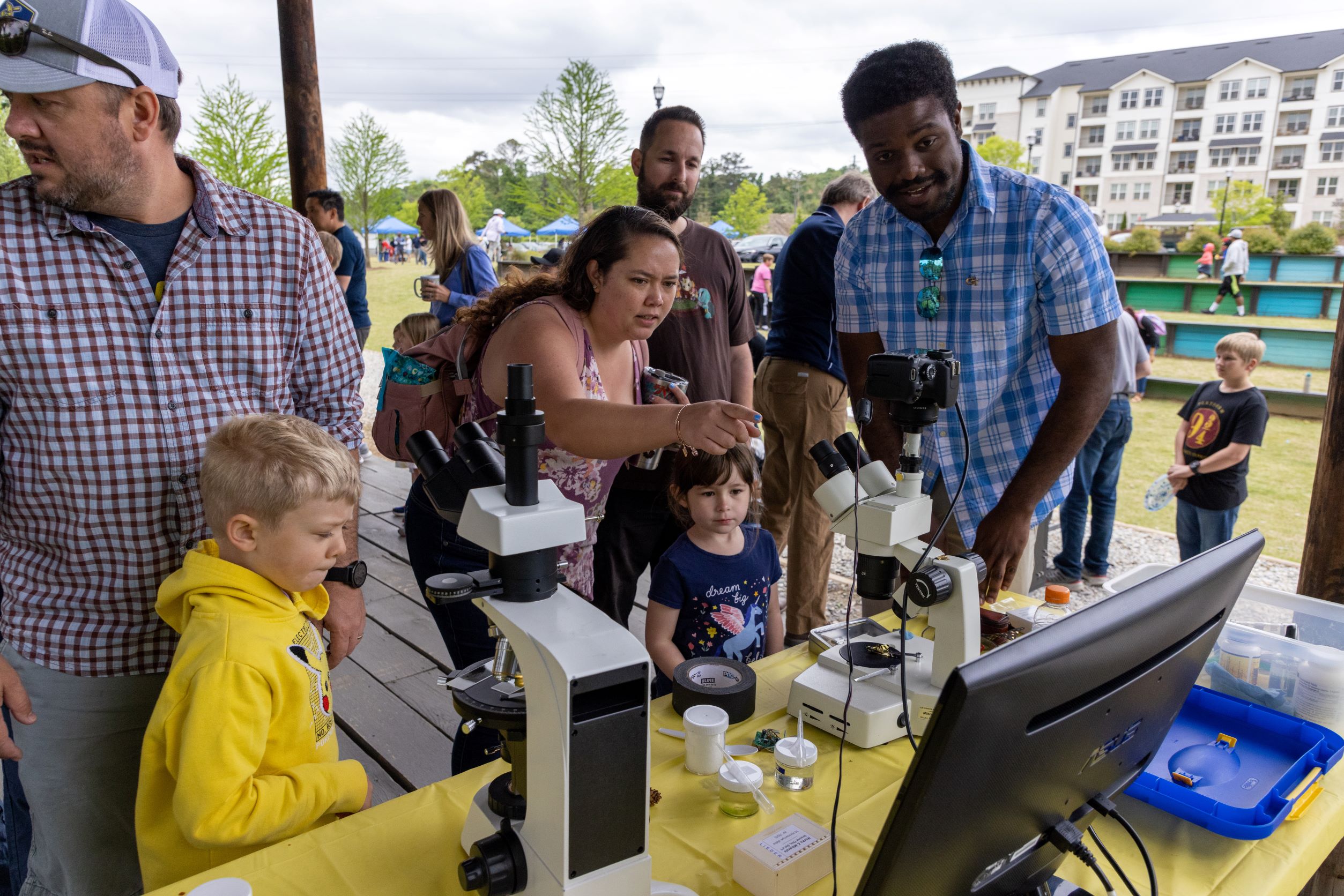 Turning an Idea into a Community Event
GTRI Senior Research Engineer Gabriel Saffold explained that the Science Day in the Park was initially born out of his desire to interact with students in an accessible and authentic way to build belief and, hopefully, understanding.
"I reached out to Professor Lewis Wheaton at Georgia Tech and asked if he knew of a park where I could go play around with science," said Saffold. "I thought that shooting off rockets or something might end up being an informal way to interact with neighborhood kids."
In addition to being a professor at Georgia Tech, Wheaton is also the Councilmember for Ward 7 in the City of Smyrna. Saffold's simple inquiry then led all the way to Richard Garland, the head of Smyrna Parks and Recreation. Research Engineer Michael Grady and Senior Research Scientist Jack Wood soon joined the cause, and within a short amount of time, a full-on science day was in the works.
Wood was responsible for coordinating and training presenters through STEM@GTRI, an outreach program with a rich history of inspiring, engaging, and impacting Georgia educators and students. Through Wood's experience with STEM@GTRI, he was instrumental in selecting and setting up the specific STEM demonstrations that would make the most impact for this event.
Interacting with Science
Sometimes scientific principles can be difficult for students to picture in their minds. So, to promote STEM to neighborhood students, this event focused on exploration and engagement.
GTRI volunteers facilitated a liquid nitrogen demonstration and interactive rocket launch. After both large-scale demonstrations, children and parents were invited to experiment with different bases and acids to observe what may cause a reaction.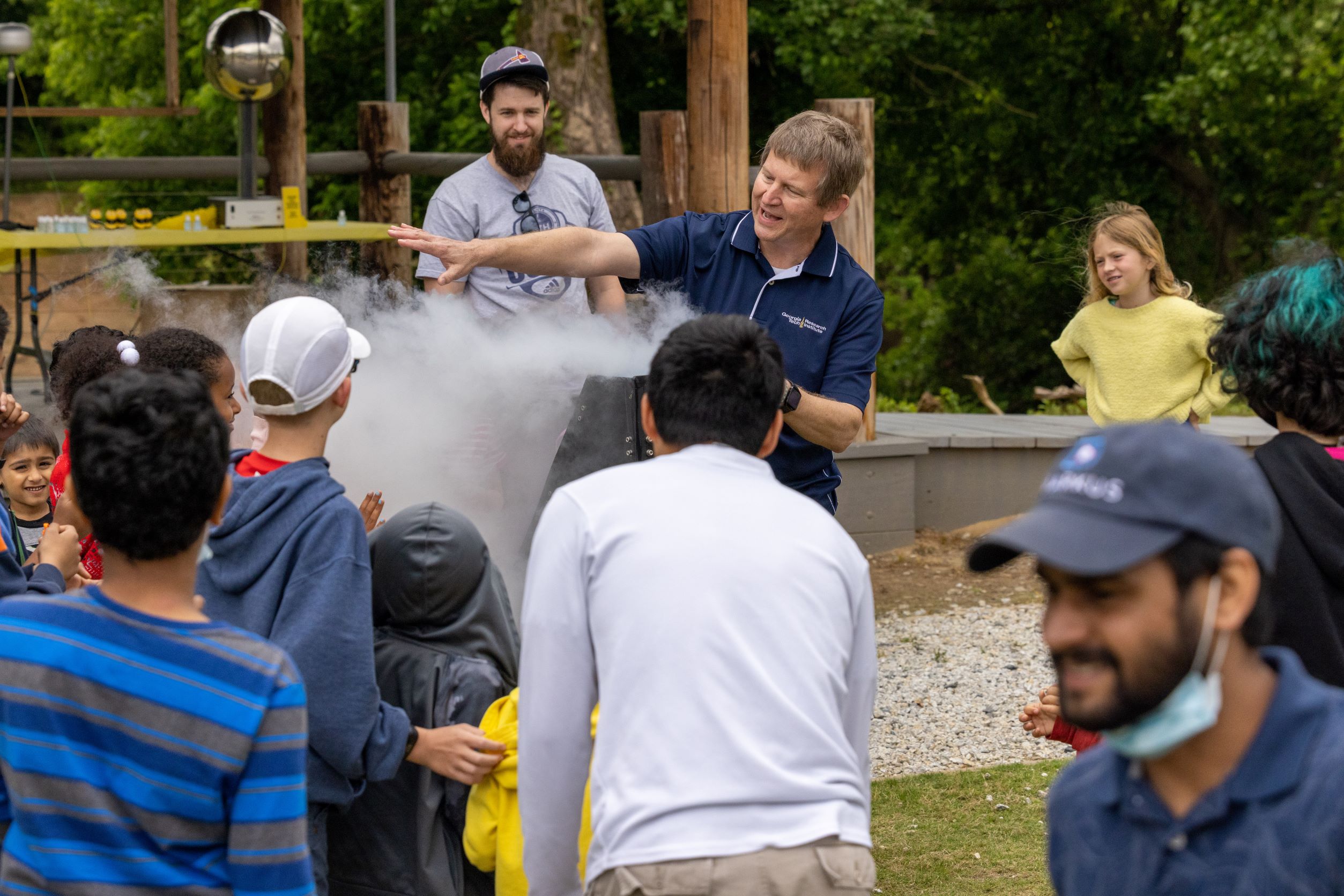 "I enjoyed watching my GTRI colleagues connect with children and families from our community," said Wood. "Some presenters were veterans at STEM outreach. Some were new to it. All had a good time and did a great job of inspiring students to understand STEM topics better."
There was also a Rube Goldberg competition for middle school students during the event. Five teams of students worked to create a machine that uses a chain reaction to carry out a simple task. Rube Goldberg machines are sometimes overly complex contraptions, which can help students understand and implement simple machines like levers, pulleys, rolling balls, ramps, and tubes.
Students experienced uncontrollable environmental variables when the wind and rain picked up, and their projects were not staying together. The winning group from Campbell Middle School built their entire project inside a box and ultimately won because of their innovative planning.
Despite all the demonstration and activities, Grady explained that his favorite moment of the event was a spontaneous interaction that led to a deeper understanding of science.
"There was a little boy, maybe about three or four years old, and he was so excited about the Rotational Physics demonstration," explained Grady. "At one point, he placed many of the plush Buzzes (Georgia Tech mascot) that we gave away, and he started spinning them off a turn table that was included in the demonstration. Kevin Meng (a GTRI volunteer) used this as a teachable moment and started asking questions about which one would fall first after you spin the turntable and why. The kid answered all the questions, and there was a timely mention of this being STEM/physics in action. It was very rewarding to see the pleased look on his family's faces."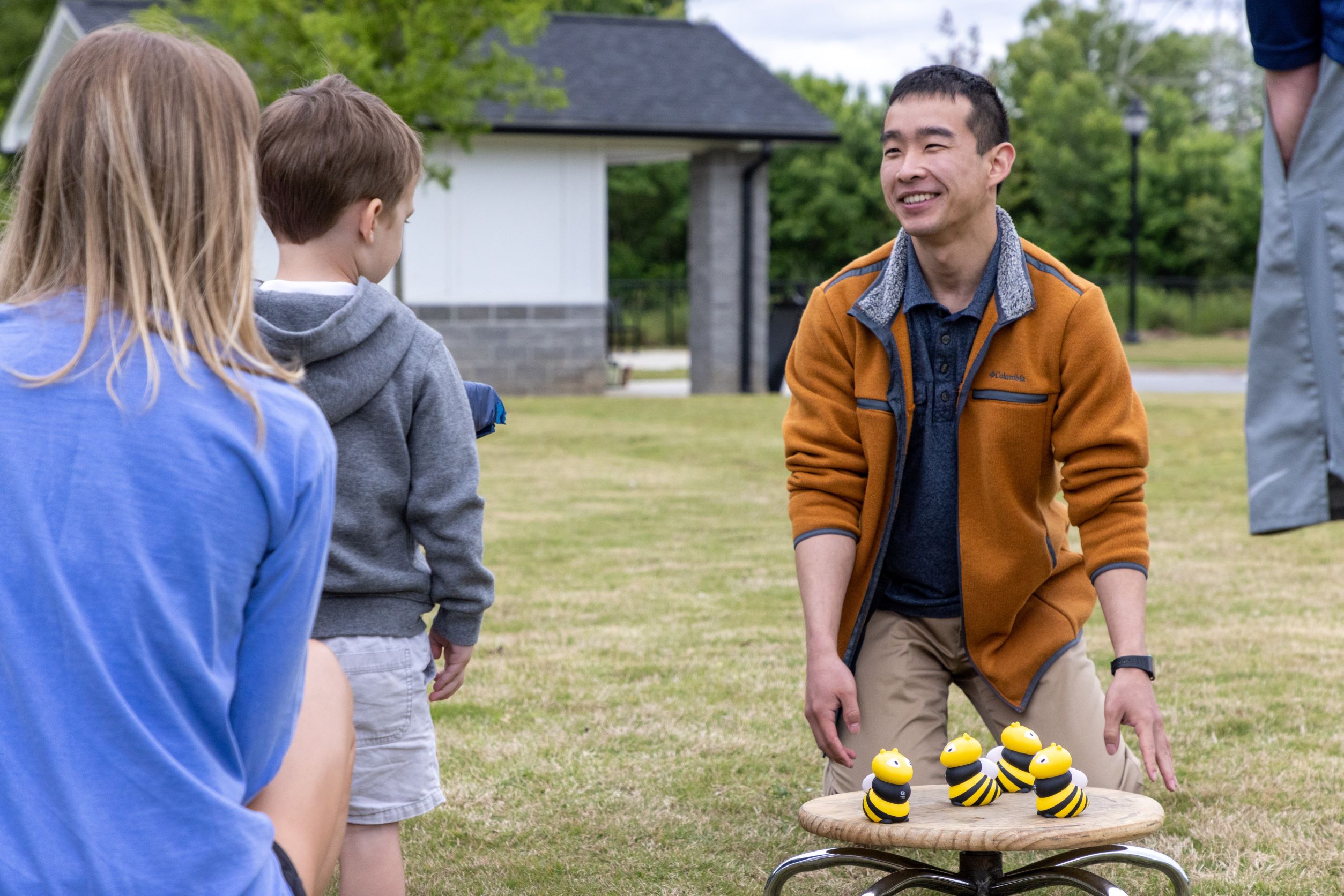 Future Partnerships
Continuing to support communities throughout Georgia by engaging in STEM outreach is a major goal of STEM@GTRI. Thus, the group was thrilled when they heard that the city of Smyrna Parks and Recreation expressed interest in making this an annual event. STEM@GTRI is already heavily involved in many yearly community outreach events, including the Atlanta Science Festival, the Columbus Let's Grow STEAMx Youth College and Career Expo, and the Sandy Springs Education Force STEAM Showcase.
"There are thousands of us working in STEM in Smyrna," urged Saffold. "No kid growing up around us who wants to work in STEM or even to use a STEM career as a means to improve their life should fail over a lack of belief or understanding. It shouldn't seem unreal or unachievable. They live so close to so many of us who walked the same or similar paths."
Leveraging the resources of STEM@GTRI with the lessons learned from this first Science Day in the Park event, GTRI is ready for the next iteration of this event. This event would not have been possible without volunteers from GTRI, Georgia Tech, and the City of Smyrna Parks & Recreation. Therefore, we say "thank you" to: Ellis Bowling, Beth Davis, Daniel Dykes, Richard Garland, Michael Grady, Michael Kanack, Tyler Kinner, America Maxwell, Erick Maxwell, Kevin Meng, Sharaé Meredith, Alexander Mills, Jodi Mills, Christopher Mocko, Ashley Putnam, Gabriel Saffold, Jennifer Sharpe, Ethan Trewhitt, Laura Vinson, Lewis Wheaton, and Jack Wood.
Writer: Katrina Heitz
Photos: Ethan Trewhitt
GTRI Communications
Georgia Tech Research Institute
Atlanta, Georgia USA
---
---
The Georgia Tech Research Institute (GTRI) is the nonprofit, applied research division of the Georgia Institute of Technology (Georgia Tech). Founded in 1934 as the Engineering Experiment Station, GTRI has grown to more than 2,800 employees supporting eight laboratories in over 20 locations around the country and performing more than $700 million of problem-solving research annually for government and industry. GTRI's renowned researchers combine science, engineering, economics, policy, and technical expertise to solve complex problems for the U.S. federal government, state, and industry.
Learn more at www.gtri.gatech.edu and follow us on LinkedIn, Twitter, Facebook, and Instagram.