GTRI Helps College Students Succeed
The success of the Georgia Tech Research Institute (GTRI) emerges from the brilliant minds working at the organization. Our Ph.D. graduates, engineers, analysts, researchers, programmers, and scientists are continuously honored inside and outside our organization through awards, publications, and conferences for their groundbreaking innovations. Among these bright minds are graduate research assistants, interns, and students who are rising as the next generation of STEM leaders. During the 2020 fiscal year, GTRI employed more than 600 graduate and undergraduate students who gained valuable experience for their careers and contributed to exciting projects. 
Have you ever wondered what it's like to work at GTRI? Here is what some of our college students have to say.
A Passion for the Field                                          
GTRI data analyst co-op Paul Farmer and former GTRI graduate research assistant Mary Catharine Martin became interested in aerospace engineering when they were young. Their early passion for the field propelled their desire to attend the Georgia Institute of Technology (Georgia Tech) and later come to work at GTRI.
In middle school, Martin discovered she had a propensity for math, leading her father to encourage her interest in STEM fields. One summer, he took Martin to see a rocket launch at the Kennedy Space Center.
"And then the next summer, we went to Johnson Space Center in Houston, and after, that I was hooked," Martin said.
Her middle school math teacher, a retired engineer, put her on the advanced math track, and the rest is history.
For Farmer, it started off as wanting to become an astronaut when he was younger, but that eventually evolved into an interest in aerospace engineering. Farmer, who is from Arkansas, came to Georgia Tech because he did not see much of an opportunity to pursue his dreams in his state.
In fall 2018, he came across GTRI's booth at an aerospace engineering career fair. He later applied to a few positions that interested him. Farmer has worked at GTRI for more than a year now, and he hopes to continue working at GTRI after graduation.
Opportunities for Growth                                                                           
GTRI, with its eight different labs, allows students to work on a variety of projects and research topics. Martin explains the experience was different from her other internships, but she preferred the cycle to explore various fields at GTRI.
"I liked my lab especially," Martin said. "I liked the people in my lab a lot. That and the type of work we do is what motivated me most to stay on with GTRI."
"I was also able to have some influence on the projects we worked on," she continued.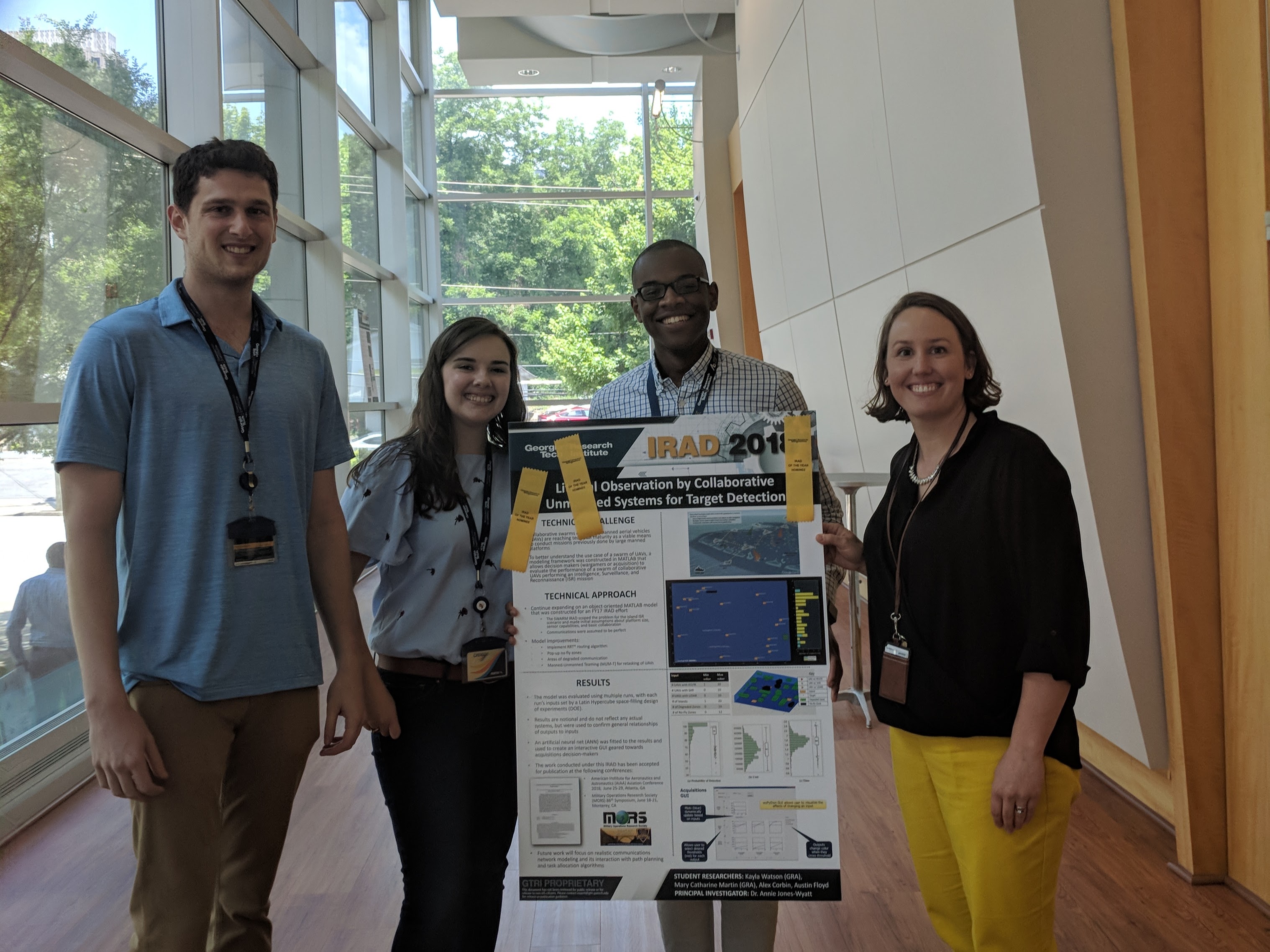 Martin was interested in unmanned vehicle autonomy — a topic she has written a research paper on — and worked with her supervisor to create a project based on that interest. This was one of several research papers she contributed during her time at GTRI. Here is a link to one of her articles about unmanned vehicles published by the American Institute of Aeronautics and Astronautics (AIAA).
Farmer has also picked up a variety of skills during his time at GTRI that could help him land a full-time job in the future, including Python, electronic warfare, radar theory, and flight test principles.
"[My supervisor] encourages me to take time to learn everything," he said.
"GTRI lets me dip my toes into many different aspects of engineering, expanding my skills and knowledge in many different ways," Farmer said. "It has prepared me to effectively tackle many different problems, often simultaneously."
GTRI is building future leaders in STEM and provides them an opportunity to obtain the skills they need to land a full-time job in the field.
Important Life Skills and Achievements
Samuel Porta, a GTRI software engineering student assistant, created an app called Queues, which provides live wait reports for dining locations on campus. In March of 2020, he and his team won first place in Georgia Tech's annual InVenture Prize, a faculty-led innovation and competition for the Institute's undergraduate students and recent bachelor's of science graduates.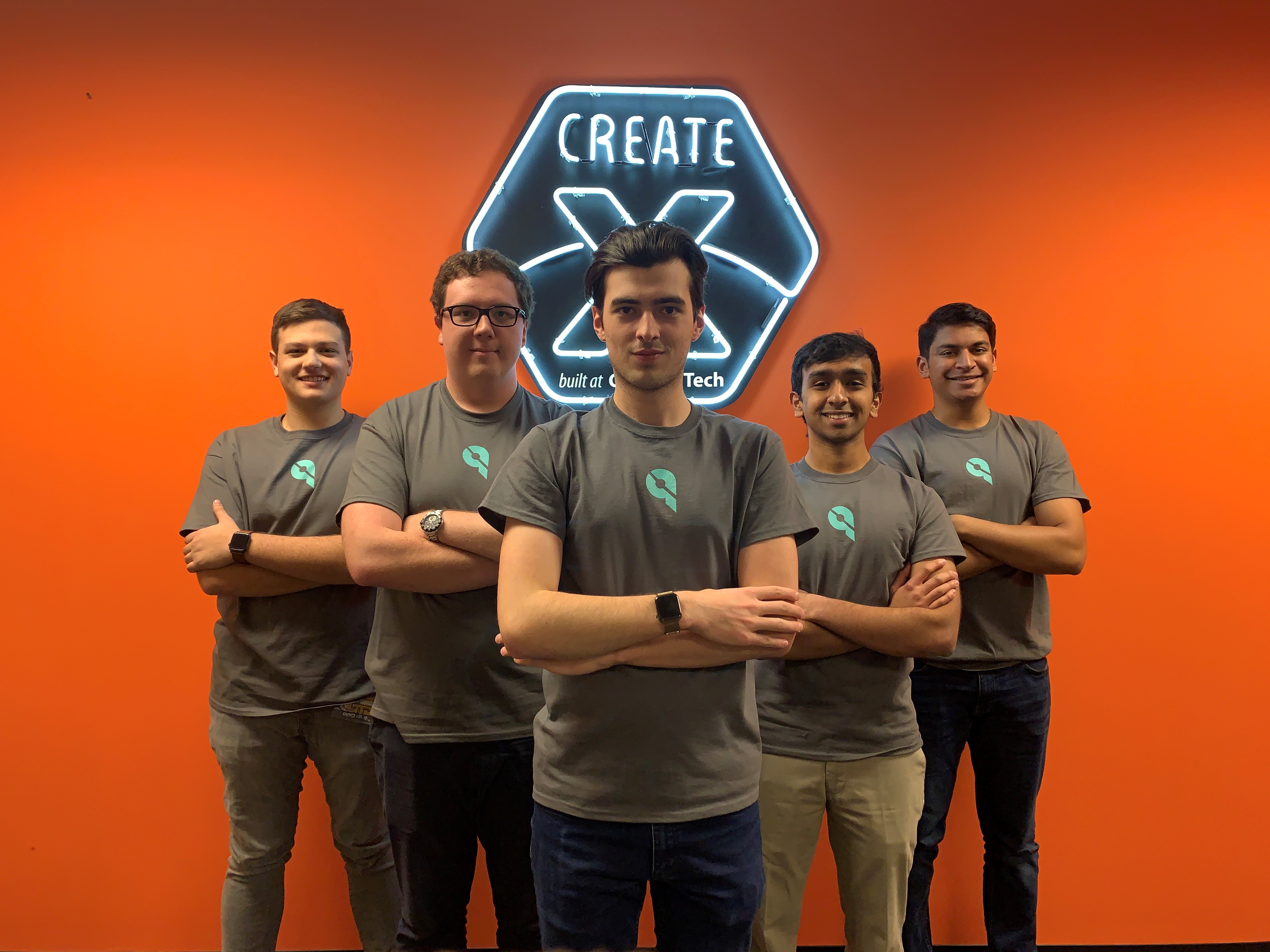 Porta's message to future GTRI student applicants is to pursue any opportunity because it won't come to you unless you go after it.
"I would say, you know, if you're interested, just apply," Porta said. "It's one of those things, where they won't reach out to you in general; you've got to make the first step. So never be afraid to reach out, and then put your best foot forward. And what will be will be."
He speaks from experience, as it took him some extra time and effort to land a job a GTRI. Nonetheless, he is growing as a young CEO while learning important life skills, such as communication with teammates, professionalism, and working in a structured environment, at his GTRI job. The student community he works with is also very supportive and a major perk.
Gaining real experience in the field and learning to work and communicate in a team can be immensely valuable for any student pursuing their dreams. GTRI strives to make this a possibility for students who are interested in joining our mission.
What kinds of opportunities are available?
If you are a college student interested in working at GTRI, you have a few options, depending on the degree program you are in.
Undergraduates — no matter which university they attend — who have completed at least one semester of a four-year program can apply to be GTRI interns and student assistants, where they will get real-life experience in a lab.
Another option for undergraduates is the co-operative education program (co-op), which allows students to alternate semesters of full-time school with three semesters of full-time work at GTRI.
Graduate students enrolled full-time at Georgia Tech can apply to be a graduate research assistant, which requires 20 hours of work per week.
GTRI is always looking for new talent to add to our team. Find more information online on how you, as a student, can impact the future of STEM.
Writer: Kaitlyn Lewis