Georgia Tech Ph.D. Student, GEM Fellows Alum Receives Role Model Award from SHPE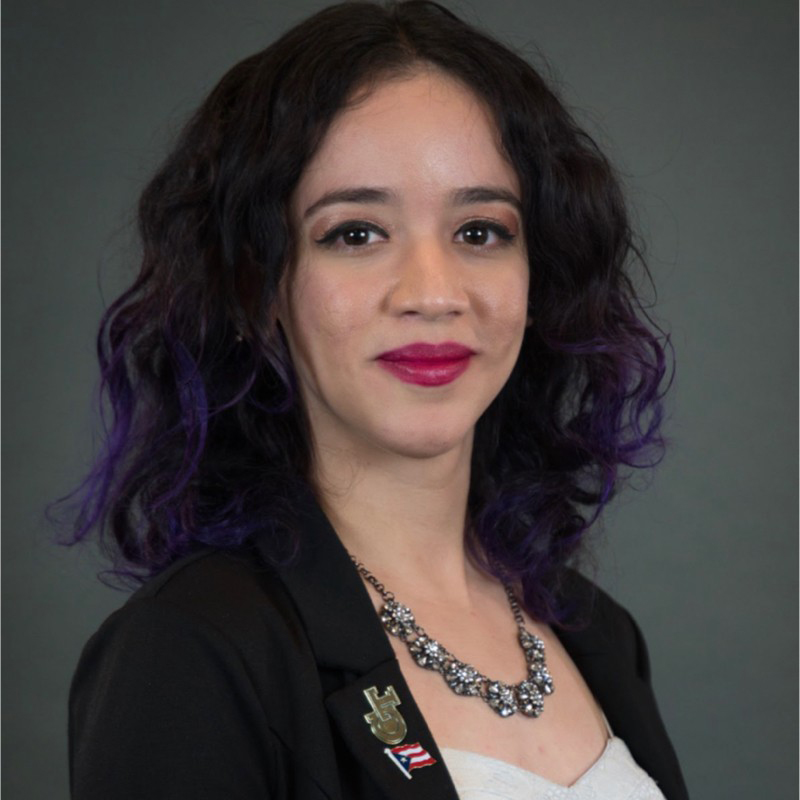 Carolina Colón, a Ph.D. student at Georgia Tech and a member of GTRI's GEM Fellowship cohort, has been honored with the "Role Model Award – Graduate" by the Society of Hispanic Professional Engineers (SHPE). This award is part of SHPE's Technical Achievement and Recognition (STAR) Awards and will be presented at the SHPE National Convention taking place in Salt Lake City, Utah, from Nov. 1-5.
Carolina Colón
Carolina is currently working toward her Ph.D. in Bioengineering, focusing on T-cell therapies, at the George W. Woodruff School of Mechanical Engineering. She earned her B.S. in Aerospace Engineering from the Florida Institute of Technology in 2022 and holds an A.A. in Engineering from Valencia College, awarded in 2019.
Originally from Puerto Rico, she moved to Florida for her last year of high school.
Research at GTRI, Georgia Tech
Carolina's research work aims to combine aerospace engineering and bioengineering to develop devices that enable the mass production of cell therapies to lower their cost and make them more accessible.
GEM Fellowship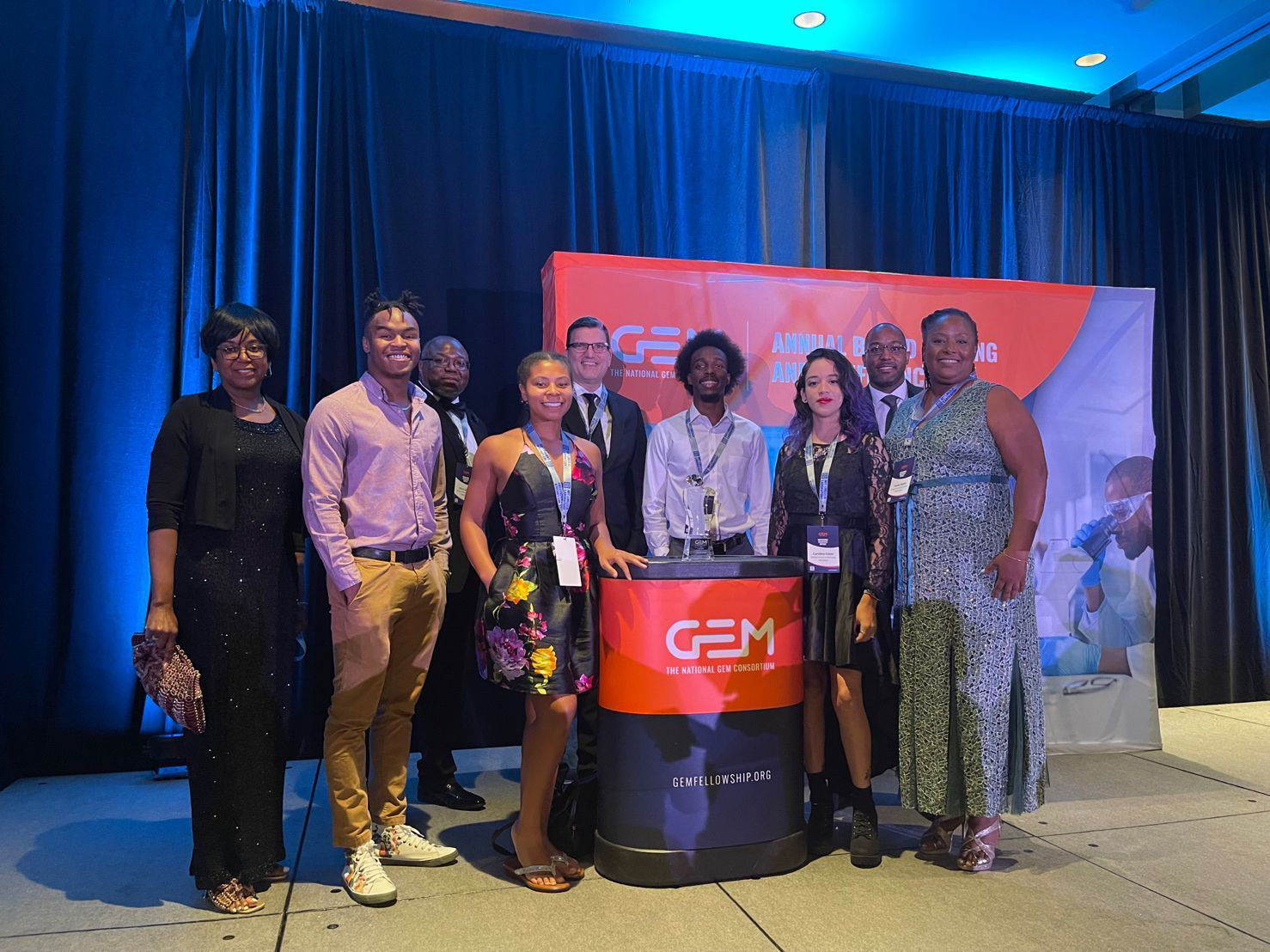 Colón was a participant in GTRI's GEM Fellowship program in 2022. The national GEM Consortium provides funding for graduate education through corporate sponsorships and a partnership with university partners, such as Georgia Tech. 
The National GEM Consortium is a network of leading corporations, government laboratories, elite universities, and elite research institutions that empowers qualified students from underrepresented communities to pursue a graduate degree in a STEM field. GEM's mission is to garner a talent pool of African American, Hispanic American, and Native American advanced degree-seekers in STEM fields.
Every year, GEM identifies and recruits close to 2,000 students and working professionals from underrepresented groups to participate in its program, which consists of three graduate fellowship tracks: Master of Science in Engineering, Ph.D. in Science, and Ph.D. in Engineering.
GEM also provides financial support to aspiring graduate students from underrepresented groups, allowing them to pursue their dreams without worrying about money.
Students selected into the GEM Fellowship program must complete a corporate internship during the summer and attend graduate school during the fall and spring semesters. In exchange, students are provided funding for graduate school through an agreement with their home institutions.
In the GEM Fellowship program, one of her advisors was GTRI Principal Research Engineer Jud Ready of the Electro-Optical Systems Laboratory (EOSL).
Ready said that Carolina "increased teamwork and morale while creatively expanding knowledge of her lab mates' different cultural backgrounds."
Said Carolina of her GEM experience: "The experience I gained at GTRI will definitely last me a lifetime, and it's something that has changed my life immensely. Thanks to all at EOSL and GEM."
Other Research Programs
Carolina's research and professional trajectory has also been aided by her participation in multiple Georgia Tech summer research programs, including the Cell Therapy Manufacturing (CMaT), FOCUS, and SURE programs. Georgia Tech's FOCUS program is one of the nation's premier graduate recruitment programs designed to attract highly skilled students who have historically been underrepresented in higher education. The Summer Undergraduate Research in Engineering/Sciences (SURE) program is a 10-week summer research program designed to attract qualified under-represented minority and women students into graduate school in the fields of engineering and science.
Woodruff School Honors
Most recently, as a new graduate student at Georgia Tech, she has been selected as the Vice President of the Woodruff School Graduate Women (WSGW) group and has already put into motion her ideas regarding Hispanic heritage, GT PRIDE, community college information sessions, etc.
The School of Mechanical Engineering has recognized her Diversity, Equity, and Inclusion (DEI) efforts. She is an active volunteer with student recruitment panels and represented the school at the Women of Technology Gala. The school also awarded her the Inaugural Women of Woodruff "Rising Star" award for her efforts. 
To cap it off, the Woodruff School also awarded Carolina the inaugural Interdisciplinary Research Fellowship (IRF). This honor recognized Carolina's vision of intertwining the fields of aerospace and bioengineering to create enhanced devices and enable cell therapies in the space environment for astronauts in long-term space missions.
Nada es imposible si lo intentas. (Nothing is impossible if you try.)
 -- Carolina Colón
Beyond Academia
In addition to her studies, Carolina has worked with Marriott Hotels for about ten years. When she is not in the lab, Carolina enjoys activities such as watching anime, learning languages, playing video games, and swimming.
About the Award and SHPE
SHPE is the largest association in the U.S. aimed at supporting Hispanics in STEM fields. The organization's STAR Awards are annual honors given to individuals, companies, and government agencies that have demonstrated commitment and measurable impact in advancing Hispanics in STEM. The awards are a key feature of the annual SHPE National Convention.
Carolina has been a member of SHPE for three years. A key example of her contribution to SHPE is that, in 2022, she was invited to represent Georgia Tech College of Engineering at the SHPE national conference in North Carolina, and is reprising the same role this year as well.
Leading up to last year's event, she helped students with graduate school applications, resumes, practice interviews, and pointers on how to land internships. At the event, she talked to many students and told/encouraged them to apply to the many programs that she has participated in, such as Georgia Tech's FOCUS and SURE programs.
The award received by Carolina Colón reflects GTRI's and Georgia Tech's ongoing commitment to creating a diverse academic environment and advancing excellence in STEM fields.
Carolina Colón's recent accolade serves as a testament to her dedication and contribution to the field of STEM. It also highlights the quality of research and academics within GTRI and Georgia Tech.
We are proud to celebrate her achievements.
Ready said about Carolina: "It seems apparent already that she is destined to be one of those 'special' students that go on to make an impact throughout their career in numerous areas."
We agree—and expect to note many more achievements in the future.
Writer: Christopher Weems 
GTRI Communications
Georgia Tech Research Institute
Atlanta, Georgia
Photos: Candler Hobbs
Georgia Institute of Technology

The Georgia Tech Research Institute (GTRI) is the nonprofit, applied research division of the Georgia Institute of Technology (Georgia Tech). Founded in 1934 as the Engineering Experiment Station, GTRI has grown to more than 2,900 employees, supporting eight laboratories in over 20 locations around the country and performing more than $940 million of problem-solving research annually for government and industry. GTRI's renowned researchers combine science, engineering, economics, policy, and technical expertise to solve complex problems for the U.S. federal government, state, and industry.