Claims Database Will Provide Clearer Picture of Health in Georgia
State policymakers, health care researchers, and others will have a clearer picture of the health of Georgia citizens thanks to a new database of medical, dental, and pharmacy claims for public and private insurance plans in the state. The Georgia All-Payer Claims Database (APCD), supported by researchers at the Georgia Tech Research Institute (GTRI), will begin reporting and releasing data in early 2024.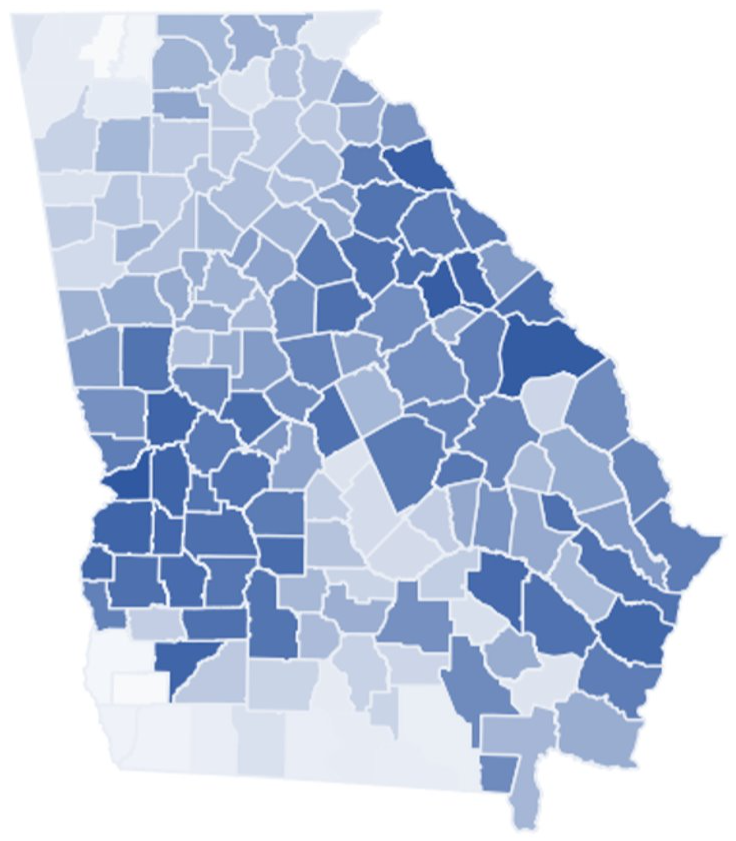 The APCD was established by the Georgia General Assembly (O.C.G.A. 31-53-40) by Senate Bill 482 in 2020 to address growing concerns over the cost, quality, and access to healthcare across the state. The Office of Health Strategy and Coordination (OHSC) is responsible for creating and implementing the APCD, and the APCD's administrator is GTRI's Center for Health Analytics and Informatics (CHAI).
When in full operation, the APCD will provide regular reports on Georgia health care issues and accept requests from stakeholders for other customized data. Beyond benefits to researchers and policymakers, the data will help support price transparency and drive consumer-focused tools reporting on such issues as quality, cost, and patient outcomes. The APCD's information will not include any personally identifiable information about patients.
"The APCD will serve as a platform to help us really understand and improve the quality of health care in Georgia," said Megan Denham, a GTRI senior research associate who serves as Implementation Project Director for the system. "It will help the citizens of Georgia understand more about their care and know what to expect so they can make informed decisions. Policymakers will use the data to drive funding allocations and make interventions. For our large community of researchers, it will allow them to leverage a really broad view of health data."
Development of the system will put Georgia among the more than two dozen U.S. states that are able to make critical health care decisions based on data about the specific needs of their citizens, said Jon Duke, director of GTRI's Health Emerging and Advanced Technologies (HEAT) Division.
"The Georgia APCD will move Georgia into the ranks of states that have a deeper understanding of their population's health, health care costs and utilization, and opportunities for improvement," Duke said. "We've seen report after report of how all-payer claims databases have led to concrete reductions in cost, improvements in care, and more informed policy-making across a wide range of topics. It will be a huge win for Georgia."
The system will initially include information for about 5.4 million Georgia citizens – more than half of the state's population – and is expected to be the largest aggregator of the state's health data. The information will include data from Medicare, Medicaid, and the state health benefit plan, along with commercial claims payers. 
Data will be provided in aggregate, and maintained without personally identifiable information. "Privacy and security are paramount," said Duke. "There's a huge focus on privacy protection, and we have an incredible team of collaborators across the state working to help ensure that we provide only the minimum data necessary for key use cases. The APCD will not analyze or share patient identifiers such as medical record numbers, names, or addresses."
Beyond data on specific treatment protocols, the system will also provide information on their context. For instance, data on a knee replacement surgery could include information on imaging done, diagnostic testing, and presurgical activities leading up to the procedure, as well as physical therapy afterward – and both cost and outcome measures. 
"It's much more than just the surgery," said Denham. "We want to look at it as a whole, and also consider the components. That gives more information about the care that people are receiving and what they can expect."
Beyond the care itself, the system will provide generalized information about patients receiving it – demographics, the symptoms that led to the diagnosis, relevant medical conditions such as arthritis and diabetes, and other claims made by the patient. 
"All of these things can be brought together to help understand the equation," said Duke. "People who have had knee replacement surgery can be looked at in the aggregate so we can assess potential risk factors for poor outcomes, or conversely, factors that may support patients recovering more quickly."
Certain claims-paying entities are required by law to provide data to the APCD, while others are invited to submit information voluntarily. Beyond the value to policymakers and researchers, information about Georgia-based costs will also be helpful in understanding what consumers pay as their share of health care service costs. 
"Price transparency is a key goal for the APCD. While there are many factors affecting what data can be shared, in other APCD states, there are excellent tools designed to support consumer knowledge about the cost of different procedures at different locations where someone might go for a specific procedure," Duke said. "Some tools provide data on health care quality from Medicare and Medicaid which allows for some integrated perspective on cost and quality measures."
The APCD plans to regularly provide reports on specific Georgia health care issues, such as the incidence and context of chronic diseases that affect large populations in Georgia. These will include diabetes, hypertension, heart disease, and heart failure. The system will also provide data on cancer, as well as maternal and child health, and the median rate for "surprise billing."
Beyond reports on broad issues important to providing a big picture of health in Georgia, aggregated data on these five million patients can also be made available to state agencies, policymakers, researchers, health care organizations, and others. Requests for standard and customized data sets and reports will be reviewed by a data release and review committee, based on alignment with the APCD objectives, the qualifications of the requesters, and other factors.
Development of the Georgia APCD benefits from the lessons learned from similar projects established in other states, as well as guidance and input from a broad range of industry and academic stakeholders. "We're taking the best of what other states have learned and put them together to meet the specific needs of our state," Duke said. "The legislation creating our APCD was well thought-out and reflects the best ideas from APCDs nationally."
Writer: John Toon (john.toon@gtri.gatech.edu)  
GTRI Communications  
Georgia Tech Research Institute  
Atlanta, Georgia

The Georgia Tech Research Institute (GTRI) is the nonprofit, applied research division of the Georgia Institute of Technology (Georgia Tech). Founded in 1934 as the Engineering Experiment Station, GTRI has grown to more than 2,900 employees, supporting eight laboratories in over 20 locations around the country and performing more than $800 million of problem-solving research annually for government and industry. GTRI's renowned researchers combine science, engineering, economics, policy, and technical expertise to solve complex problems for the U.S. federal government, state, and industry.