Celebrating Inclusive Excellence: William Benjamin's Passion for Engineering and Helping Others
Growing up, William Benjamin had a knack for electrical engineering. He enjoyed designing his own circuits, and neighbors would ask him to fix their electronic devices.
"I come from a low-income background [in India]," he explained. "When things break, we didn't throw it away; we fixed it."
Though Benjamin did not have much, people in his life helped spur his creativity and academic development so that he could reach greater success one day. Now a research engineer II at the Georgia Tech Research Institute's (GTRI) Electronic Systems Laboratory (ELSYS), Benjamin excels in the field of electrical engineering and is passionate about supporting those who are "overlooked" in the fields of science, technology, engineering, and mathematics (STEM).
Humble Beginnings
As a child, Benjamin remembers having a passion for engineering but not being able to afford technologies that would allow him to explore that desire. His high school teachers, taking notice of his skillset, gave him supplies from their laboratories so he could make his own printed circuit boards (PCB).
Later on, Benjamin earned a bachelor's degree in electrical engineering from Anna University in India. In 2002, he came to the United States hoping to further his studies. In 2007, Benjamin started working as an electronics engineer at the U.S. Air Force base in Warner Robins, Georgia, which allowed him to complete a master's degree from Mercer University in computational science and engineering through an Air Force employee program. He then joined GTRI in 2014 as a research engineer II.
Benjamin was able to succeed despite the struggles he faced in childhood. Now, he tries to give back and help students whose schools may not have access to high-tech resources.
"What if there was someone who could have come along my side and encourage me and help me out? I think I would be in a different level right now," he said, thinking back to his childhood. "So, coming from that background, I always have this desire of helping the youth and children towards STEM."
Helping Others
Benjamin's passion for helping others has led him to be involved in several diversity and inclusion efforts — at GTRI and through professional organizations. In 2017, he received the Society of Asian Scientists and Engineers (SASE) National Level Promising Professional Award, and in 2018, he was named among the Georgia Institute of Technology's (Georgia Tech) Faces of Inclusive Excellence. He also works with the Institute of Electrical and Electronics Engineers (IEEE) to bring family science nights and other STEM activities to local schools, believing this could help open doors for students who have an aptitude for science. These activities are a driving force to helping kids understand science.
Outside the schools, Benjamin has also mentored students at his church, inviting them over to his home  to teach them about circuit boards and how to light up LEDs, using materials that are easily accessible, such as Arduino Uno and Raspberry Pi boards. Now, several of the students are attending Georgia Tech pursuing science degrees.
"I was able to instill that passion [in my students]," Benjamin said. "I want to see them not only excel emotionally and spiritually but also in their academics and careers."
At home, Benjamin continues to promote STEM. He constantly finds ways to involve both of his daughters in the STEM field through summer camps at Georgia Tech, promoting STEM at their local school, and doing fun STEM activities at home. His wife, Mable Benjamin, is also in the STEM field and works at GTRI as a senior research engineer in ELSYS.
Promoting Open Standards
At GTRI, Benjamin blazes other trails — promoting innovation and openness.
Innovation goes hand-in-hand with engineering. After working for several years at the U.S. Air Force base, Benjamin discovered a longing for innovative freedom.
"I saw the importance that is given to research and development in GTRI and the freedom you are given to work in that arena, and that prompted me to move toward GTRI," Benjamin said. "After coming to GTRI, it was even better than what I thought."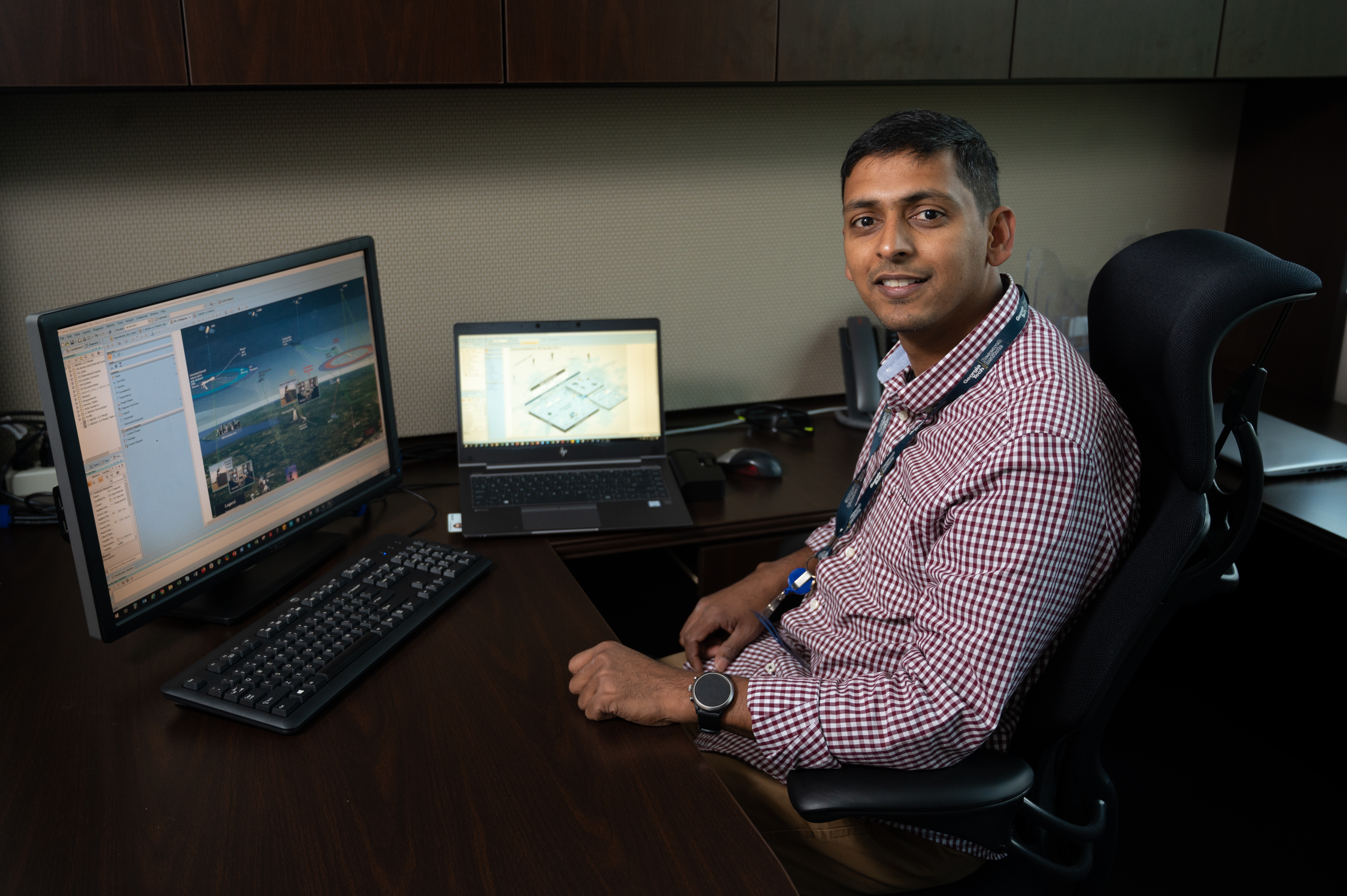 When Benjamin joined GTRI, he wanted to get involved with open systems architecture. In the private industry, the standard is to maintain proprietorship over your work, but that could be a disadvantage to the customer, who may get locked into a particular vendor for the system.
Open systems allow customers to take ownership and adapt the system to their needs. Benjamin believes openness is a win-win for everyone, especially government sponsors.
"We need to provide the government with everything they need to promote equal opportunity for the industry, support small business and innovation," Benjamin explained, "and for that, we need open standards."
To achieve this outcome, Benjamin contributed to GTRI's hardware open system technologies (HOST) standard, which provides the framework for developing embedded computing systems for U.S. military platforms. He also co-authored a journal paper titled "An open architecture for embedded systems: Hardware Open Systems Technologies" for IEEE.
"I am excited to have made significant contributions in developing the HOST standards," Benjamin said.
GTRI as an organization has been moving more toward open system architectures, such as in a concept for a Low-Cost Phased Array Radar (LCPAR) researchers developed for a government sponsor.
"Now, we are also taking that into the system engineering realm, and I am a modeler — a system engineering modeler," Benjamin said. "Model-based systems engineering (MBSE) is what I'm focusing on right now."
In his current role, Benjamin uses his skills to model various systems for the Department of Defense (DoD), enabling the customers to move away from the cumbersome document-based approach toward a model-centric environment. He believes hard work and a strong work ethic are essential to success and is also important to give back to the community.
"No matter what we're working on, when we realize the impact we make to the larger community," he said. "It drives passion and enthusiasm within us to make a difference."

Writer: Kaitlyn Lewis
Photographer: Allison Carter