Celebrating Inclusive Excellence: Mike Ruiz's Drive to Serve Students and the Nation
Elbert (Mike) Ruiz has always loved to tinker. Early in his life, he wanted to be a scientist, drawn by the allure of lab coats and beakers. Mike's grandfather, a lawyer and textile engineer, slightly altered that course by not just encouraging, but telling Mike he would be an engineer, as he himself was told by his father. 
With a knack for math and science that was developed throughout middle and high school, Mike secured a scholarship through the Department of Defense (DoD). In 1999, Mike arrived on the Georgia Institute of Technology's (Georgia Tech) campus as a freshman in electrical engineering. Over the next five years, thanks to his scholarship program allowing him to extend his education, Mike worked diligently to receive both his bachelor's and master's in electrical engineering.
Now a principal research engineer at the Georgia Tech Research Institute (GTRI), Mike shares the story of his family motivating his career and the mentorship he offers to students.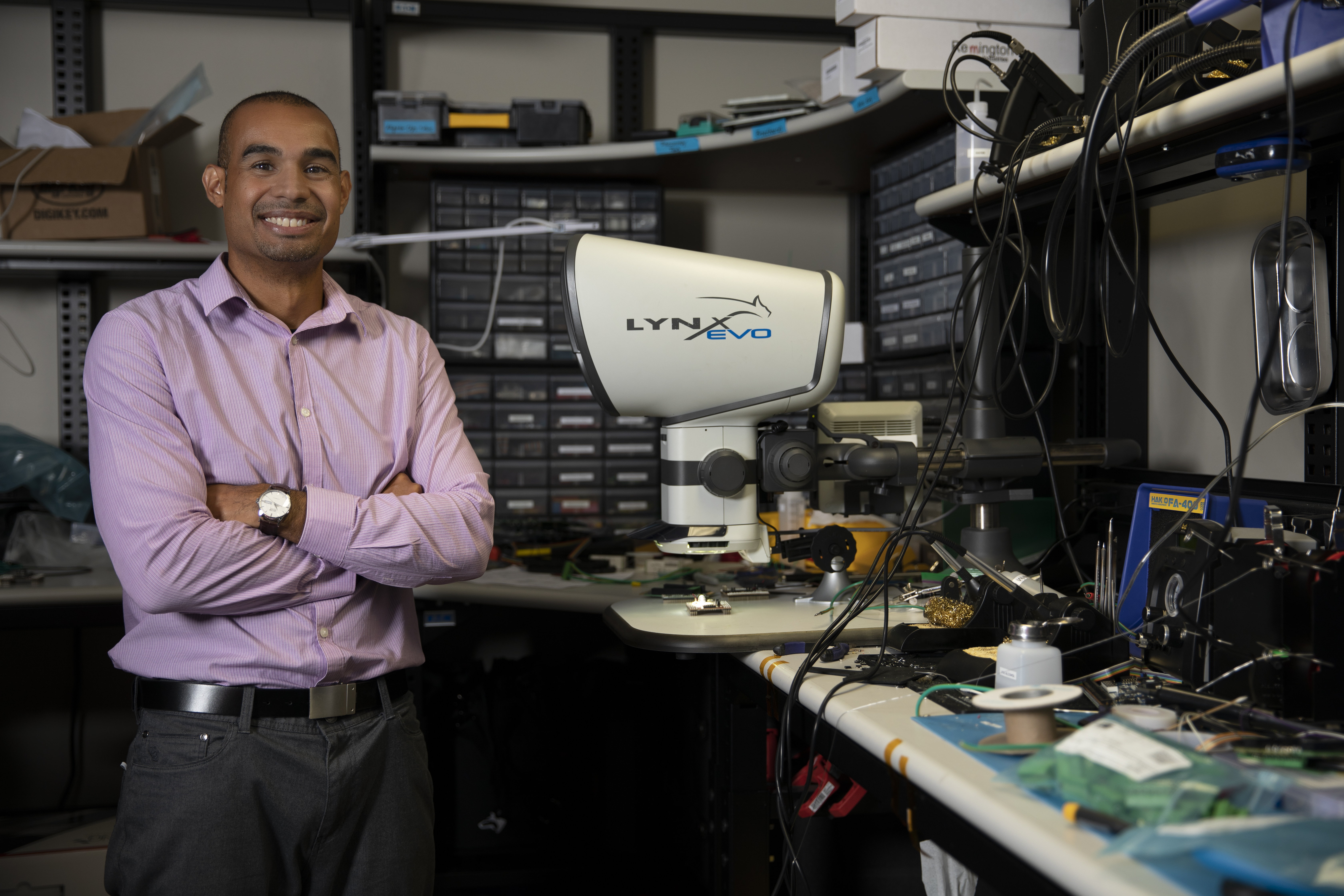 Mike Ruiz, a GTRI principal research engineer, stands in at a workspace with an eyepiece-less microscope. (Photo credit: Sean McNeil)
The Role of Family
Ruiz's family served as his motivator and encourager. Like his father, Mike was born in Puerto Rico, but he lived across the United States throughout his childhood. Mike's father served in the United States Air Force—and his mother in the Air Force Civilian Service, taking the family to places such as New Mexico, Texas, and Florida. Mike identifies as half-Hispanic and half-Black, from his mother's Haitian heritage. In the various school systems Mike attended, he didn't always have the same support as his peers.
"I felt like an outsider because [where I lived there weren't] huge minority, Hispanic communities," said Mike. "I had to overachieve to get the same respect and interest."
Because of the inequity in his schooling, Mike taught himself never to say "no" when asked to do anything, because he didn't want to lose any chance at future opportunities. Rather than a specific teacher or mentor, it was Mike's mother who pushed him to do better and achieve new heights. The support of his family and Mike's intense work ethic led to several scholarship offers as he approached college.
Civil Service at the Department of Defense
Mike's family possesses a strong desire and commitment to serve their country. Mike's grandfather and father both served in the United States Air Force. Throughout high school, Mike participated in Junior Reserve Officers' Training Corps (JROTC), and he planned to continue the tradition of service. By late high school, Mike's Senior Aerospace Science Instructor (SASI) spoke with him about an opportunity to attend college for free and then serve with the Air Force. Then, an unsolicited offer from the U.S. Department of Defense (DoD) altered the path of Mike's life.
The DoD scholarship, which would later become the Stokes Educational Scholarship Program, allowed Mike to attend a college of his choice to pursue a STEM degree. While pursuing his degrees at Georgia Tech, Mike worked as a rotational intern at the DoD, focusing on antenna and radio frequency (RF) design and testing. As his time at Georgia Tech was coming to a close, Mike prepared for his commitment period with the DoD, where he would end up staying for 11 more years. Knowing he had a job lined up following graduation alleviated a lot of Mike's stress and allowed him to focus on finishing up his master's, which he did in one year instead of the typical two.
Mike thrived at the DoD, and it allowed him to continue his family's commitment to service. "I was able to serve my country through civil service, next to the world's experts on a daily basis," said Mike.
Bringing Technical and Leadership Expertise to GTRI
While working at the DoD, Mike blazed a telecommuting trail, allowing him to work on unclassified research from his home and traveling to the office when necessary. Based in Atlanta, Mike worked with GTRI from the sponsor side. On one visit, GTRI representatives presented interesting and exciting research happening at GTRI, and Mike was highly intrigued.
When it came time to start a family, Mike and his wife wanted to fully lay down roots in Atlanta. Already familiar with GTRI and its research, Mike felt he could bring a useful perspective and skillset to the organization. In 2015, Mike joined GTRI as an embedded systems security researcher.
"My undergraduate focus [was] on antennas, mixed-signal, and integrated circuit design. [While working for the DoD] I looked at the security of software, network security, and media forensics," said Mike. "I was deployed to an active war zone in 2006 – research for the warfighter. All that came to a head when I came to GTRI."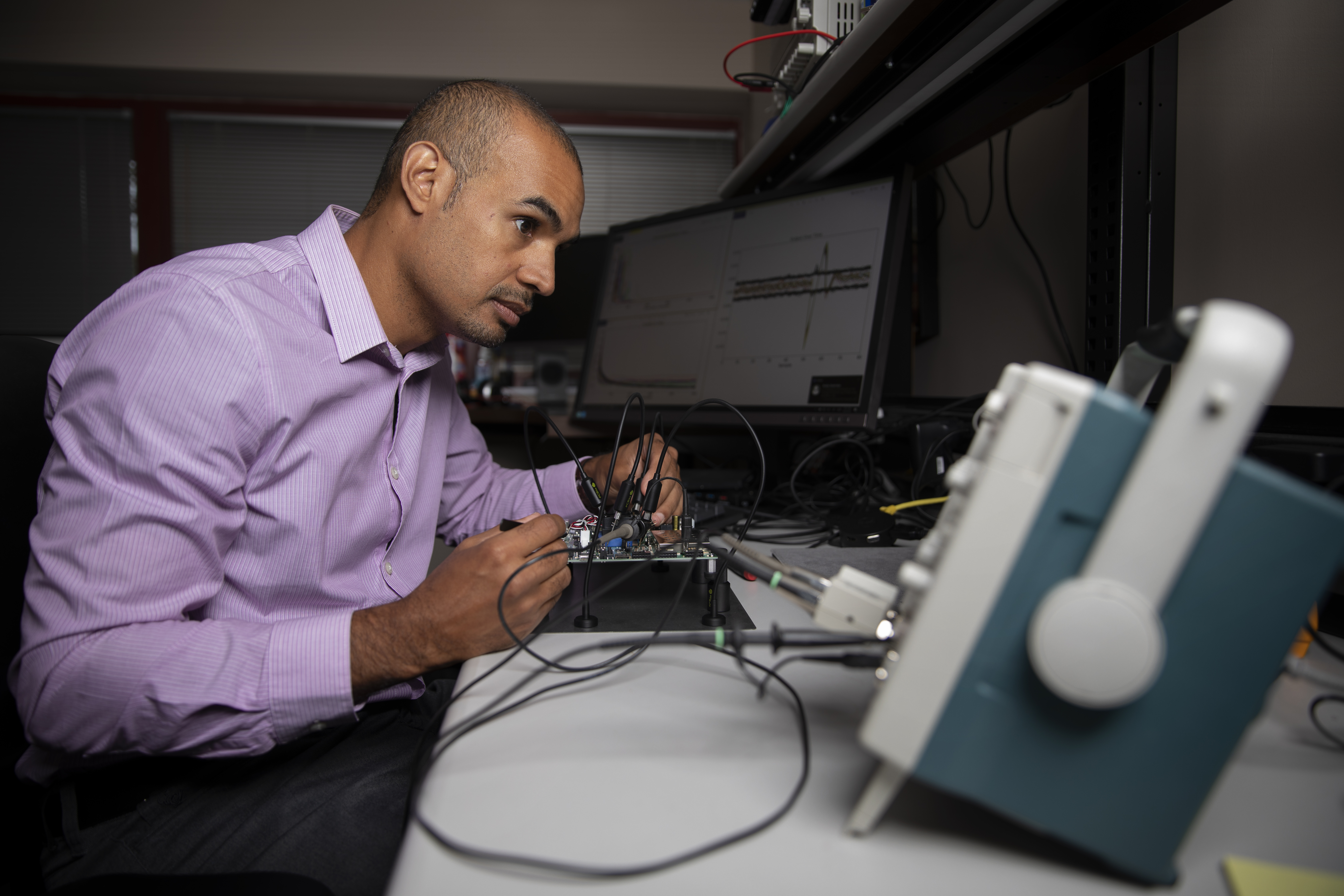 Mike Ruiz is shown using an oscilloscope, a type of electronic test instrument that graphically displays varying signal voltages, (Photo credit: Sean McNeil)
In 2018, Mike became the associate chief of GTRI's Trusted Microelectronics Program Office (TMPO), which operates in the Cybersecurity, Information Protection, and Hardware Evaluation Research (CIPHER) Laboratory. TMPO researches applications, tools, architectures, and materials to evaluate microelectronic devices' security, trust, and reliability and the critical systems that rely upon them. In this leadership role, Mike can help steer the direction of the new office, mentor younger researchers, and conduct cutting-edge research.
"I want to have more influence and the ability to affect the largest number of individuals who might be early in their career," said Mike. "I plan to bring up as many individuals [as I can], and I'll take up any opportunities to do so." 
Supporting the Next Generation
Mike has taken every opportunity to mentor younger researchers and students. Soon after he started at GTRI, Mike began leading a Vertically Integrated Project (VIP) at Georgia Tech with GTRI Principal Research Engineer Lee Lerner, Ph.D.
Previously, they organized a class project called Tech Cities, which aimed to research and develop a smart city infrastructure for the Atlanta area with a focus on configurable hardware as a computational platform. Soon, they are launching a new effort to design and build a custom, secure mobile voting machine, for the purposes of bringing the voting booth to individuals who might not be able to themselves come out to a polling location.
"VIP is something we didn't have when I was a student," said Ruiz. "The project provides an opportunity to establish multiyear engineering growth, where students can watch a product flourish."
Mike's work with students doesn't stop there. He helps graduate research assistants (GRAs) and co-op students when they come to work at GTRI while finishing their degrees. GTRI partners with the National GEM Consortium— a network of leading corporations, government laboratories, elite universities, and elite research institutions that empowers qualified students from underrepresented communities to pursue a graduate degree in STEM fields. During the summer, GEM fellows participate in paid internships at GTRI, which Mike assists with. Mike has also mentored local high school students through GTRI's High School Summer Internship Program.
"I'm passionate about mentoring students," said Mike. "I want to provide students with a tangible way to work on actual engineering projects."
Mike has worked closely with Georgia Tech Professional Education to contribute to the development of two distinct courses (Digital Forensic Techniques for Weapons Systems and Embedded Security Tools and Techniques) and provided material contributions to at least four additional courses.
While Mike keeps busy with his research and mentorship at GTRI, he holds firmly onto a family-first mentality.
"I want to be a good role model for my children like my parents [are] for me," said Mike. "You can never tell what will happen, and I hope that provides tangible results for my family so that when my kids grow up, they will continue this cycle of striving for excellence."

Georgia Tech Research Institute (GTRI) is the nonprofit, applied research division of the Georgia Institute of Technology (Georgia Tech). Founded in 1934 as the Engineering Experiment Station, GTRI has grown to more than 2,700 employees supporting eight laboratories in over 20 locations around the country and performs more than $600 million of problem-solving research annually for government and industry. GTRI's renowned researchers combine science, engineering, economics, policy, and technical expertise to solve complex problems for the U.S. federal government, state, and industry. Learn more at https://www.gtri.gatech.edu/ and follow us on LinkedIn, Twitter, Facebook, and Instagram. 
Writer: Katrina Heitz
Photographer: Sean McNeil