Celebrating Inclusive Excellence: Danika Tynes Advocates for Accessible Innovation
If you mentioned telehealth to someone a couple of years ago, they might not have known what you were talking about. However, in response to Covid-19, the world has come to rely on telehealth technologies to distribute health-related services and information through remote methods.
In February 2020, the Centers for Disease Control and Prevention (CDC) issued social distancing guidance, which specifically directed health care facilities and providers to offer clinical services through virtual means such as telehealth.
Danika Tynes, Ph.D., is a senior research associate at the Georgia Tech Research Institute (GTRI), whose work primarily focuses on advancing and strengthening global and local health systems. For over 15 years, Tynes has researched telehealth; thus, she has become a critical expert in navigating the increased popularity and necessity of telehealth.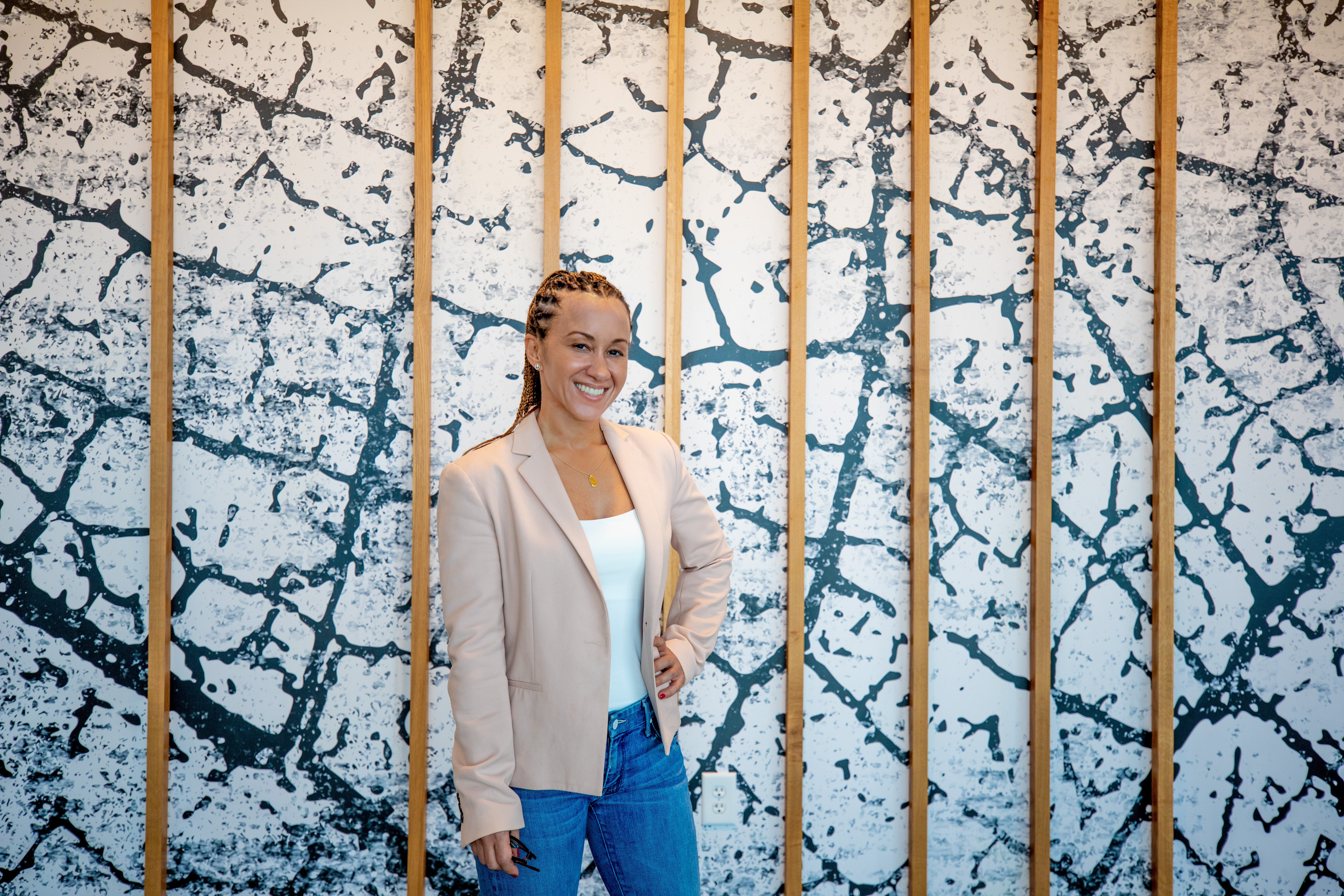 Expanding Telehealth
Covid-19 accelerated the need for innovation across the globe. While telehealth has grown significantly over the last decade, it became even more essential in response to the pandemic. In addition to the advantages of cost savings, convenience, and the ability to provide care to people with mobility limitations, telehealth services circumvent the fear of spreading and catching the virus during in-person medical visits.
"We used to have to spell telehealth and explain to people what it was," Tynes said. "With Covid-19, we've now skipped over the whole selling point. [Telehealth] has now become the only method of patient visits that is noninfectious."
Through video conferencing, asynchronous digital communications, and remote patient monitoring (RPM), telehealth can address a variety of needs. Online services can be used to access primary care providers and specialists for chronic health conditions and medication management, follow up with patients after an in-person visit, monitor clinical signs of certain chronic medical conditions, and more. In the past year, telehealth has also been used to screen patients experiencing symptoms associated with Covid-19 and refer as appropriate.
The increased need for telehealth services pushed forward policies and temporary measures under the Covid-19 public health emergency declaration, making the process of providing and receiving care easier. For example, there's increased flexibility related to Health Insurance Portability and Accountability Act (HIPAA) for telehealth technology to allow providers the ability to use everyday technology for virtual visits due to the public health emergency. Additionally, depending on regulations established by state and federal policies, providers can deliver telehealth services across state lines to furthermore increase access.
Promoting Accessible Innovation
Telehealth provides a needed solution by facilitating a method to safely conduct health services, especially for people with an increased risk for severe illness from Covid-19. However, through all of the innovation, Tynes stressed the fact that in-person health appointments still have value and are essential for accessibility.
Telehealth cannot exist without access to the internet. In the United States and across the globe, a digital divide exists between those who have access to modern information and communications technology (such as computers and the internet) and those who do not. Data from 2019 shows that approximately three in 10 adults with household incomes below $30,000 a year (29%) don't own a smartphone, and more than four in 10 don't have home broadband services (44%) or a traditional computer (46%). Without these devices or home internet, patients struggle to connect with their healthcare providers digitally. Additionally, there are barriers related to digital literacy — the skills to use email, apps, and other online tools.
If all health services transitioned to telehealth, many people who lack consistent access to the internet or those who have low digital literacy would be excluded. Tynes advocates that innovation cannot take precedence over people and their needs.
"I'm not okay with pushing a solution before meeting a need," Tynes said.
When developing new solutions, Tynes emphasizes that we must be conscious about not creating more problems, biases, and inequities. She leverages her 15 years of experience in telehealth research to implement these systems effectively, in hopes of leaving no patient unable to receive the care they need.
Becoming a Lifetime Learner
Through her education and career, Tynes realized that no one likes change, but that change is already here, and it will always happen. To help people prepare for and adapt to change, Tynes relies on her robust education and commitment to becoming a lifetime learner. 
"Learning is paramount if you want to be part of the conversation," Tynes said.
Tynes holds a bachelor's degree from Tufts University in psychology and English, a Master of Science in industrial/organizational psychology from San Diego University, and a Ph.D. in international development from the University of Southern Mississippi. After completing her Ph.D., which included a dissertation focused on the conditions under which telehealth systems are most likely to succeed, Tynes moved into consulting. While she addressed specific needs, Tynes discovered that consulting emphasized providing a particular deliverable rather than researching and developing innovative solutions.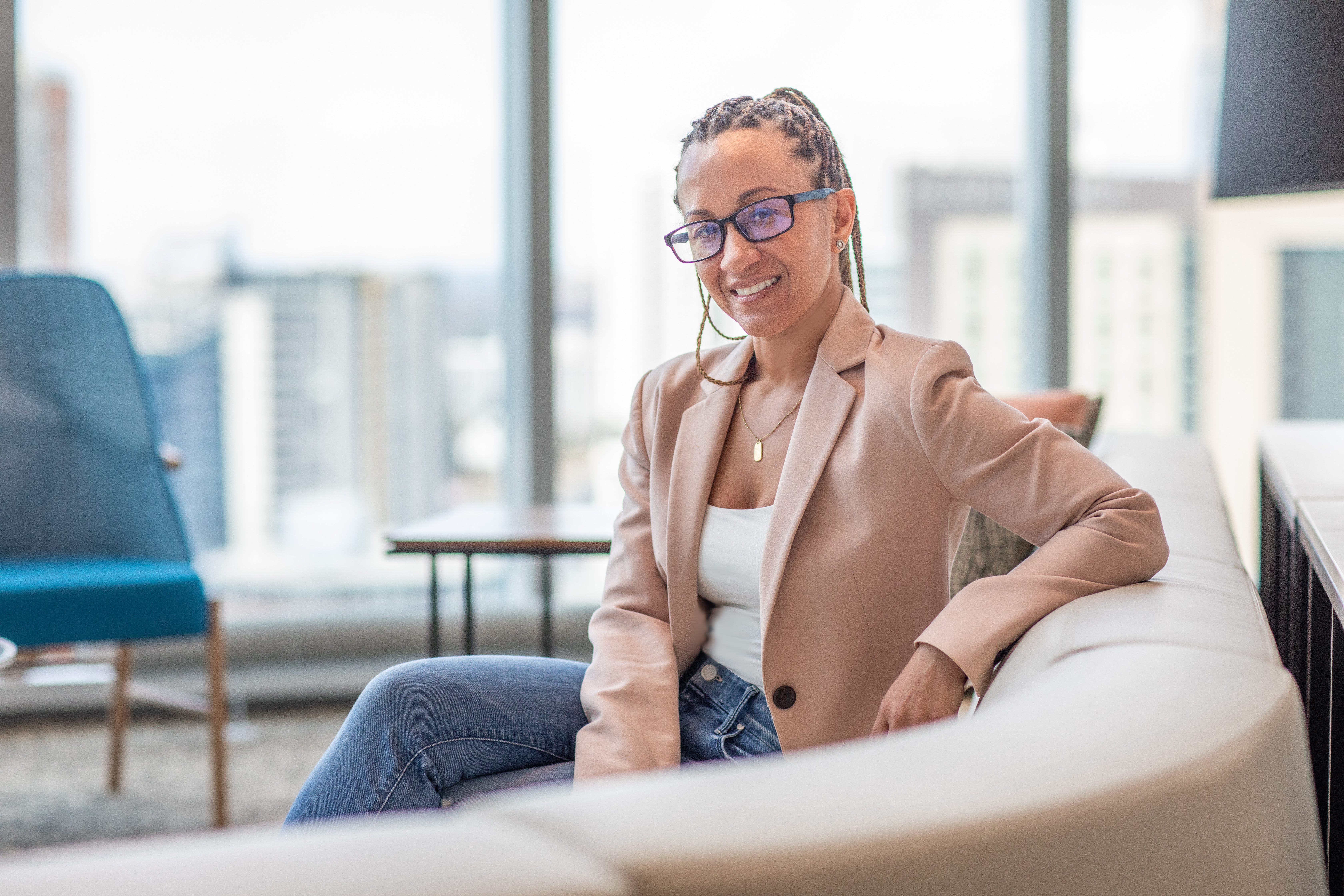 In 2019, Tynes joined GTRI to work on a digital transformation process in the Information and Communications Laboratory.
"With GTRI, it is about moving the needle on innovation and coming up with innovative solutions," Tynes said. "And we also have the cultural support and backing for trying new things, fail, and then trying something else that gets to the right answer for the client."
At GTRI, Tynes serves as the Systems Integrator (SI) for the State of Georgia's MMIS (Medicaid Management Information System) enterprise transformation initiative. GTRI researchers are applying a cutting-edge industry solution to a healthcare model using an application programming interface (API) to streamline data exchange. By modernizing MMIS and transitioning it to the Cloud, the team is increasing modularity, competition amongst vendors, and scalability. Tynes engages client stakeholders and decision-makers while also providing project leadership from project management through quality assurance and program direction.
While many people consider solutions to current problems, Tynes looks ahead to the future and proactively addresses potential issues. For example, Tynes attended an artificial intelligence (AI) strategy course to better understand the developing technology can how AI could be applied to her field.
"Healthcare is going to need leaders who go first," Tynes said. "At the pace at which technology is moving across all industries, let alone healthcare, we need more leaders who understand what the benefits and consequences are of innovating. GTRI is the place to lead that conversation, so I knew I wanted that in my life."
Spreading Awareness
In addition to her research at GTRI, Tynes shares her expertise on telehealth by appearing on podcasts, participating in conferences, and serving as a consultant through various programs.
To explore digital inclusion equity as it relates to telehealth, Tynes organized a panel discussion sponsored by the Georgia Institute of Technology (Georgia Tech) and Atlanta Global Studies titled, The Digital Divide During a Global Pandemic and Beyond.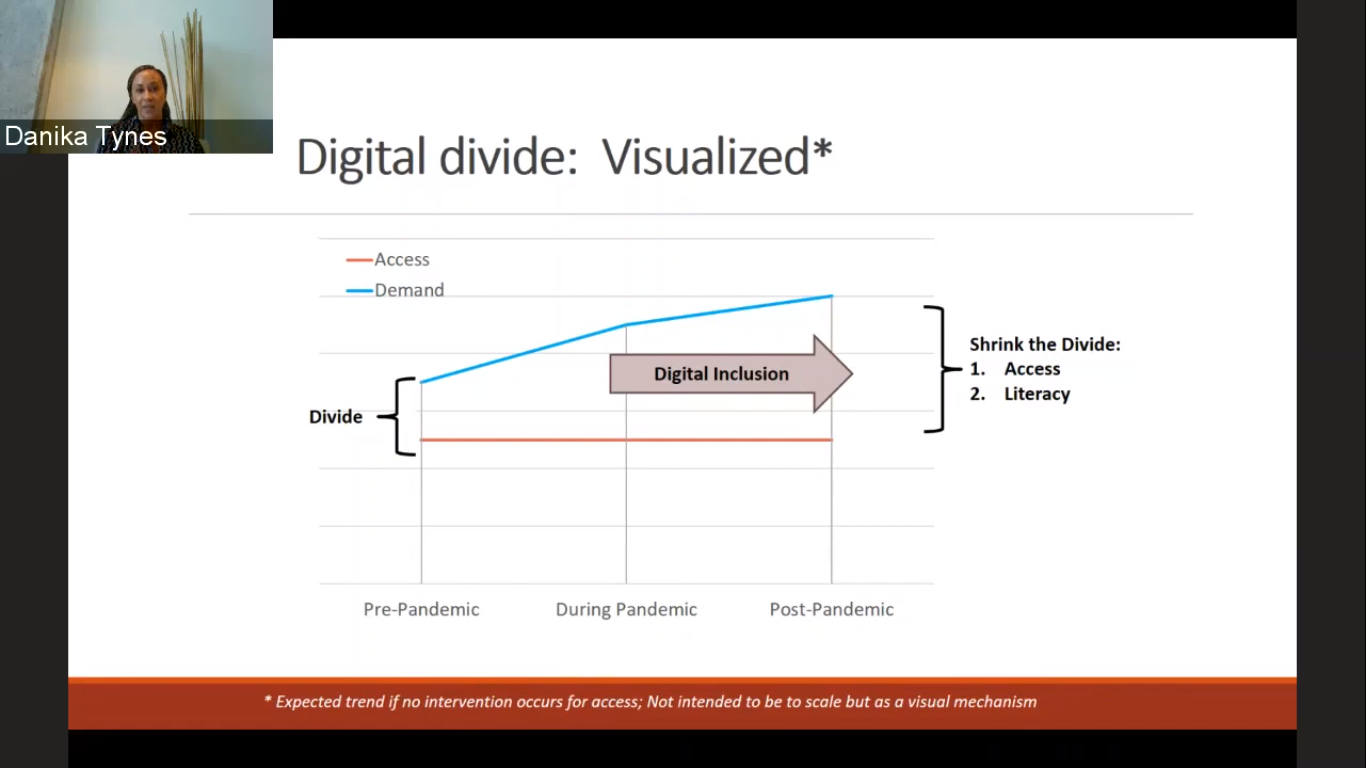 Tynes and her fellow panelists discussed the digital divide along with the challenges and opportunities in bringing the internet to all. They noted the increased divide between access and demand in various contexts, such as the pandemic, the transgenerational digital divide, the racial and economic divide in Georgia, and the need to close the gap between clinical trial space and patients to obtain more holistic information from the patient.
Furthermore, Tynes recently obtained an appointment to the Fulbright Specialist Roster, which pairs talented U.S. academics and professionals with international host institutions.
"The Fulbright Special Roster allows for a marriage of bringing consulting expertise and sharing across countries, not just from the U.S. outward," Tynes said. "It revolves around us sharing ideas, perspectives, and expertise to help advance the topics at hand – in this case, health system strengthening."
Specialists travel abroad for two to six weeks to share their expertise, strengthen institutional linkages, hone their skills, gain international experience, and learn about other cultures while building capacity at their overseas host institutions. Due to the pandemic, travel has been on hold, but Tynes is looking forward to the opportunity to provide her consulting skills abroad.
"I have a responsibility to help think through the pitfalls in investing in some technologies over others, and I'd like to be a part of that conversation for as many projects as possible," Tynes said.
Tynes's advocacy and involvement do not stop there. She was initiated as a member of the Consortium of Universities for Global Health, received an affiliate faculty appointment to Atlanta Global Studies Center, and attends a monthly meeting with the HealthTech Networking Club based in Hungary.
Finding Purpose
Despite Tynes' accomplishments and what she continues to achieve, she shares that she battled with impostor syndrome.
"As a woman — a Black woman — and often the youngest person … I've had a lot of obstacles to face," Tynes said.
Psychologists Pauline R. Clance and Suzanne A. Imes coined the term "imposter syndrome" in 1978, describing it as "internal experience of intellectual phoniness in people who believe that they are not intelligent, capable or creative despite evidence of high achievement." Research suggests that this phenomenon can more deeply affect minority groups due to a lack of representation and the stress and anxiety created by discrimination.
For years, Tynes grappled with questions like, "Do I belong here?" and, "Am I too young to add to the conversation?" As she worked to overcome these nagging doubts, Tynes focused on her purpose.
"Knowing why I am doing things — all those barriers and obstacles become noise in the background," Tynes said.
Tynes focuses on the value she brings to the table and encourages others to find their "why" as well. Equipped with passion and focus, you can achieve excellence and create change.
Writer: Katrina Heitz