Researchers Develop Wideband Millimeter Wave Transmit/Receive Module
Researchers at the Georgia Institute of Technology are developing a wideband four-channel millimeter wave transmit-receive (T/R) module based on silicon-germanium (SiGe) technology that will support active electronically-scanned arrays (AESA) for potential military applications.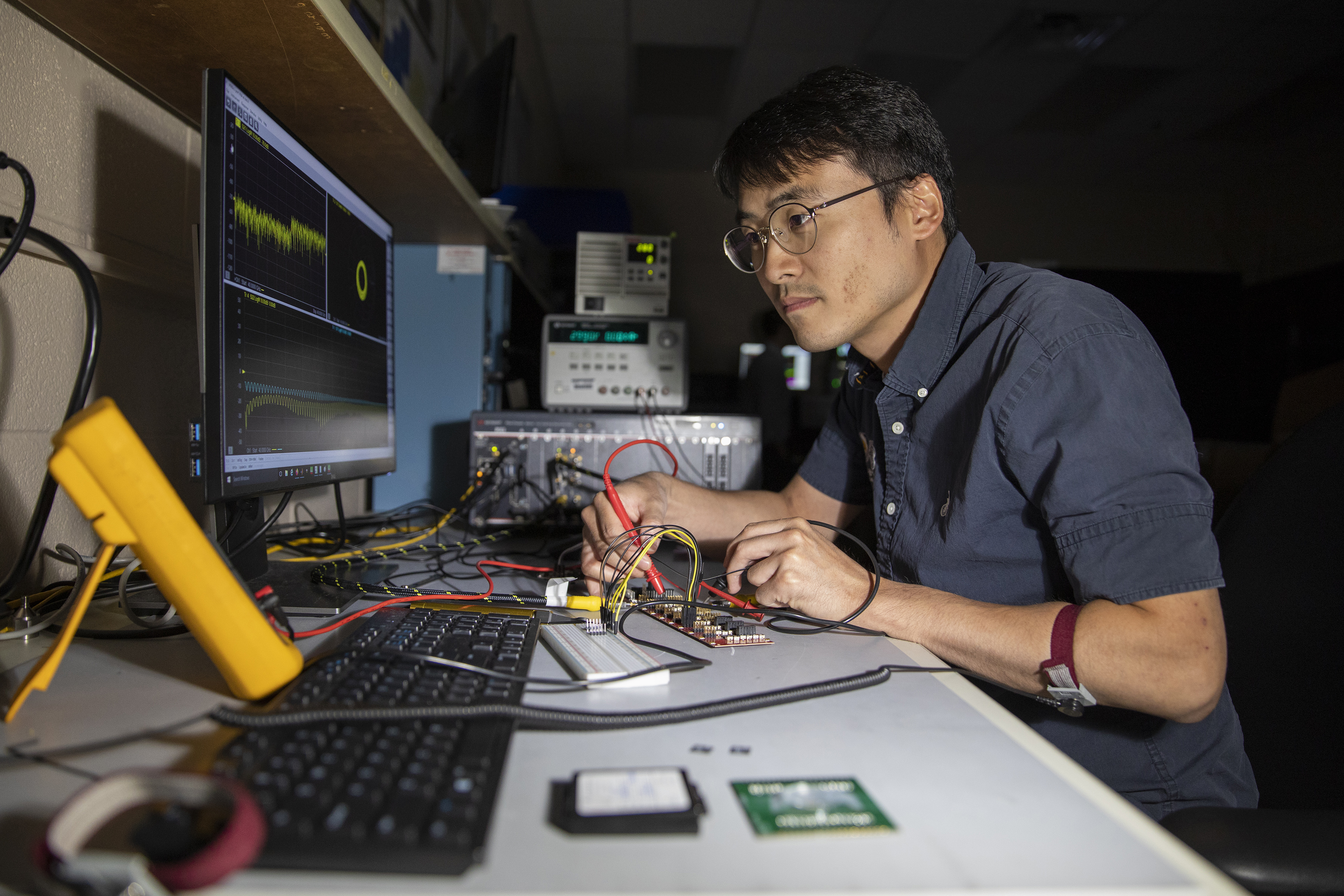 Designed to operate between 18 GHz and 50 GHz, the module could help address threat systems operating at millimeter wave frequencies and provide to military applications many of the advantages that millimeter wave technology is bringing to commercial applications such as 5G wireless, internet-of-things devices, and radar-based vehicle collision avoidance systems.
"The goal is to demonstrate small size, weight, power, and cost in a wideband millimeter wave T/R module," said Paul Jo, a Georgia Tech Research Institute (GTRI) research engineer who is leading the project. "This would be a major module at the front of the AESA system, right behind the radiator element to process signals."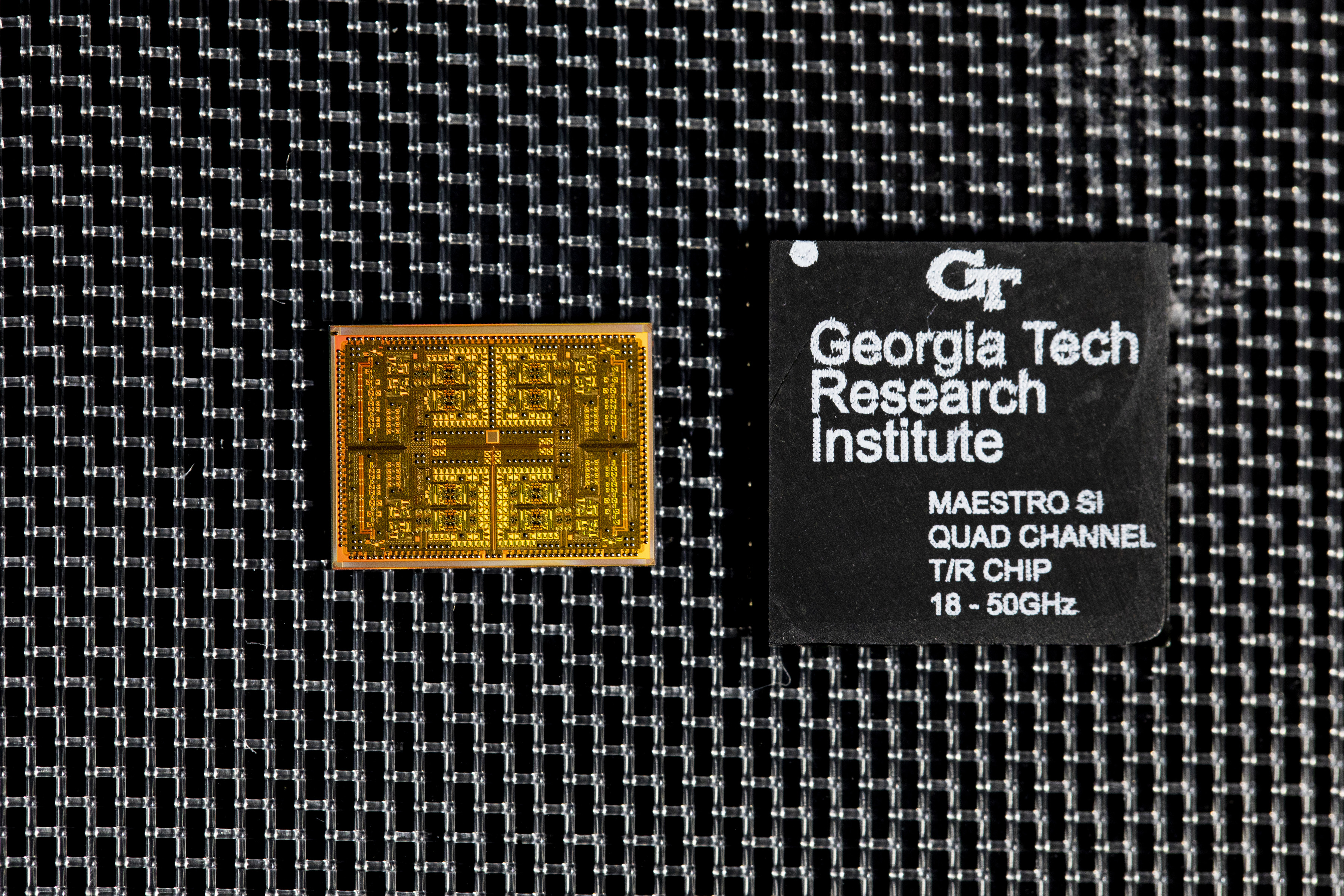 Known as Millimeter Wave Active Electronically Scanned Array using Silicon-Germanium Transmit/Receive Modules (MAESTRO), the project represents a collaboration of GTRI and SiGe specialists in Georgia Tech's School of Electrical and Computer Engineering. The use of SiGe helps support the high level of integration necessary for the miniaturization required by the module's high-frequency operation.
"When it comes to millimeter wave frequencies, the AESA element lattice is less than one centimeter in size, and at 50 GHz, it's three millimeters, which is very challenging to work with," Jo noted. "That forces an extreme level of integration and miniaturization for this T/R system, which we are addressing through design and fabrication of the small SiGe monolithic microwave integrated circuit (MMIC) die."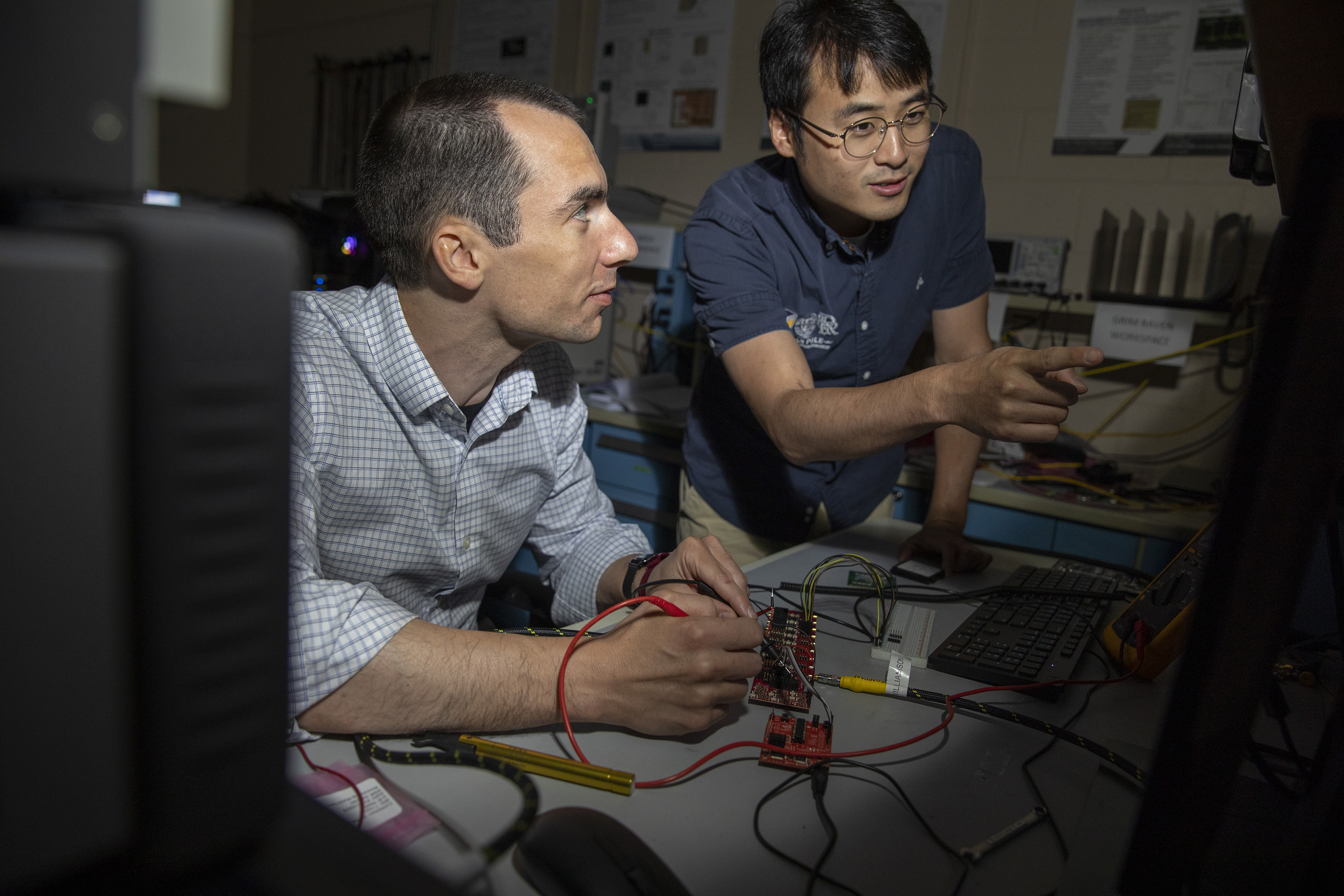 The researchers recently completed the fabrication and packaging of a core channel T/R module die, and are designing an evaluation board to demonstrate performance of the module. Also completed is the fabrication of a stand-alone radiator board for wideband and high-frequency applications; that evaluation board also is under test.
Wideband AESAs are an enabling technology for current and future military radar and communications systems by providing rapid beam steering, graceful degradation, electronic production, and low probability of intercept. The atmospheric attenuation of radio-frequency (RF) signals at millimeter wave frequencies is much greater than at microwave frequencies. As a result, high-gain directional apertures such as AESAs are required to propagate energy over tactically relevant distances.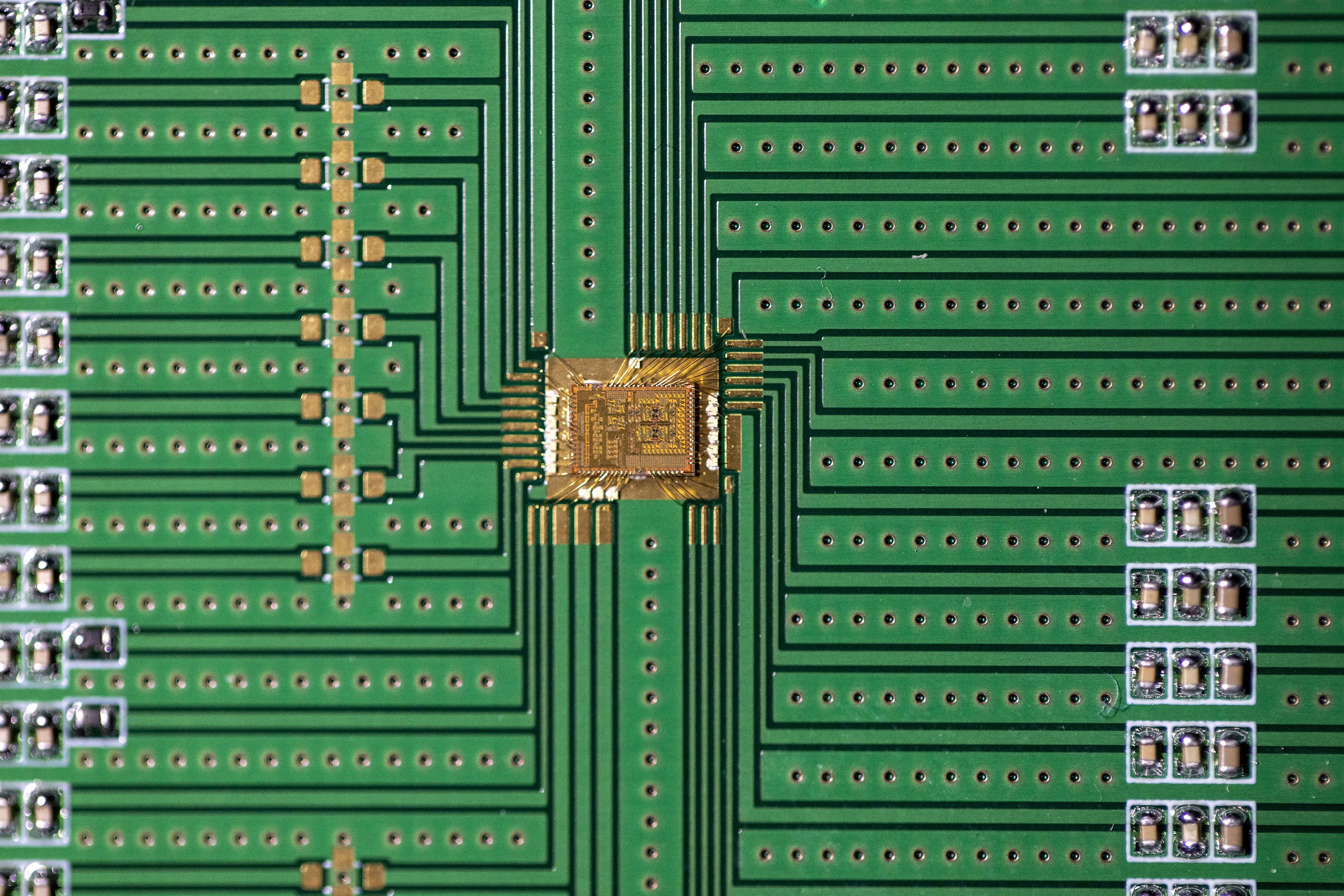 Beyond the high level of integration, the system presents technical challenges related to manufacturing, packaging, and thermal management. For packaging MAESTRO, the research team is evaluating a Flip-Chip Ball Grid Array (FCBGA) solution to reduce the signal path from the die to the printed circuit board.
Earlier in the four-year project, the research team designed and fabricated single-channel and four-channel T/R modules and measured the RF performance of a chip-on-board (CoB)-assembled single-channel T/R module. The measured results confirmed that the designed digital control circuitry works for both Tx and Rx modes – attenuation and true-time delay – and that the time delay was consistent across the target bandwidth.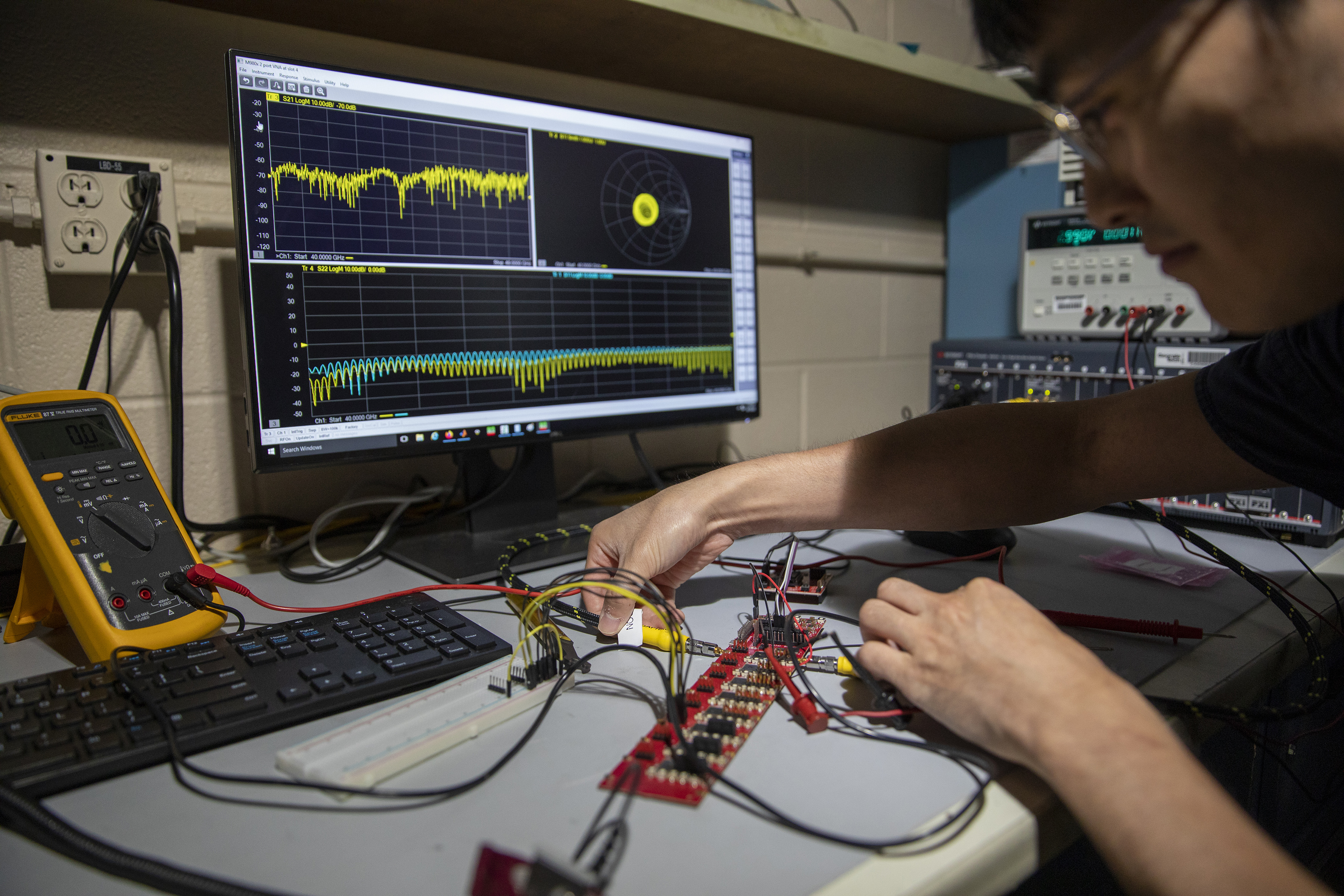 The MAESTRO program is a collaboration between GTRI and the research team of John Cressler, a Regents Professor at the Georgia Tech School of Electrical and Computer Engineering. Cressler's team specializes in SiGe for heterojunction bipolar devices designed to provide high-frequency performance in mixed-signal circuit and analog circuit ICs.
"Silicon is a standard technology that industry is using to integrate very complicated systems," Jo noted. "Since we needed to integrate the whole T/R module system into a very small lattice spacing, we decided to use SiGe to integrate all the discrete components."
During testing of the T/R module, the researchers realized that the receive mode of their system could operate at even lower frequencies – down to 5 GHz – giving it an operating range of 5 GHz to 50 GHz. Efforts are underway to expand the range of the transmit mode to accommodate a similarly wider frequency band.
The MAESTRO project is part of a GTRI initiative to use SiGe semiconductor technology for a variety of RF applications. The SiGe Multifunction IC for Radio Frequency (SMIRF) program is developing a wideband, multichannel, reconfigurable radio frequency transceiver integrated circuit using the SiGe technology. The goal is to enable element-level digital beamforming of an AESA for RF-converged multifunction systems to support concurrent operating modes such as radar, communications, electronic warfare, positioning, and signals intelligence (SIGINT).
MAESTRO has been supported by GTRI's Independent Research and Development program.

Writer: John Toon (john.toon@gtri.gatech.edu)
GTRI Communications
Georgia Tech Research Institute
Atlanta, Georgia USA
---
---
The Georgia Tech Research Institute (GTRI) is the nonprofit, applied research division of the Georgia Institute of Technology (Georgia Tech). Founded in 1934 as the Engineering Experiment Station, GTRI has grown to more than 2,800 employees supporting eight laboratories in over 20 locations around the country and performing more than $700 million of problem-solving research annually for government and industry. GTRI's renowned researchers combine science, engineering, economics, policy, and technical expertise to solve complex problems for the U.S. federal government, state, and industry.