Ranges of the Future Will Enhance Joint Warfighter Training and Readiness
Training ranges across the United States and around the world help pilots and aircrew members stay at the top of their game, all while adopting the new tactics and equipment necessary to address the changing threat environment. A training solution known as WarRoom is helping fulfill the program's tagline, "Better Training. Faster." by integrating disparate training applications and systems at the ranges.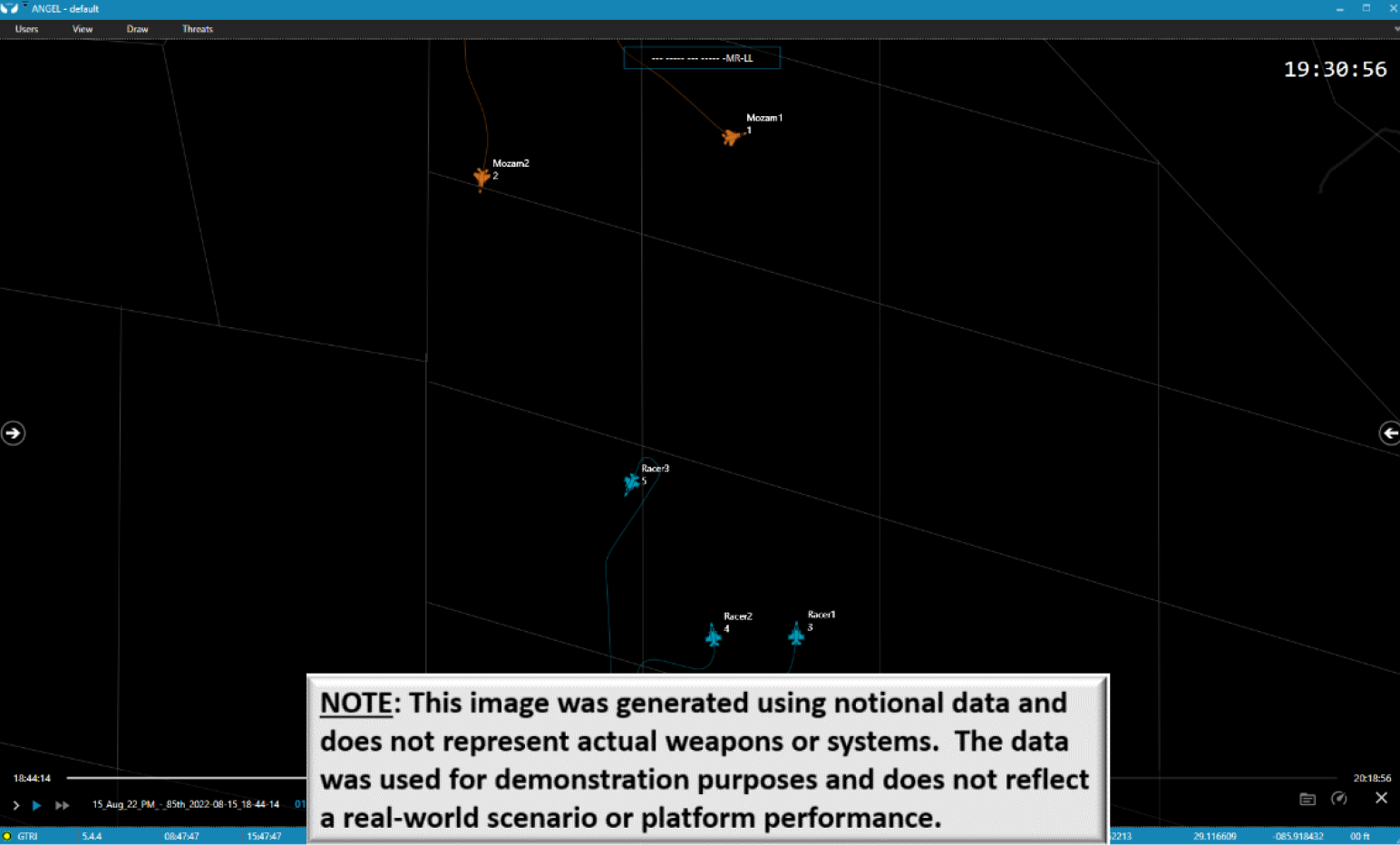 WarRoom, part of the U.S. Air Force's Live Mission Operations Capability (LMOC) program, has now been installed at over 20 different training ranges around the world. It brings together as many as a dozen programs that provide information on potential threats, handle radio communications, analyze aircraft engagements, support mission planning, and display a fused combat operating picture. WarRoom operates on non-proprietary commercial-off-the-shelf (COTS) computer systems. 
What WarRoom does is comparable to how modern smartphones brought together separate pagers, cameras, mobile phones, electronic calendars, and other devices, explained Joel Rasmussen, a research engineer at the Georgia Tech Research Institute (GTRI), which developed WarRoom and an allied display application known as Angel for the U.S. Air Force.
"The whole concept of LMOC is to get more competency into the brains of our warfighters in less time," he said. "More efficient training helps warfighters improve more quickly, allowing the collective capabilities of our Air Force to elevate. We can also replicate and adapt to changing enemy capabilities because this system is designed to be agile."
Training ranges provide valuable assistance to pilots and aircrews, allowing them to battle "red team" opponents and learn new tactics and techniques in a controlled environment. WarRoom increases the training value of each training mission to help prepare warfighters for combat.
By providing a common hardware/software operating platform for combat training ranges, WarRoom also allows new applications to be quickly installed and updated. Previously, new applications had to be installed individually at the ranges, a time-consuming process. 
"We can host these applications on a single server cluster and give them to everybody who needs them," Rasmussen said. "The main thing is that every range, no matter the size, can have the best tools available. There are many advantages to having a common platform for the ranges."
In developing the WarRoom, a team headed by GTRI Systems Research Manager Ed Loeffler virtualized legacy range systems so they could operate on a common architecture. That allows all the applications to run on virtual machines, which reduces maintenance and hardware upgrade costs – and facilitates data sharing. Loeffler's team is experienced in scalable and interconnected live-synthetic, hybrid, and digital architectures and environments with redundant, fail-safe capabilities that can be rapidly reconfigured between unit-level or large-force test and training events and wargaming exercises.
For ranges that don't yet have WarRoom, GTRI has developed a scripted deployment process that reduces the overall installation time. "This has turned a months-long integration effort into a couple of days with a pre-approved Authority to Operate (ATO). That really helps with getting a new installation approved and accredited, and also ensures that we have good repeatability at each of the ranges," Loeffler said.
WarRoom can easily accommodate new applications thanks to the Test and Training Enabling Architecture (TENA). Additionally, several ranges using WarRoom are now connected using the Live Mission Operations Network (LMON).
"Beyond the existing WarRoom systems, GTRI has several additional installations scheduled, along with multiple updates. A typical new WarRoom install requires the team to be on-site for less than a month for installation, integration, and user training," Rasmussen said. 
A key component of WarRoom is a new display system known as Angel that supports blended training for the combat air force. Angel is a versatile visualization tool not limited to legacy data formats or architectures, does not use any proprietary data models, and is not tied to any specific ground system.
WarRoom also supports Live Virtual Constructive (LVC), which will allow a live person in a real aircraft to interact with a live person in a simulator – or an artificial intelligence or "constructive" entity on a computer. While this training component hasn't yet been fully implemented, WarRoom is designed to enable LVC by integrating all the data necessary for it in a single platform.
Based on input from warfighters, WarRoom has been in development since 2019 and has been implemented incrementally over time. This has allowed the research team to respond to the changing needs identified by users – and new threats that have arisen.
Jared Lyon, a GTRI Senior Research Engineer in the Phoenix Field Office, has been involved with the project since its inception. "We frequently solicit and receive feedback from the people using the system so we can make sure it does exactly what they need," Lyon said. "We recently hosted more than a dozen system users in our Phoenix field office to get input. We were making changes to the product in real-time, trying to understand challenges from the warfighters' perspective."
Though developed for the Air Force, WarRoom may expand to other Department of Defense branches that also could benefit by integrating their training range software. Using a common platform could facilitate more interaction between the services, Rasmussen said.
WarRoom is a major project for GTRI involving more than 40 researchers altogether. The work is principally being done in three field offices – Utah, Phoenix, and Orlando – as well as GTRI headquarters in Atlanta. More than a dozen subcontractors have been involved, including Space Dynamics Lab and Raytheon Solipsys.
In addition to the GTRI researchers already mentioned, the project has included Principal Research Engineer Mike "Scratch" Fitzpatrick and Principal Research Associate Mike Naes.
Writer: John Toon (john.toon@gtri.gatech.edu)  
GTRI Communications  
Georgia Tech Research Institute  
Atlanta, Georgia

The Georgia Tech Research Institute (GTRI) is the nonprofit, applied research division of the Georgia Institute of Technology (Georgia Tech). Founded in 1934 as the Engineering Experiment Station, GTRI has grown to more than 2,900 employees, supporting eight laboratories in over 20 locations around the country and performing more than $800 million of problem-solving research annually for government and industry. GTRI's renowned researchers combine science, engineering, economics, policy, and technical expertise to solve complex problems for the U.S. federal government, state, and industry.