Modular Open Architecture Enables Low-Cost Adaptive Radar Applications
Digitally-reconfigurable modular hardware and software building blocks designed to work together are key components of GTRI's Software-Defined Configurable RF Array (COBRA) initiative, which is intended to facilitate rapid development of low-cost phased-array radar systems for ground, airborne, spaceborne, electronic warfare, communication, and other applications.
The individual modular components are designed to be easily reconfigurable, with switches that permit changes in such parameters as output polarization, output power, phase, and timing, allowing them to be combined to meet the challenges of a broad range of missions, domains, and threats. Beyond reducing design costs and accelerating the development of new systems, the reconfigurability can help accelerate response to changes in the contested – and congested – electromagnetic spectrum.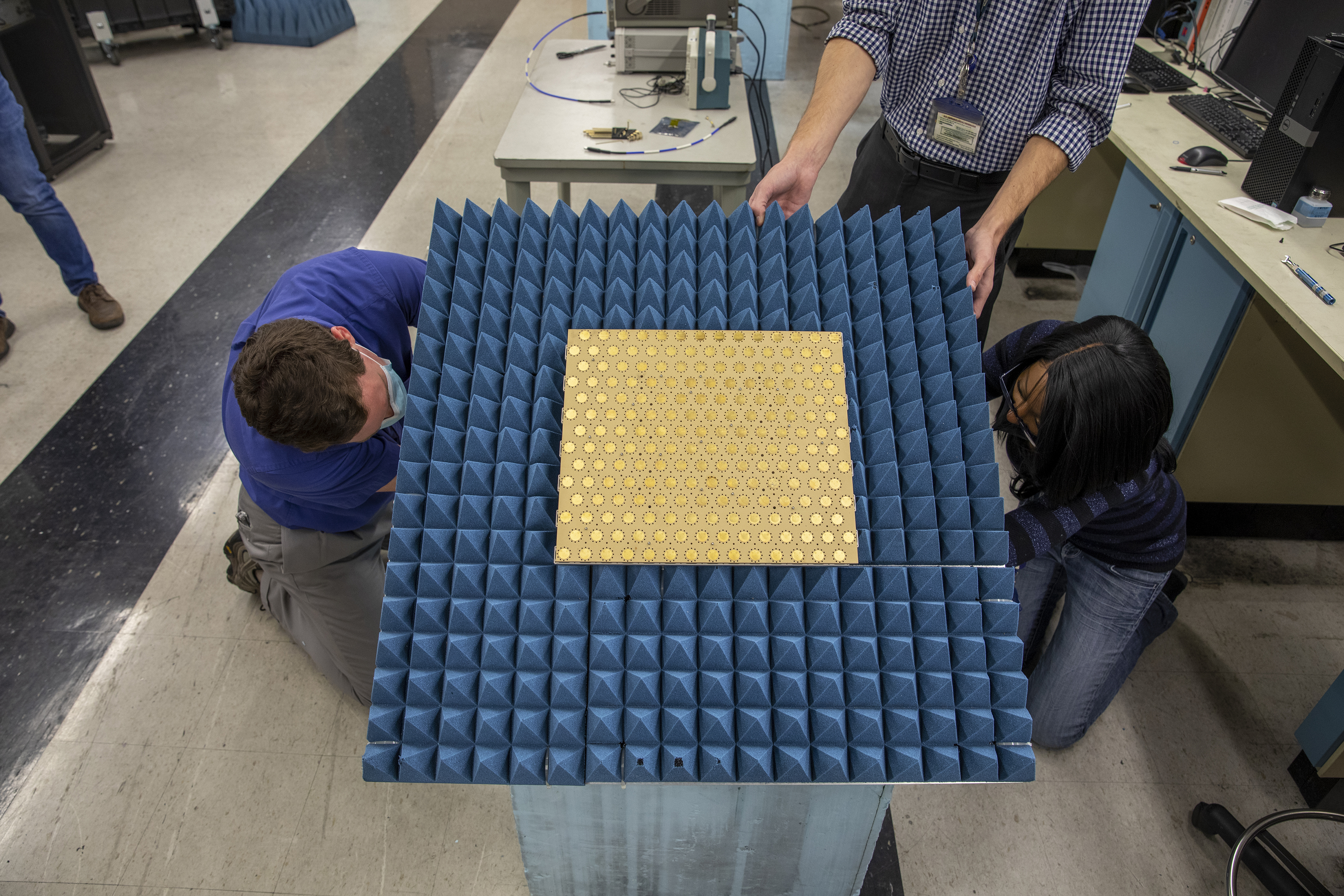 "We are creating an open architecture that can be developed one time and then quickly provide new variants that can target a variety of other applications," said Philip Brady, a GTRI principal research engineer working on the program. "The more reconfigurable we can make this radar, the more effective it can be in a contested spectrum where we can quickly make adjustments to which adversaries may not be able to adapt."
Taking advantage of commercial off-the-shelf (COTS) components and software that can easily be ported from one application to another helps hold down costs and allow radar developers to build on an open, modular foundation that can serve multiple sets of system requirements.
"We don't want to have to redesign from scratch every time we have a new application," Brady said. "Wherever possible in the design of each of these blocks, we make them as reconfigurable as possible. Our objective is to build as few of these blocks as possible and to connect them together to an architecture that is easily modular."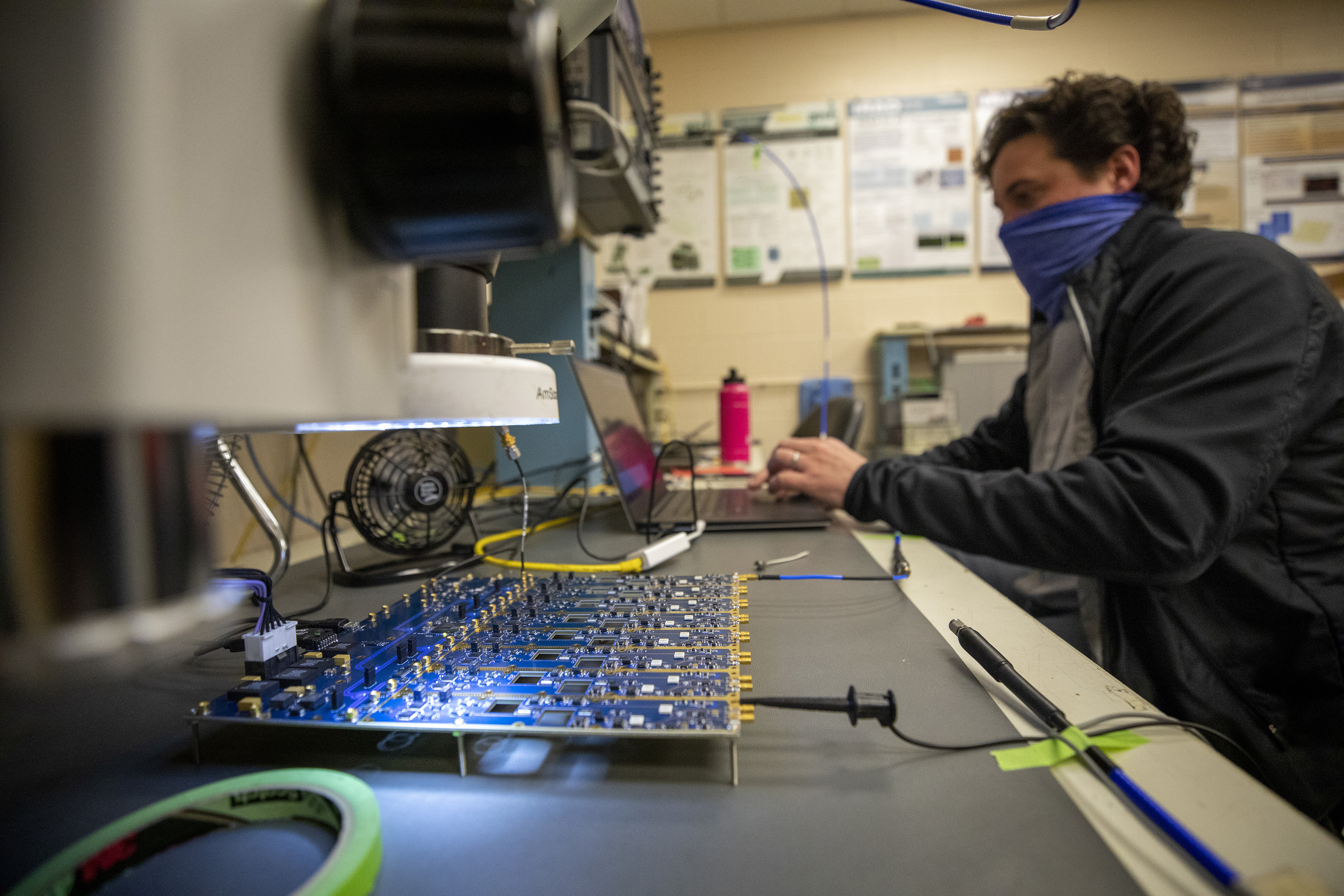 COBRA focuses on the RF portion of radar systems, including mission-tailored antenna arrays and common RF electronics behind them that convert analog signals to digital signals for analysis using open and programmable back-end systems. GTRI researchers plan to use their modular approach to create radar systems that operate in L Band, C Band, and S Band frequencies – and above.
"The packaging of these components together is often the limiting factor involved," Brady said. "As you get into higher and higher frequencies, the wavelength gets smaller and smaller, and packaging the electronics required for the array gets more challenging." The tighter packaging also requires additional thermal control addressed through heat sinks and liquid cooling.
Beyond the hardware, GTRI is developing modular software blocks designed to be ported to different architectures for reuse. With both hardware and software designed with a modular approach, the COBRA strategy can facilitate quick technology refreshes for Department of Defense systems.
"The timelines are much shorter than typical technology refreshes, and the capability development is much less costly," Brady said. "The intent is to invest the resources up-front to develop the architecture, then have third parties develop the modes, variants and component blocks that allow a new capability to be created without having to develop an entirely new architecture."
GTRI researchers recently developed a 64-element software-defined RF array designed to enable new capabilities in the test and evaluation, electronic warfare, and radar communities. As part of the project they designed and tested an 8-channel multi-polarization transmit-receive module assembly with an analog beamformer and an up-down converter connected to a single RF System on a Chip (RFSoC) board.
In addition, they separately implemented digital beamforming (DBF) firmware and an arbitrary waveform generator on an RFSoC to enable DBF in one dimension for an array. The third year of the program, which is supported by GTRI's independent research and development (IRAD) initiative, is continuing the work with digital sub-array boards in the prototyping stages.
The reconfigurable nature of the architecture will make it amenable to transitioning into future cognitive radar controlled by artificial intelligence and machine learning technologies, Brady said.
"This is a future-looking application that will make it an effective prototyping testbed for cognitive radars of the future," he said. "The more types of sensors we can give it, the more effective it will be."

Writer: John Toon
Photos: Sean McNeil, GTRI
GTRI Communications
Georgia Tech Research Institute
Atlanta, Georgia USA
 


The Georgia Tech Research Institute (GTRI) is the nonprofit, applied research division of the Georgia Institute of Technology (Georgia Tech). Founded in 1934 as the Engineering Experiment Station, GTRI has grown to more than 2,800 employees supporting eight laboratories in over 20 locations around the country and performing more than $700 million of problem-solving research annually for government and industry. GTRI's renowned researchers combine science, engineering, economics, policy, and technical expertise to solve complex problems for the U.S. federal government, state, and industry.
Learn more at www.gtri.gatech.edu and follow us on LinkedIn, Twitter, Facebook, and Instagram.