Meet William H. Robinson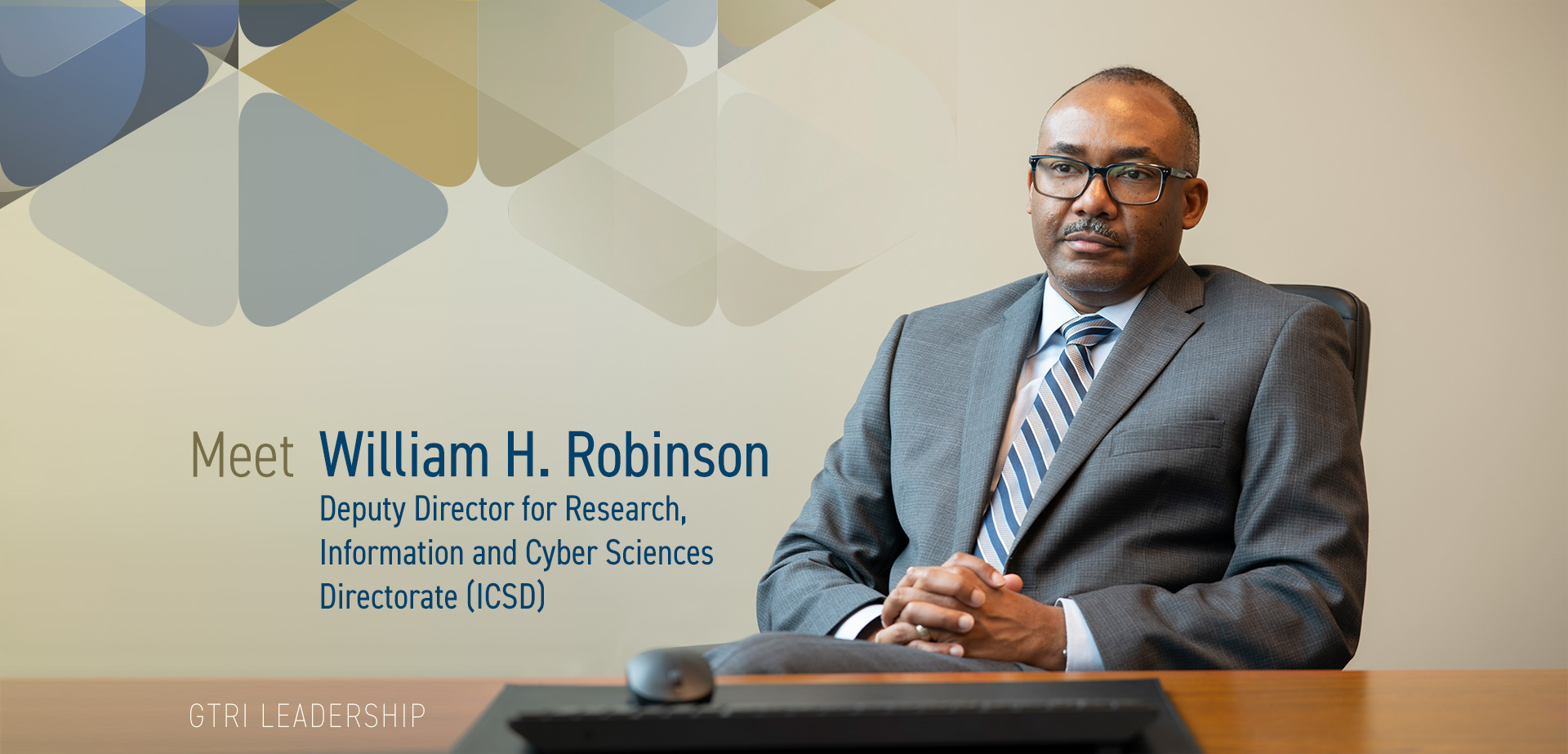 Robinson Looks to Leverage Academic Background to Strengthen Ties Between GTRI and Georgia Tech
William H. Robinson is eager to use his passion for academic research, cybersecurity, and diversity, equity, and inclusion (DEI) to drive meaningful change at the Georgia Tech Research Institute (GTRI), the Georgia Institute of Technology, and beyond. On April 18, Robinson joined GTRI as its new Deputy Director for Research for the Information and Cyber Sciences Directorate (ICSD). Robinson also holds a faculty appointment as Full Professor in Georgia Tech's School of Electrical and Computer Engineering (ECE), where he earned an M.S. in Electrical Engineering in 1998 and a Ph.D. in Electrical and Computer Engineering in 2003.
Robinson joins GTRI from Vanderbilt University, where he served as a professor of Electrical Engineering and the vice provost for academic advancement. In a recent interview, Robinson discussed his vision for his new roles, the value of mentorship, and how it feels to be "back home."
Q: How has your first week been?
A: It's been a fantastic first week. I was able to send out a personal message to the ICSD team on my first day. The GTRI town hall that was held on April 21 was a great way to get more formally introduced to GTRI. I look forward to continuing to get acclimated here.
Q: Can you talk a bit about your new job duties?
A: As Deputy Director for Research for ICSD, I will be overseeing two GTRI labs – the Information and Communications Laboratory (ICL) and the Cybersecurity, Information Protection, and Hardware Evaluation Research Laboratory (CIPHER) – and working closely with the wonderful directors of those labs.
I will also have an opportunity to meet with some of our Department of Defense colleagues to see what their long-term needs are and then translate those needs to our own research and prototyping capabilities to provide solutions for them.
One thing that I find attractive about these roles is drawing upon my experience as a faculty member at Vanderbilt to help strengthen the collaboration and connection between GTRI and the academic side of Georgia Tech. That's where my academic appointment comes in handy – being able to leverage the academic side of that strength with what GTRI does well to push our research forward and grow the program even more.
Q: How does it feel to be back in Atlanta at Tech?
A: That is a great question. I've had people say things like 'Congratulations!' 'Welcome home!' 'Welcome back!' I'm back, but yet not quite, because when I was a student, I did not work with GTRI. I knew about GTRI, but I wasn't one of the undergraduate or graduate students who were a part of its labs. Coming back in the sense of being at Georgia Tech, I had my experiences of being in the school of ECE and working with faculty, but this is different.
As far as Atlanta goes, I think it has a great energy to it and I'm looking forward to relearning Atlanta in a way that I haven't seen in nearly 20 years.
Q: What attracted you to GTRI?
A: At Vanderbilt, I was involved in research that was centered around hardware security and the reliability of space systems. So, from a technical standpoint, I'm very interested in the portfolio of ICSD and the research of the team. From a leadership perspective, it is an opportunity to have a significant impact across the mission areas of GTRI.
I'm excited to be in a research-driven environment that's also mission-driven. It's serving national security, it's enhancing the State of Georgia's economic development, it's improving the human condition, it's educating future technology leaders. Since GTRI is so connected to Georgia Tech, there's that educational and academic piece as well.
I've grown up with education as one of my core values, so being able to be affiliated with the academic side of campus, in addition to the research-driven, mission-driven aspects of GTRI, is what attracted me to apply and ultimately be successful in being selected for this role.
Q: What are some of your short- and long-term goals here?
A: Short term, I want to meet the ICSD team. I want to hear what we are working on. I want to understand our capabilities and what our challenges have been. Hopefully, I will be able to understand what those are and then formulate a way to help us continue to be successful.
I will be visiting the ICSD Labs and Divisions, and have the chance to do some small-group interactions with ICSD. Then I'll probably have a better short-term plan to enact or put forward that will help me start thinking more strategically about what we could do to position ICSD for continued success moving forward.
Q: You have an extensive background in cybersecurity and ICSD has a similar focus. What would you say makes cybersecurity a compelling research area?
A: From my perspective, one of the things that's interesting about cybersecurity is considering us as individual users. We have all these electronic devices and smart devices, and we often take for granted the pervasiveness of the technology. Certainly, there's the national-level and state-level aspects of cybersecurity, but we also need to consider the security and privacy of our own personal data and how we exchange it.
I think from the standpoint of ICSD, its work is largely on that national scale of cybersecurity, but it also relates to our home networks and other things that we use every day. I believe the teams within ICSD are well-positioned to balance both the technical aspects and human aspects of cybersecurity.
Q: At Vanderbilt, you co-led the Explorations in Diversifying Engineering Faculty Initiative (EDEFI), which investigates and identifies factors that often discourage Black scholars from pursuing academic careers. What were some of your top findings from that initiative?
A: At Vanderbilt, I spent my tenure-track experience as the only Black faculty member in our school of engineering. So, I was the first Black full professor in the school of engineering's history.
In terms of that story, it's not unique; it happens at other places as well. So, what makes my journey successful versus someone else's experience? To answer that question, we created a research team at Vanderbilt that looks at the experiences of doctoral students, postdoctoral scholars, and faculty. My engineering background is in computer architecture, but I became somewhat of a social scientist, at least in terms of doing that study, where I conducted interviews and focus groups with various people.
But it's not enough to just collect those data; it's also about finding ways to intervene. It wasn't enough to sit on the sidelines and say, 'Well, here's what works, and here's what doesn't work.' I think in terms of what we found to be successful is our ability to give language to people to describe their experiences.
For example, if you're looking from an engineering or interdisciplinary standpoint, how do you identify mentors in this space?
It's not just mentors who look like you; it's going to be cross-cultural mentoring that fosters a welcoming environment for all. I had some outstanding mentors who enabled me to be successful, so helping others to identify that ecosystem of mentors is important.
Some solutions are just structural: being able to address the way that people are forming their lab teams and how to create an inclusive culture to be successful. I was very impressed with GTRI's Implicit Bias Workshop. That workshop is anchored in our organizational values.
We also have to recognize that some of us navigate our environments as a pioneer, either the first one or one of a few. When I started at Vanderbilt, I knew I would achieve the distinction of being the first Black faculty member promoted to Associate Professor and Full Professor with tenure in the school of engineering. Maybe some people want to be pioneers, maybe they don't. And so, making sure that people are aware of that circumstance going forward is also important.
Q: How do you expect to incorporate your experience fostering diversity and inclusivity into your role at GTRI?
A: One of the things that I like most about GTRI is the list of values found in its strategic plan – the way that we're creating a culture of belonging here, where everyone has a chance to join a team and contribute to furthering our mission. I think that helps us all to be successful.
I always strive to achieve this notion of true belonging: that I feel like I'm part of this effort and you're a part of this effort, and I feel that I can bring my authentic self to this environment and you can bring your authentic self to this environment.
I think that's what we strive for here – we have people who are at different parts of this journey, but as long as we are getting to know each other as people and finding ways to make these connections across different identities and life experiences – we will learn that we have a lot in common.
When you are a part of an environment of people wanting to break down those barriers, wanting to be more inclusive, and wanting to achieve that sense of belonging, it helps the research teams, it helps develop camaraderie, and it makes GTRI a really great place to work.

Writer: Anna Akins
Photos: Christopher Moore
GTRI Communications
Georgia Tech Research Institute
Atlanta, Georgia USA

The Georgia Tech Research Institute (GTRI) is the nonprofit, applied research division of the Georgia Institute of Technology (Georgia Tech). Founded in 1934 as the Engineering Experiment Station, GTRI has grown to more than 2,800 employees supporting eight laboratories in over 20 locations around the country and performing more than $700 million of problem-solving research annually for government and industry. GTRI's renowned researchers combine science, engineering, economics, policy, and technical expertise to solve complex problems for the U.S. federal government, state, and industry.