GTRI's Professional Education Program Provides Real-World Training to Current, Future Leaders
Chikita Sanders, a research associate at the Georgia Tech Research Institute (GTRI), was recently looking for her next professional challenge – something that would sharpen her technical skills and widen her industry knowledge, but wouldn't require her to pursue another advanced degree.
Sanders found the perfect fit in GTRI's Professional Education program (GTRI-PE). GTRI-PE is connected to the Georgia Tech Professional Education program (GTPE) and offers short courses and certificate programs taught by GTRI researchers in the areas of defense technology, cybersecurity, and occupational safety and health.
Sanders last year earned a cybersecurity certificate through the program, which teaches participants how to best mitigate risk, defend their organization from external and internal threats, and more. Working in a cyber-focused role at GTRI, Sanders said the program equipped her with the strategic and technical knowledge to help protect GTRI against emerging threats.
"The program was exactly what I was looking for," said Sanders. "It fit into my schedule and helped me obtain more career-specific credentials."
GTRI-PE offers over 100 distinct courses taught by more than 160 instructors. During FY22, the program delivered a total of 184 courses, predominantly catering to organizations such as the U.S. Department of Defense (DoD) and various government sponsors. GTRI researchers with a suitable background and proficiency may serve as instructors. Instructors receive supplemental compensation as an acknowledgment of their contributions to the program.
GTRI-PE Director Renita Folds said GTRI researchers provide a practical perspective to the classroom that extends beyond theories and concepts.  
"GTRI researchers bring immense value to our short courses, primarily through their extensive experience in their respective fields," Folds said. "They are actively engaged in applied research and working on cutting-edge solutions for complex problems on a daily basis. This direct involvement in the field allows them to bring real-world insights and up-to-date knowledge to the classroom, enhancing the learning experience for our course participants."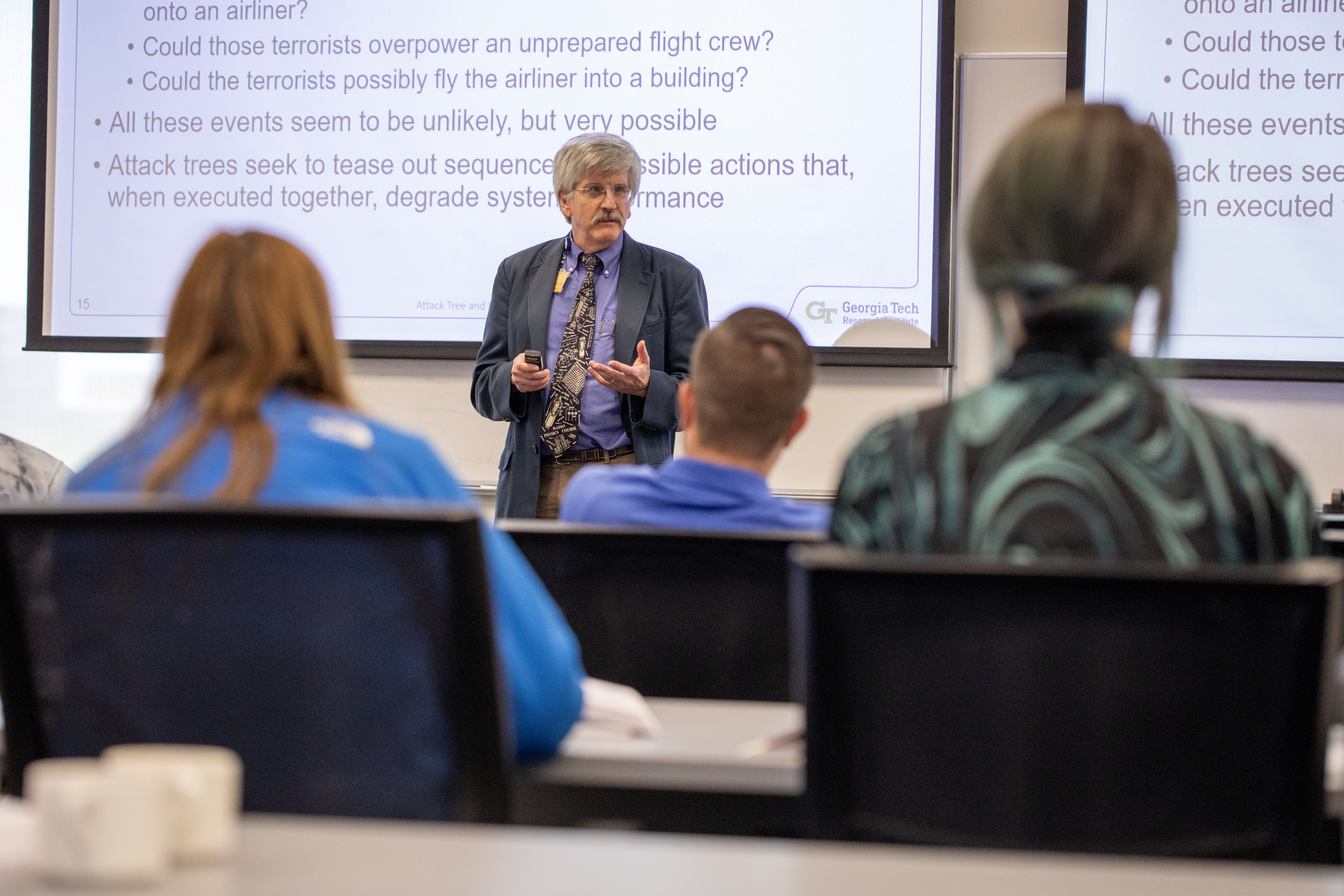 GTRI places high importance on providing courses that cater to the current demand in various fields. While radio frequency (RF) electromagnetic warfare (EW) and cybersecurity remain highly sought-after disciplines, the Georgia Institute of Technology (Georgia Tech) also recognizes the significance of emerging technologies. Hence, GTRI is prioritizing the development of courses focused on cutting-edge subjects like artificial intelligence (AI), machine learning (ML), and data science. A new communications certificate program is currently under development and is set to launch in FY24, said Folds.
"We recognize how critical it is for our government and industry partners to stay ahead of these pressing issues," she said.   
GTRI-PE offers a mix of in-person, hybrid and virtual classes, which consist of lectures, discussion sessions, and hands-on projects.  
While instructors are considered to be experts on the topics that they teach about, GTRI Principal Research Engineer Carlos Dávila, who teaches courses on radar systems and electronic warfare (EW), said he is often just as much a student as a teacher.
Dávila has been an instructor for the past 20 years, and developed two short courses for the program – Modeling and Simulation of Radar Systems and Basic Electronic Warfare Modeling, which are centered on two widely-used programming languages, MATLAB and Simulink.  
"The intent with these courses is to build upon theoretical concepts by having students develop models that reinforce and illustrate those fundamentals," Dávila said.
Dávila said his favorite part of being an instructor is gaining fresh perspectives from students, who help him stay current on the ever-changing dynamics of his field.
"I see teaching and performing research as very complementary," he said. "My students keep me hungry to improve both the breadth and depth of my knowledge base."
Another instructor, GTRI Principal Research Scientist Matt Guinn, has also been with the program for 20 years and developed the cybersecurity course Introduction to Penetration Testing. Guinn's class is lab-based and provides students with an understanding of the fundamental threat vectors and exploitation techniques adversaries use to breach systems and networks.
Guinn also co-teaches a course related to his own class called Defensive Cyber Operations. This course is also lab-based and introduces students to modern defensive skills required to counteract cyber threats.
"I often teach these courses back-to-back, which is fun because students get to spend the first class thinking about threats from an adversary's perspective, and then flip things around and learn about how to best defend against those threats in the second class."  
Guinn most enjoys demystifying cyber threats and providing his students with practical tools to be prepared to defend their organizations against them.  
"One of the main things that I try to accomplish with my class is to teach professionals who may have a limited amount of technical experience with handling cyber breaches the fundamentals of how to best address them," he said.
But GTRI-PE is not limited to novices.  
Industry veterans who participate in the program say they can't believe how much there is left to learn.
Jaime Downing, an information security manager at the Naval Air Systems Command (NAVAIR), Naval Air Warfare Center Aircraft Division (NAWCAD), which provides integrated air warfare capabilities to the U.S. Navy, has close to 25 years of cybersecurity experience, an MS in Information Systems Management Cybersecurity and multiple cyber certifications. Downing has audited cyber courses offered by similar programs across the country.
Downing, who earned GTRI's cybersecurity certificate in 2021, said the practicality of the classes and the ability to collaborate with other DoD professionals helped her view cyber concepts in a new light.  
"GTRI provided perspectives to help with delivering objectives and benchmarks associated with vulnerabilities, threats and risk reduction," Downing said. "Even at the expert level, there is something new to learn every day. The GTRI team provided professionalism and friendliness, displayed significant details, and was well versed on the topics taught."
Downing added that the program reinforced the importance of maintaining strong cyber networks from a national security standpoint.  
"From a DoD perspective, the U.S. has to be trained one step further than its adversaries," she said. "We need to make sure that we are as cyber-savvy as possible and that all of our networks are secured. Our nation's future depends on it." 
If you are interested in learning more about GTRI-PE, you may contact Renita Folds at renita.folds@gtri.gatech.edu.
Writer: Anna Akins 
Photos: Sean McNeil 
GTRI Communications
Georgia Tech Research Institute
Atlanta, Georgia

The Georgia Tech Research Institute (GTRI) is the nonprofit, applied research division of the Georgia Institute of Technology (Georgia Tech). Founded in 1934 as the Engineering Experiment Station, GTRI has grown to more than 2,900 employees, supporting eight laboratories in over 20 locations around the country and performing more than $800 million of problem-solving research annually for government and industry. GTRI's renowned researchers combine science, engineering, economics, policy, and technical expertise to solve complex problems for the U.S. federal government, state, and industry.