GTRI Names New Director for Applied Systems Laboratory (ASL)
The Georgia Tech Research Institute (GTRI) has announced the selection of Linda Viney as the new director for the Applied Systems Laboratory (ASL). Viney assumed the role on September 15. As director, Viney will work with the ASL leadership team to direct the lab's research mission, coordinate sponsor engagement, collaborate with other GTRI labs, and maximize the impact of its mission.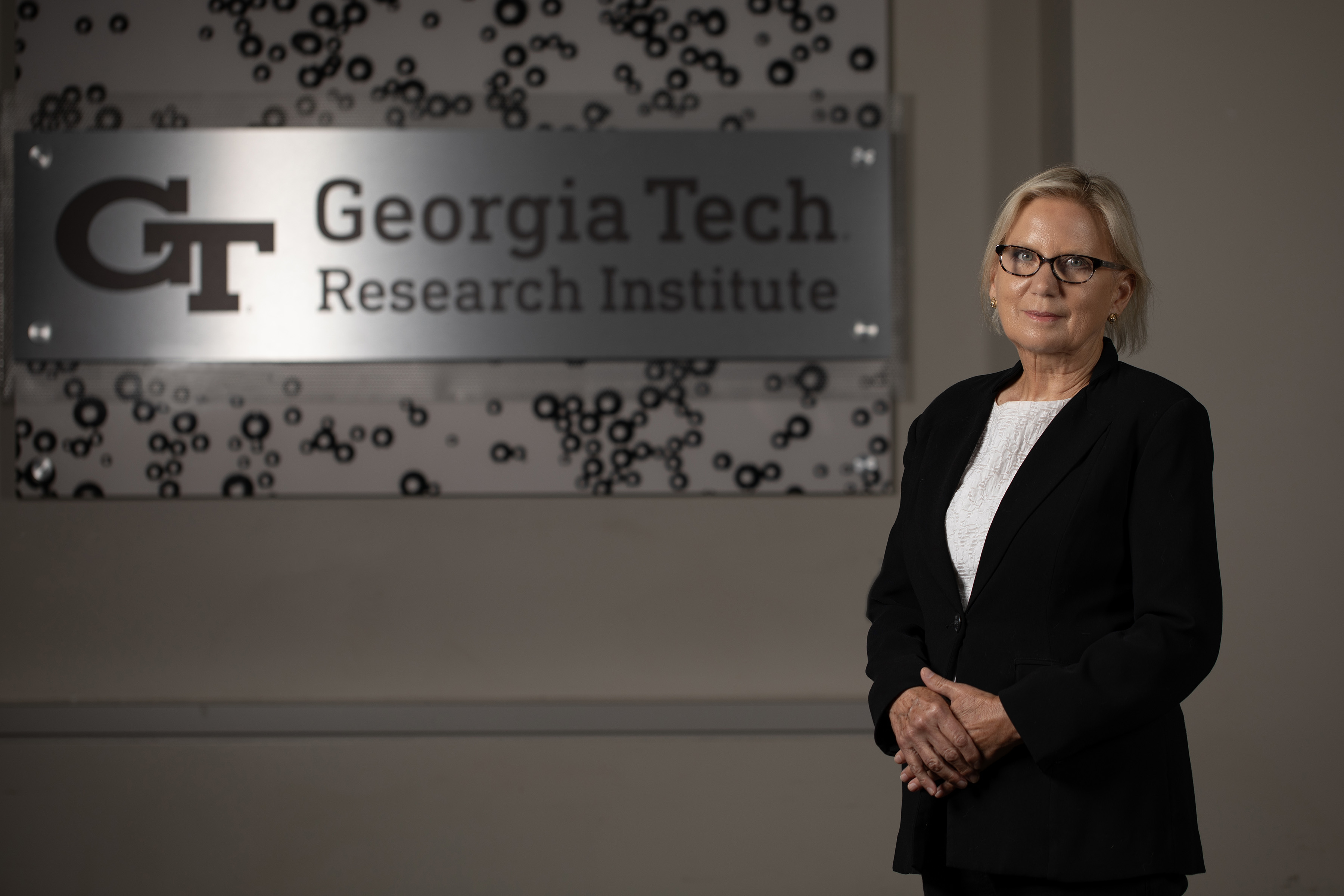 Viney has been a member of Georgia Tech's research faculty for over 25 years. She holds both master's and bachelor's degrees in Electrical Engineering from the Georgia Institute of Technology (Georgia Tech). During her tenure at GTRI, Viney held the position of Division Chief for the Electronic Systems Integration Division in the Electronic Systems Laboratory (ELSYS).
Her research interests include the development and integration of new technologies for operational military aircraft. These new technologies include multi-sensor fusion, automated threat countertactics, secure communications, and Live, Virtual, & Constructive (LVC) electronic combat training. She has served as principal investigator (PI) or co-PI for more than 37 research programs valued at over $68 million. She has also served in program development, securing funding of over $55 million. 
Viney has played a significant role in conducting applied research on electronic warfare at GTRI. During her research in LVC training, she led the development of an electronic combat training program, known as the Virtual Electronic Combat Training System (VECTS), which is capable of operating without range limitations. The development was successfully implemented on various military aircraft, including the F-16, A-10, and C-130. 
Viney was also instrumental in leading the development of the Advanced Integrated Electronic Combat System (AIECS), a net-centric warfare solution that fuses information from electronic warfare sensors, tactical data links, and intelligence data to provide aircrews consolidated threat situational awareness and automated countertactics. AIECS is on track for operational fielding on C-130H aircraft later this year.
This year, Viney's contributions to GTRI research and innovation received recognition at a prestigious level. Viney was awarded the title of Regents' Researcher by the University System of Georgia's (USG) Board of Regents. The Regents' Researcher title recognizes outstanding full-time principal researchers at Georgia Tech and three other University System research institutions. The title may be awarded upon the recommendation of the USG institution President, chief academic officer, and three members of the faculty named by the President, and upon the approval of the Chancellor and the Committee on Academic Affairs.
Don Davis, Deputy Director for Research in Electronics, Optics, and Systems at GTRI, said he is "excited that Viney has accepted the challenge to lead ASL into the future. In her years of service to GTRI, she has grown and managed large efforts, and has led an impactful division in ELSYS and ASL. She has also been a key member of the leadership team that has redefined ASL as we organize to meet future sponsor needs. Linda's leadership experience, sponsor knowledge, and technical acumen are the qualities we need in our lab directors. I am glad that she is dedicating herself to this critical role."
ASL has a long history of supporting the U.S. military and allies in maintaining operational relevancy of their mission systems to provide a decisive edge in an ever-changing warfighting environment. ASL conducts applied research in complete life-cycle product development for military mission systems for both manned (crewed) and unmanned (uncrewed) aircraft. Major products include: human factors engineering; human systems integration planning for acquisition and lifecycle management; model-based system engineering to define system-of-system architectures, interfaces, and data models; modular open system approaches; multi-sensor fusion of defensive and offensive systems, automated threat countertactics, and tactical data link integration; aircrew electronic warfare embedded training and AR/VR threat training solutions; missile defensive; and human wearable sensors to track physiological metrics. 
GTRI has long been a leading institution for developing solutions in national security. Viney said she is excited about "bringing together researchers to broaden GTRI's impact to the warfighter and national security."
GTRI conducts research through eight laboratories located on Georgia Tech's midtown Atlanta campus, in a research facility near Dobbins Air Reserve Base in Smyrna, Georgia, and in Huntsville, Alabama. GTRI also has more than 20 locations around the nation where it serves the needs of its research sponsors. GTRI's research spans a variety of disciplines, including autonomous systems, cybersecurity, electromagnetics, electronic warfare, modeling and simulation, sensors, systems engineering, test and evaluation, and threat systems.
Writer: Madison McNair (madison.mcnair@gtri.gatech.edu)
GTRI Communications  
Georgia Tech Research Institute  
Atlanta, Georgia

The Georgia Tech Research Institute (GTRI) is the nonprofit, applied research division of the Georgia Institute of Technology (Georgia Tech). Founded in 1934 as the Engineering Experiment Station, GTRI has grown to more than 2,900 employees, supporting eight laboratories in over 20 locations around the country and performing more than $940 million of problem-solving research annually for government and industry. GTRI's renowned researchers combine science, engineering, economics, policy, and technical expertise to solve complex problems for the U.S. federal government, state, and industry.