Collaborative Weapons Work Together to Respond to Changing Conditions
GPS and laser guidance systems enabled smart weapons to hit predesignated targets with amazing precision. Now researchers at the Georgia Tech Research Institute (GTRI) are helping develop smarter weapons that are able to work together to identify, target, and update target selections after launch in response to changing conditions such as the last-minute identification of new targets.
The Air Force Research Laboratory (AFRL) Munitions Directorate leads the U.S Air Force Vanguard innovation program known as Golden Horde, where, in a recent test, six modified small diameter bombs (SDBs) - unpowered glide weapons - communicated and collaborated to establish initial weapon/target assignments after release from two F-16s and then changed their targeting after receiving an in-flight target update.
Using their new advanced Networked, Collaborative, and Autonomous (NCA) capabilities, the modified weapons determined during flight which members of the group would focus on the new target whose coordinates were transmitted to them as they glided toward their initially identified targets. The testing was done in May 2021 at White Sands Missile Range in New Mexico using F-16s from the Air Force Test Center's 96th Test Wing at Eglin Air Force Base, Florida.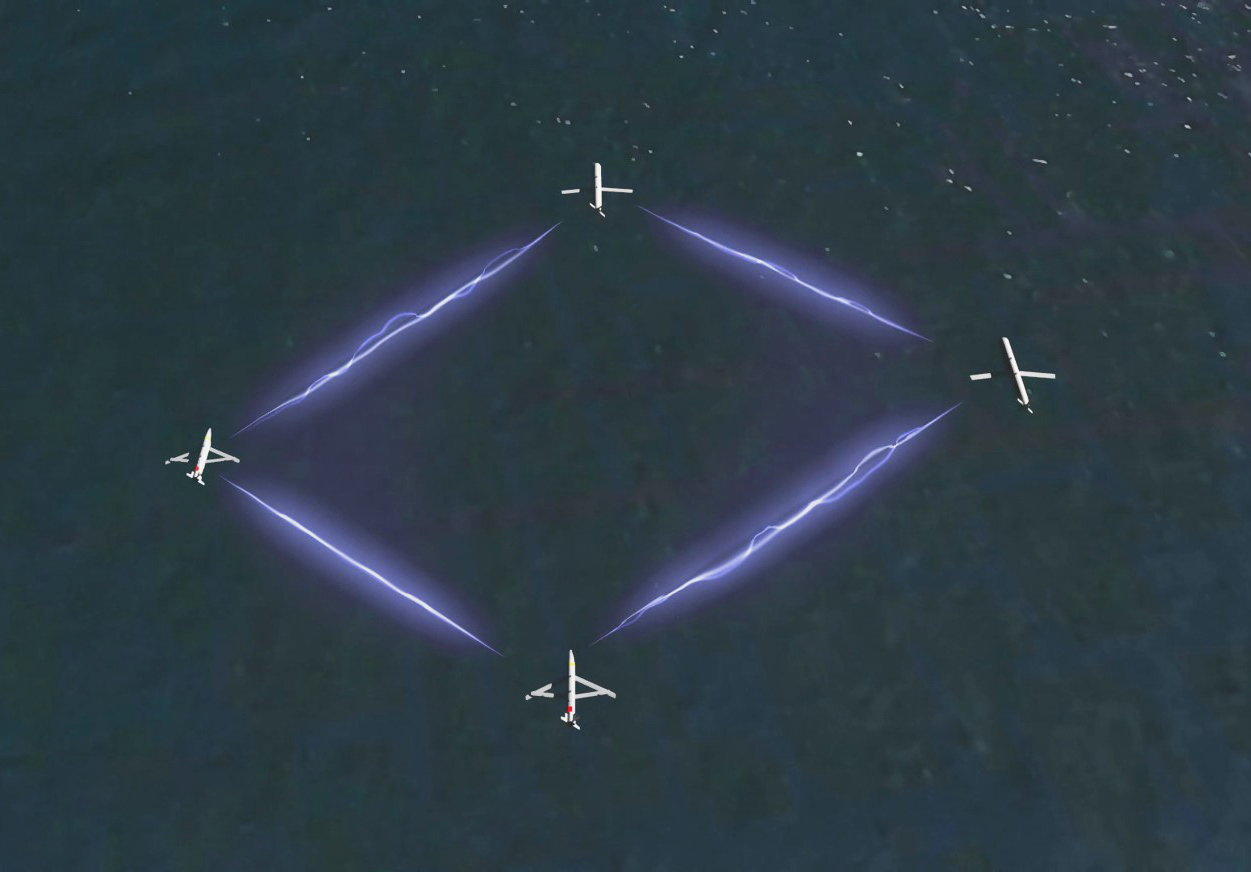 "The weapons collaborate with each other to share information and make decisions about which weapons will engage which targets," said Pete Crump, a GTRI senior research engineer who led the autonomy components of the project. "All of this is founded on the weapons' ability to communicate, share information, and perform collaborative autonomous behaviors in achieving the mission objectives without human involvement."
The Collaborative Small Diameter Bombs (CSDBs) – as the modified weapons were called – used GTRI autonomy algorithms originally developed for powered autonomous unmanned aerial systems. The software and autonomy processor on which it operated were integrated with an advanced mesh network radio developed by L3 Harris Technologies. The CSDB payload assembly also included an advanced RF seeker developed by SARA Inc. To give the weapon the ability to respond to last-minute targeting changes, the CSDB program replaced the standard laser seeker system in the bomb's nose assembly with the new autonomy payload.  This new nose assembly was joined to the existing SDB weapon by its manufacturer, Boeing.
The resulting CSDBs were subjected to three live-fire flight tests which concluded with the simultaneous launch of six weapons. Before the flight testing, however, extensive simulation was done to demonstrate that the systems could communicate and collaborate to fulfill the mission. To make that happen, GTRI researchers had to adapt their autonomy system to the unique conditions of a gliding aerial platform.
"There are many assumptions you can make with powered flight that no longer apply to a gliding vehicle," noted Kyle Keppler, a GTRI senior research engineer who led development of the algorithm system. "You can't assume constant velocity or constant altitude. We were more limited in what we could do with the flight paths and how often we could change them."
For instance, when changing assigned targets, the software had to make sure the CSDB chosen to attack had enough range left to reach the new location. Two weapons assigned to the same high-priority target were able to adjust their flight paths to ensure the vehicles arrived nearly simultaneously.
GTRI's autonomy system is hosted across all participants, ensuring that the mission can be completed even if one or more group members are lost. "It is completely decentralized, so everybody kind of does everything," Crump explained. "Ultimately, the results from the autonomy determine which vehicle will be assigned to which target."
The CSDBs do not have unconstrained ability to choose their behavior. GTRI developed a collaborative autonomy approach known as "play calling" in which the weapons choose from a set of established behaviors known as "plays."
Future work is expected to include more simulations of larger and more complex interactions.
"We expect to move into more of a digital engineering version of Golden Horde in which vehicles will perform their collaboration, execute behaviors, and engage targets in simulated environments," Crump said. "There's a lot that can be done to develop this collaborative environment."
On Sept. 15, the AFRL announced a collaborative effort called Operation Protovision, a new competitive phase of Golden Horde. Launched by the AFRL, the Department of Defense's Defense Innovation Unit, and Johns Hopkins Applied Physics Lab, the new live and virtual components will allow a variety of competitors to showcase technologies in a Golden Horde Colosseum where so-called "gladiators" will compete.  GTRI is one of the eight gladiators selected to compete in the Colosseum.
The virtual environment, a digital engineering pipeline that encompasses software, hardware-in-the-loop, and surrogate UAVs, aims to rapidly integrate, develop, and test transformational networked, collaborative, and autonomous (NCA) weapon capabilities and air platform technologies for future warfighters, the AFRL announcement said.
In October, the Golden Horde project was recognized by the Aviation Week Network's 64th Annual Laureate Awards for innovation in the aerospace and aviation industry.

Writer: John Toon
Image credits: U.S. Air Force photo by Tech. Sgt. John Raven , U.S. Air Force illustration by Chris Quinlan

GTRI Communications
Georgia Tech Research Institute
Atlanta, Georgia USA
 


The Georgia Tech Research Institute (GTRI) is the nonprofit, applied research division of the Georgia Institute of Technology (Georgia Tech). Founded in 1934 as the Engineering Experiment Station, GTRI has grown to more than 2,800 employees supporting eight laboratories in over 20 locations around the country and performing more than $700 million of problem-solving research annually for government and industry. GTRI's renowned researchers combine science, engineering, economics, policy, and technical expertise to solve complex problems for the U.S. federal government, state, and industry.
Learn more at www.gtri.gatech.edu and follow us on LinkedIn, Twitter, Facebook, and Instagram.