​​​

High School Summer Internships
High school students who are at least 16 years old, or will be by May 29, 2020, are eligible to apply for five-week summer internships hosted in GTRI labs. Interns work on projects in GTRI laboratories and the Warner Robins field office with the goal of providing students with real-world experiences in science and engineering research. GTRI researchers mentor students by working with them on projects to engage them in first-hand STEM experience, with the goals of helping bridge the gap in Georgia's STEM workforce by creating awareness of STEM career opportunities.
Internship projects focus on topics ranging from piezoelectric systems to rapid prototyping, from robots and drones to the physics of radar emissions. Students may build educational kiosks that provide educational information on night vision or help build piezoelectric tiles to create energy for the NASA visitors center. 
In select cases, teachers from local school systems work alongside students and GTRI researchers to develop a finished research project, as well as a curriculum that will incorporate those learning concepts back their the classrooms.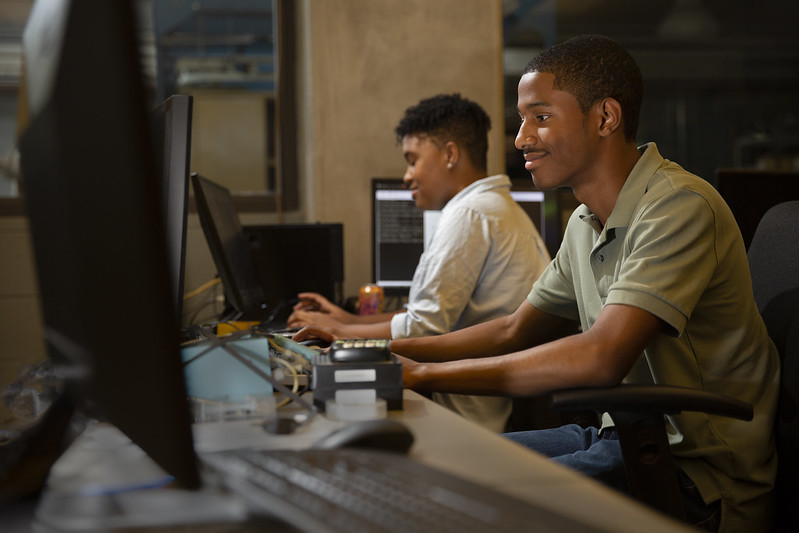 Student interns have the opportunity to learn more about working in a STEM field by attending a workplace orientation, participating in lab tours in throughout Georgia Tech, attending trainings on topics such as soldering and circuit board design, and interacting on a regular basis with GTRI researchers as well as Georgia Tech graduate or undergraduate students.
Interns and their teams present the results of their work in an end of the summer final presentation, attended by GTRI leadership, mentors, and special guests. 
2020 Pre-Application
The pre-application for the 2020 STEM@GTRI High School Summer Internship Program is now closed. No additional applications will be accepted.
The pre-application is used to match students with GTRI employment opportunities. Note: Completion of the pre-application is not a guarantee of employment. If you are selected following a successful phone-screen interview, you will receive a conditional employment offer and will be required to complete a full application.
Prospective Intern Requirements for 2020
Complete the following pre-application by Friday, Feb 14, 2020
Be at least 16 years old by May 29, 2020

Be in the high school graduating class of 2020, 2021, or 2022

Must have reliable transportation to and from work. The program does not provide housing.

Be able to work from June 8, 2020 through July 17, 2020 (with exception of July 4 and mentor approved days)

Be available to attend an all-day orientation on June 8, 2020

Be able to participate in an all-day final presentation on July 17, 2020

Be available to work 24-30 hours/week for five weeks
Due to the nature of the work at GTRI, high school internship students are required to be U.S. Citizens.
If you have any questions, please reach out to the Co-Directors of GTRI's K12 Internship and Work-based Programs: Therese Boston and Erick Maxwell at stem.gtri@lists.gatech.edu.
 
Project ENGAGES
GTRI researchers from ATAS are participating in the Engineering Track for Project ENGAGES– a high school science education program developed at Georgia Tech with multiple local partners. These partners include the Coretta Scott King Young Women's Leadership Academy, B.E.S.T. Academy, KIPP Atlanta Collegiate, Benjamin Mays High School, Charles R. Drew Charter High School, and South Atlanta High School. 
The goal of Project ENGAGES (Engaging New Generations at Georgia Tech through Engineering & Science) is to raise student awareness of STEM through research projects and the exploration of related career paths.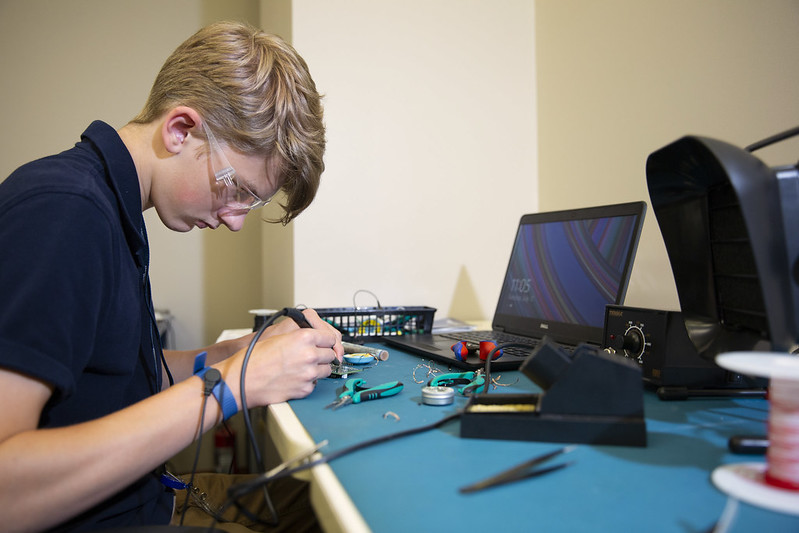 ENGAGES students spend 40 hours per week in Georgia Tech labs during the summer, and 13 hours per week during the school year. ENGAGES students not only have the opportunity to work on projects relevant to their curriculum, but also earn class credit and pay. Students also have opportunities to interact with real-world industry partners, such as the Atlanta Hartsfield Airport and NASA. 
For more information about Project ENGAGES, visit http://projectengages.gatech.edu.