About the Series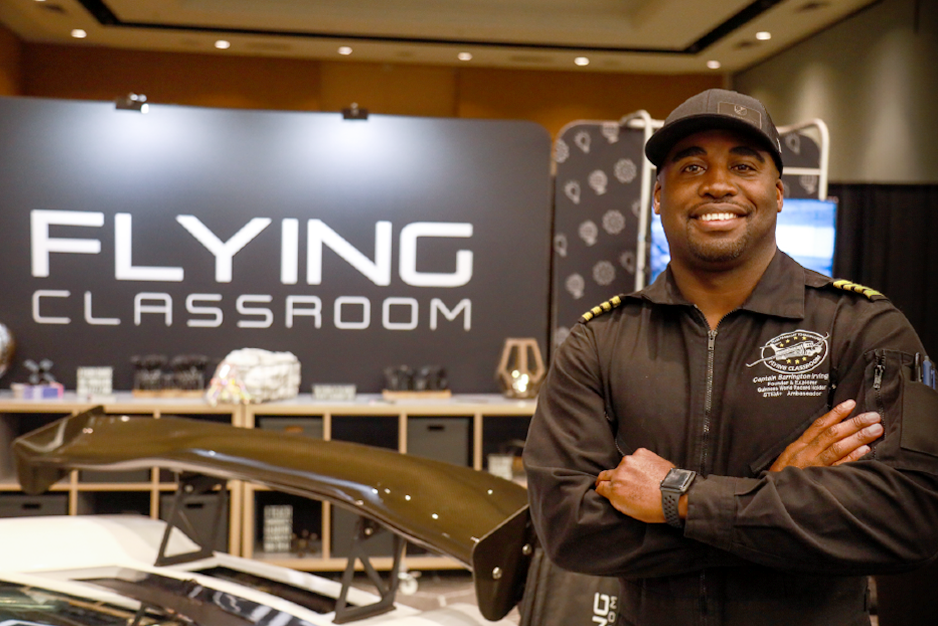 STEM@GTRI is partnering with The Flying Classroom's Captain Barrington Irving to develop and deliver a series of virtual interactions between our world class faculty and K-12 students and teachers across Georgia. These interactions will engage students in GSE-aligned learning related to the research and engineering of the Georgia Tech Research Institute and Georgia Tech. Ranging in grades 4 – 8, these interactions anchor a miniseries of research-related STEM learning experiences developed by our STEM@GTRI team.
Each interaction is moderated by Captain Irving. They will last approximately 45 minutes – 1 hour and are optimized to be accessible for students in face-to-face and virtual classrooms, making it possible for any student to engage in this year's D2D interactions.
The STEM instructional toolkit surrounding each D2D will focus on authentic and timely math-science connections in each grade level. Each interaction will also feature a problem-based learning experience centered around computer science to further support authentic STEM learning in Georgia's classrooms. Teachers will be supported in using these curricular resources with just-in-time synchronous and asynchronous professional learning.
Sign up for Email Notifications
Upcoming Interactions
Stay tuned for more D2D interactions with Captain Irving January 2021
Archived Interactions
Severe Storms and Hurricanes
September 17, 2020, 10:00 am

GTRI researchers, John Trostel and Jessica Losego, discussed how they are using new tools to detect storms earlier and how storms are formed and what makes them so dangerous.

Standards: S4E4a,b,c; MGSSE2.0a.2; CSS.CT.3-5.5 (2,4)

Exploring Antarctica with the Ice Fin Robot
September 24, 2020, 10:00 am

This interaction featured Dr.Mick West of GTRI. He discussed how researchers are using creative engineering to create robots that explore some of the harshest environments on Earth. Students learned about exploring Antartica with the Ice Fin robot.

Standards: S5E1a,b,c; MGSE.5.NBT.5, 6; CSS.CT.3-5.5 (2,4)

Exploring the Universe
October 8, 2020, 10:00 am

This interaction featured Dr. Jim Sowell of Georgia Tech. He discussed how astronomers explore the universe using much more than just the naked eye. Student learned about the various ways astronomers learn more about the unique and innumerable celestial objects in the night's sky.

Standards: S6E1a,b,c,d,e; MGSE6.RP.1, 3, 3c,3d; CSS.KC.6-8.15 (1-3)

Nanotechnology in Medicine
October 22, 2020, 10:00 am

This interaction featured Dr. Younan Xia of Georgia Tech. Students learned more about how nanotechnology is being used in medicine to identify, target, and repair cells, tissues, and more. We also discussed what nanotechnology is, and what the future looks like for this new and growing field.

Standards: S7L2a,b,c; MGSE7.RP.2, 2a, 2b, 2c; CSS.CT.6-8.37 (1,2)

Renewable Energy & Piezoelectrics
November 5, 2020, 10:00 am

Dr. Ilan Stern and Captain Barrington Irving shared how piezoelectrics convert mechanical energy into electrical energy. Students found out about there uses and ways scientists and engineers are finding new applications for these curious crystals.

Standards:S8P4; S8P2; MGSE8.F.1; MGSE8.F.2; CSS.KC.6-8.1
Download Complete 2020-2021 Schedule of Topics