Emily Monago, (she, her, hers)
Dr. Emily Monago is the Director of Diversity Strategy at GTRI. She has worked in the areas of diversity, equity, and inclusion for most of her 30+ year career in higher education.
Prior to coming to GTRI she worked at the University of Wyoming as their Inaugural Chief Diversity Officer and founder of the Office of Diversity, Equity, and Inclusion and co-founder of the Black 14 Social Justice Summer Institute.
In Ohio, she worked at two different state universities and oversaw diversity education; four TRIO Programs; and LGBTQ+, Ethnic, Women's, and Multicultural Centers.  She also worked as the Campus Affiliate Director (2010-2015) for the National Coalition Building Institute at Bowling Green State University; Vice Chair (2013-2016) for the City of Bowling Green Human Relations Commission; and Vice President 2020), President (2021) for the Rocky Mountain Association of Diversity Officers.
Emily has a Bachelor's of General Studies and Master's of Public Administration degrees from Kent State University in Kent, Ohio and a Doctorate of Organizational Communication from Bowling Green State University in Bowling Green, Ohio. She also holds several diversity, equity, and inclusion certifications.
 
Jeremy Brown (he, him, his)
Dr. Jeremy Brown is the Associate Director of Education and Outreach within the Diversity, Equity and Inclusion (DEI) unit at GTRI. As a career, he has worked in diversity, equity, and inclusion for over 5 years and has worked in higher education overall for over 10 years. His main research areas include faculty and staff sense of belonging and exploring achievement and persistence factors around Black men in STEM fields.
Prior to GTRI, he worked at Southern Education Foundation (SEF) as a Director of Leadership Development where he developed new leadership development programs and fellowships. Before SEF, Jeremy worked as the Georgia Tech Impact Community Program Manager, developing a new living-learning community as part of GT Institute Diversity, Equity and Inclusion (IDEI). In this role, he developed a new DEI curriculum, managed events and partnerships, and cultivated a sense of belonging and community for all students. He has also taught academic courses for Georgia Tech's Ivan Allen College of Liberal Arts and Vertically Integrated Projects (VIP).
Jeremy has a Bachelor's of Design from University of North Carolina at Greensboro and a Master's of Higher Education from the University of North Carolina Wilmington. He has a Doctorate in Student Affairs Leadership from the University of Georgia's Mary Frances Early College of Education. He is also a governing board member for American College Personnel Association (ACPA).
 
Michelle Robinson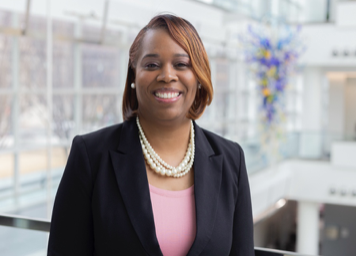 Dr. Michelle Robinson is the Admin Manager for the Diversity, Equity and Inclusion Unit (DEI) at GTRI. She has worked in higher education for 13+ years.
Prior to coming to GTRI, she worked at the Georgia Tech Scheller College of Business as an Academic Program Manager, responsible for managing the logistics and operations of an academic program. Prior to working at Georgia Tech, she worked at Central Michigan University managing academic programs. Prior to beginning her career in higher education, Michelle worked in the area of financial printing at Bowne of Detroit for ten years.
Michelle has a Bachelors Degree in Business Management from Davenport University, a Master's in Education from Central Michigan University, and she earned her Doctorate in Educational Leadership from Valdosta State University. Michelle holds a Green Belt LSS certificate, Diversity, Equity and Inclusion in the Workplace certificate, Inclusive Leaders Academy certificate, and Changemakers Certificate.